" The Producers"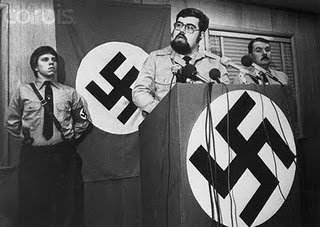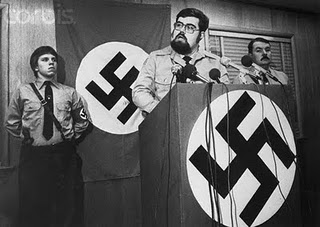 All were Jewish, and at least half were wearing yarmulkes. The air was frigid as ice, and not just from the air conditioning that rumbled full blast from the air vents. The eyes of the Jews at the table bored into Brewer with a concentrated, pure hatred that was almost radioactive; Brewer knew full well that every man there wanted him dead, and they were all thinking of ways that might be accomplished, preferably tonight, right here in this room, and as bloodily as possible. For him there was no offer of refreshment, no schmoozing, no polite small talk, not even a water pitcher and glass on the table. Brewer walked to the far end of the table and without a word sat down, opened his briefcase, and took out the yellow legal pad and pen, which he placed before him.
"Why?" grated Arnold Blaustein, his voice like metal scraping on metal. "This town made you. We made you. All your life we have put every crumb of food on your table, bought every mai tai you ever drank in Trader Vic's, bought every car you ever drove, paid every penny of your mortgage, and for this you have spat the blood of God's Chosen People in our faces. Why have you done this, Barry?"
"And that's all you see, isn't it?" said Brewer. "Money. Material things. Life as a balance sheet drawn up with double-entry bookkeeping, profit and loss. It's all any of you can see, isn't it? Never mind. I have done it because it had to be done, and no one else would. Beyond that I won't be making any speeches or harangues, and I recommend the same course to you. We have business to settle. Now can we get on with this? I assure you gentlemen that your company is just as distasteful to me as mine is to you, so the sooner we get done the sooner we can depart."
"I agree. Get on with it," snarled Moshe Feinstein from DreamWorks-Disney. He lit a huge cigar, his hands trembling so bad in impotent rage he could barely flick the $4,500 platinum Zippo lighter into a flame.
"There is a war going on in the Pacific Northwest," said Brewer. "Up until now Hollywood and the entertainment industry as a whole have supported one side in that war, the United States of America and its government. That support ends tonight, and Hollywood will become neutral. Not openly, just in practice. No one expects you to make any public declarations or dramatic announcements."
"And this neutrality that you speak of involves our doing what, exactly?" demanded Dave Danziger coldly.
"Not much, but it does entail an extensive list of things which you will not do," said Brewer. "We're realistic. We understand that we can't bring back the Hayes Office and stop you from spewing forth the kind of perverted filth and mindless rubbish that you always have. You have spent the past three generations creating a market for that sewage, it's what the brain-dead public now wants, and it sells. This also applies to such personages as wise-ass late night talk show hosts, potty-mouthed stand-up comedians, and cable news show talking heads. There will be no more snide little needling jokes, no more vilification and insulting portrayals of Northwest Volunteers as psychos and cretins and generally bad people."
Walt Wexler from World Artists spoke up. "Uh, sorry, Barry, I've got to ask. Did you actually see what you and your—your friends did on Oscar night? I did, because I was there, although by the grace of God all I got was a slight wound. How in the name of God can you say that the perpetrators of that horror are not bad people? What would you call that unspeakable slaughter if not psychopathic?"
"I would call it an act of war just as much as any engagement between soldiers. In case you've missed the past century, Walt, that's how wars have been fought since 1914," said Brewer in a level voice. "Anti-white incitement and group defamation from Hollywood and the television industry, directed against Gentile people of European ancestry, will cease forthwith. This isn't just a matter of common decency or fairness; we wouldn't be so naïve. It's so you can't sneak in anti-NVA [Northwest Volunteer Army] propaganda in the guise of historical films or apparently unrelated plot lines in TV series, etcetera. There are to be no more fat Southern sheriffs beating on poor defenseless white liberals. There are to be no more evil Nazis acting as clownish foils for your infantile action heroes. There are to be no more evil Confederates flogging black women, no more Ku Klux Klansmen raping and lynching, no more stereotyped redneck villains getting beaten up by clever wisecracking niggers, no more equating a woman having blond hair with being an idiot and a slut. No more racial or cultural stereotyping of any kind directed against white people. I don't have to spell this out for you, gentlemen. You all know damned well what you've been doing for the past century, and please do not insult my intelligence by trying to deny that you don't understand me perfectly well."
"We get it," said Blaustein with a nod.
"Thank you. The third point may be the hardest for you to swallow, but I need to emphasize that these terms are a complete package, not a buffet. It's all or nothing." Brewer took a deep breath. "All Holocaust propaganda comes to a screeching halt. Now, and that includes that piece of dreck your people are over in Poland filming now, Mr. Feinstein."
"What? Ashes of Auschwitz? You're telling me I can't commemorate the Shoah, where one hundred and thirty-seven of mine family vas gassed by Hitler? How dare you? Chillul Ha Shem!" shrieked Feinstein, turning purple and waving his fists in the air, spittle flying from his lips as the burning cigar fell down into his lap unheeded.
"Crap," said Brewer succinctly. "It's crap, it was always crap, and you've milked it long enough. For three generations you people have squeezed an endless river of gold out of something that never happened, at least not in any way, shape, or form resembling your official version. Now you are going to stop it, just like you're going to stop insulting and degrading white people as a whole. Germans are white people and they are most distinctly covered in the no-defamation and no-lying clauses of our little entente here. No one expects you to admit that you've been defrauding the world for 75 years. Like I've said, we're realistic. But you've already got enough of that horseshit in circulation to keep you rolling in royalties for the next 75 years. You're going to shut down the Holocaust sector of the entertainment industry now, as much as that's possible. No more movies, no more TV specials, no more long moans in black and white with cellos in the background, and your palms out for money and sympathy you don't deserve. No more of that crap! My God, the FBI already arrests anyone who questions the official version anyway under the hatecrime laws, and sends them off to re-education camps to have their brains washed squeaky clean like Winston Smith in 1984. Isn't that enough for you? We understand that the mountain of Holocaust shit already reaches to the sky, and it's going to take generations to undo the damage you've done to humanity's psyche with your lies, but you're not going to be allowed to throw one more shovel-load of shit on the heap. Hear what I say, gentlemen, or by God, we will show you a Holocaust, and we have demonstrated that we have the capability to do just that."