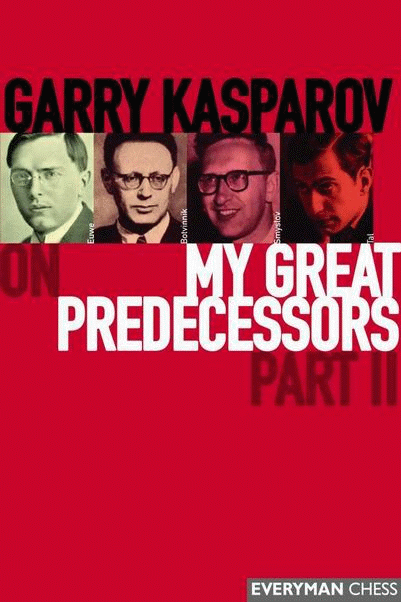 After finishing the first volume, I have started to read Volume II of Garry Kasparov's My Great Predecessors, especially the long chapter devoted to Mikhail Botvinnik, the world champion of chess from 1948 to 1963 (second from left to right on the book cover).
While reading Kasparov's lead paragraphs to that chapter some of his sentences struck me. Botvinnik had called chess "an inexact problem," just as the problems of the living. "To solve inexact problems," maintained Botvinnik, "it is very important to limit the scale of the problem to avoid getting bogged down. Only then could one hope to solve it satisfactorily." For this champion chess reflected objective reality and what a person thought, and every problem should be reduced to manageable analysis and thought.
Since in the past I was an amateur chess player, these passages immediately brought my mind to my recent discussions in this blog with those who want to reduce the incredibly complex problem of the West's darkest hour to the Jewish Question.
This is what I thought while reading that page of Kasparov's magnum opus: "It is true that, in practical terms, people like Alex Linder are right in that the masses would not grasp something too complex and that, in order to explain the problem to them once pro-white politics becomes possible, we should focus on the subversive tribe."
I have no problem with that pragmatic approach. Politically, I am on the same page of Hitler, Goebbles, and Linder on this issue. The problem starts when we abandon pragmatic politics and enter into the more subtle terrains of academic discussions.
If whites survive the current crisis, even after a final solution to all non-white problems is achieved future intellectuals will surely try to ponder what exactly happened in the 20th and 21st centuries. In that futuristic scenario it is unlikely that they will navigate forever inside the strait waters of Judeo reductionism. Sooner or later they will probably expand their point of view into a bigger picture, an all-encompassing meta-perspective, perhaps like the one barely sketched in my "Witches' brew."
Presently even those who are not Judeo reductionists, like Brad Griffin at Occidental Dissent, acknowledge that—rephrasing Botvinnik's language—solving the Jewish problem would reduce the West's darkest hour to manageable proportions. But even so the question will remain open: Why the West, unlike the Muslim world, became so Judaized after Napoleon emancipated the tribe? Why every Western nation started to imitate Napoleon's lead in the 19th century? What was the primary cause of the empowerment of Jewry in the first place, always keeping in mind that they never wielded such power in the Muslim world?
These honest, commonsensical questions won't go away even if a final solution to the problem is historically achieved.