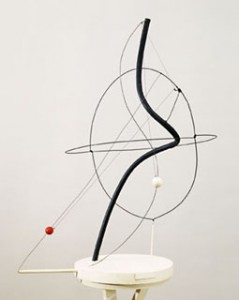 It is true that the video-series by Roger Scruton ("Why Beauty Matters") and Scott Burdick ("The Banishment of Beauty") expose today's charlatanism in the Art world. But both series are marred by the constant presence of non-whites.
We need an identical message but this time filmed by someone like Craig Bodeker.
This said, what Scruton and Burdick proclaim is pertinent when we try to approach a sophisticated work like the classic The Story of Art by Ernst Gombrich, of Jewish ancestry, which I've just read.
In the final two chapters of the later editions of The Story, Gombrich speaks highly of the most soulless form of architecture that both Scruton and Kenneth Clark complained about. To boot, in these later chapters Gombrich reproduces several anti-art works as if they were genuine art, like Alexander Calder's Universo (above).
The bullshit that Gombrich says in these last chapters was already refuted in "Why Beauty Matters." For readers of TOO with good memory, perhaps they will also remember a Michael Colhaze article with the following vignette:
Both of us have no truck with Modern art and knew the artist only vaguely by name. Lucien Freud it was, grandson of you-know-who, and his hams about as uplifting as a dead rat under the sink. As we stood in front of one, an uncouth male nude reclining on a smutty bedstead with legs spread wide open while scratching reddish genitals dangling above a cavernous anus, my friend cast a look around and said: Grand Orc of the Crap Arts! Never had any sense of beauty, and never will! [image at TOO article]
I reproduce the anecdote again because Gombrich mentioned favorably the grandson of you-know-who as if he was a legit artist. So Gombrich put artistic junk at the end of his book (one more example: a whole unfolding triptych of one of Pollock's nonsense paintings) but did not say a word of Parrish, the pictorial emblem of this blog, or about the art of Alma Tadema or the paintings of the pre-Raphaelites.
But let's not dismiss all of Gombrich's book: it is very erudite and often insightful. However, it is clear to me that he ignores the real art created in the century when we were born: genuine art that became heresy when these very sophisticated pundits monopolized Art Criticism (just as another Jew, Franz Boas, monopolized Anthropology).