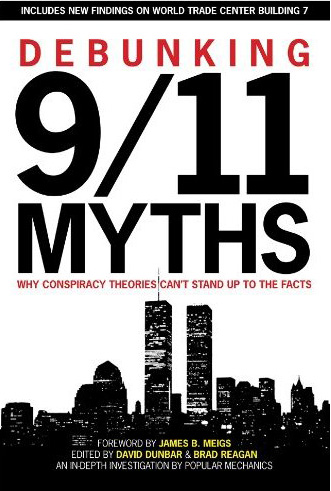 I am becoming disappointed with the white nationalist movement. If I were editor of any of the main nationalist blogsites, I'd be collecting lots of articles debunking the 9/11 conspiracy theories endemic in the movement. What we got instead is feminized timidity in face of the macho vehemence manifested by many truthers within the movement. Below I cite two of my recent comments of my previous entry, and another at Counter-Currents:


*   *   *
I am not a believer of the "official version." I am a skeptic of extreme claims that violate Occam's razor intuitively.
Why I cannot be blamed that I am a believer of the official version? Because exactly ten years ago I listened a radio program in Mexico City. A commentator explained with vivid detail (in Spanish of course) that he was sure that Osama bin Laden orchestrated the attacks.
Take note that the US government had not made any official pronouncement when I listened the program. The Mexican commentator was so convincing that I've not changed my views since then. Which means that I didn't get my POV from the US government, but from a known reporter outside the US with zero connections to the US establishment.
*   *   *
There's something I call "intuitive Occamism", which means that the majority of sane westerners have an in-built Occam's razor without any need to study philosophy of science. It's sheer intuition.
Such intuition works marvelously with conspiracy theories. Most reasonable people reject aprioristically the claims which advance a multiplicity of entities unnecessarily: for instance, the conspiracy theories about the UFO Roswell incident, the "faked" moon landings of the 1960s and 70's, etc. The right hemisphere of their brains intuitively tells them that all of these theories are grossly violating Occam's razor, yes even 9/11 theories that strain our credulity way beyond its breaking point.
The problem is that many other westerners lack this in-built intuitive Occamism in their cognitive process (something I call humoristically "antediluvian regression" or a regression to paleologic modes of thinking—cf. the first part my online book). That's why I advice those nationalist truthers who are really honest to forget 9/11 for a while and study Bugliosi's enormous study debunking the JFK conspiracy theories. The process of thoroughly refuting the other conspiracy theory that duped millions of Americans in the previous decades is good school to understand the Principle of Parsimony for those that, for one reason or another, lack intuitive Occamism.
*   *   *
There's a book published last month that I recommend, the revised and expanded edition of Debunking 9/11 Conspiracy Theories (which includes rebuttals on claims about Building 7) by David Dunbar and Brad Reagan, with a foreword by James Meigs.
If you [James O'Meara et al.] have already listened to the attorney of these crackpot theories, the logical step now is to listen to the prosecutor. It's not logical—as every single nationalist truther I've met in the net does—to listen the "attorney" and, as a member of the "jury", leave the room every time the prosecutor talks in order to avoid the most elemental cognitive dissonance.


Postscript
I cannot be as demanding as to request nationalist truthers to read the 2011 book which cover appears at the top of this entry before considering angrily jumping on this thread and scold me for not believing in "The Truth." However, if any of you wants to comment here I'd recommend at least to read the couple of Amazon reviews of that recently published book or this TV interview with one of the editors. Also, please watch this documentary that features several key individuals of the truther movement as well as the more rational responses by those skeptical of your "Truth".
I am fed up to try to reason with those nationalists who have forfeited every single presentation of the prosecution side…