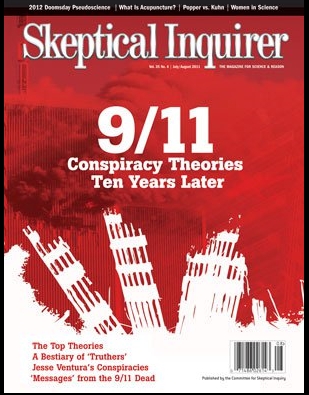 "We believe whatever we want to believe"
—Demosthenes
Further to my May 7, 2011 piece "Oh silly truthers…"
In the tenth anniversary of the September 11, 2001 attacks I am becoming increasingly disappointed with the irrational will to believe whatever we want to believe in the nationalist movement.
I'd be delighted that Mossad, the Israeli Institute for Intelligence and Special Operations, orchestrated the attacks. That could certainly boost legitimacy to our agenda among non-nationalist whites. But my cognitive processes are not dissociated enough from reality to make such a gigantic leap of faith and dismiss all evidence to the contrary.
My field of expertise is not racialism or politics but deep psychology, especially the trauma model of mental disorders caused by poor parenting. How did I become dragged into that field? It's a long story. But for the moment let me confess that I am a triple apostate: since my teenage years I gave up Christianity, then a cult, Eschatology, and finally a pseudoscience, parapsychology (for a brief summary see here). The whole spiritual odyssey to give up faith in these beliefs destroyed my life, as many other lives are being destroyed among those who fall in destructive cults as a defense mechanism resulting from a failed intent to escape from the abuse at home.
That's why I am indebted to Paul Kurtz, Ray Hyman, James Alcock and many other skeptics of the paranormal who taught me how to think critically about extreme claims, whether religious, paranormal or conspiratorial. The last time I saw them, in a 1994 Seattle conference, I had the pleasure to experience a handshake from Carl Sagan, author of The Demon-Haunted World, a book that encourages laypeople to learn critical thinking. During that event I also attended a conference debunking the conspiracy theories about the John F. Kennedy assassination.
Hadn't all of these skeptics vaccinated my mind against magical thinking I'd still be immersed in it. Unfortunately, only through a dark night of the soul it's possible to realize that we believe whatever we want to believe, and that those beliefs are not always rational or based on fact. Which means that the truthers in the nationalist movement won't ever make an honest effort to listen the other side: they are forfeiting their dark night.
I gave up paranormality after more than fifteen years of belief in the paranormal precisely because at one point of my live, from 1990 to 1995, I made a serious effort to listen to those skeptical scholars who held diametrically opposed views of my cherished beliefs. Many white nationalists are not that honest; not even close to a mile. They won't ever use such amount of time to listen to the other side.
Not all white nationalists are truthers of course (see e.g., this splendid summary by Ted Sallis published yesterday on how America became a madhouse after 9/11). But a substantial segment of the nationalist population believes in nuts like those ridiculed in this video.
Let me recontextualize what I'm trying to say. I admire Hitler and the Nazis. For Third Reich sympathizers like me the big question is, Were Jews slaughtered in World War 2? If Irmin Vinson's approach to the so-called holocaust represents a quantum leap forward from mere denialism, a denialism almost ubiquitous in white nationalism, I believe it's high time to apply the same flawless logic to the tragic events of a decade ago.
But most nationalists are no match to Vinson's honesty…


Postscript of September 14
A featured author is now saying at Majority Rights that because I wrote this entry I must be… a Jew! After days of controversy he clings to his belief. He supports the claim that I am Jewish on the basis… of my criticism of the truth movement!
Well, this is magical thinking to be sure, or the deductive fallacy to use more academic language.
This is how paranoids and paranoiacs reason: If something major happens in the political world (e.g., the assassination of a president; an Islamic terrorist attack) there must be a conspiracy involving someone in the American government. If a critic is skeptical of any of these conspiracy theories, he himself must be part of the conspiracy (e.g., a Jewish blogger pretending to be a non-Jew).
Naturally, since paranoid modes of thought are endemic at Majority Rights I won't ever comment there again. But I decided to write this postscript to show how this affaire corroborates my view that there is indeed a flaw in the white nationalist psyche.
Fortunately, not every nationalist suffers from paranoid delusions, as proven in the Johnson article that I republished here, and in the comments by Matt in this entry's thread. It's a pity though that those who subscribe to Aristotelian modes of thought are a minority in the movement.