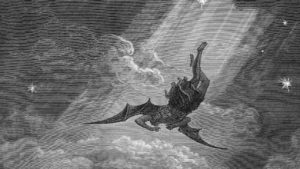 Recently, two comments caught my attention: one by the anti-Christian Robert Morgan and the other by the Christian Andrew Anglin. Let's start with what the anti-Christian said:
MacDonald quotes Carlson: "Our current orthodoxies won't last. … This moment is too inherently ridiculous to continue, and so it won't."

Baseless optimism. A remark like this could have been made at any point since negroes were granted citizenship and the vote back in 1870.

The "current orthodoxy" is racial and sexual egalitarianism, too deeply rooted in America's worldview to be easily abandoned. Too much blood and treasure has been squandered trying to make this madness into a reality to permit a reversal. It's obvious the people would quite literally rather die than admit their mistake. Every time the premise of equality has been challenged, they have proved their commitment to it by doubling down instead of retreating.

Only a collapse and utter ruin can redeem the situation. The state must be burned down to the ground, its functionaries eliminated along with the vast majority of the populace. Only then—perhaps—will something worthwhile arise from the ashes. [source: here]
Now let's read what Andrew Anglin wrote in the concluding paragraphs of a long article that Ron Unz re-published. I must confess I find it highly embarrassing to quote, on this site, what Anglin says:
On my own journey to the truth, I've realized that the ultimate truth is that Jesus Christ died that we may live, and that the only peace we are going to have in this world is following His commandments that He will send the Holy Spirit to comfort us.
Jesus!
If you haven't made it to that point yet, if you still have doubt in your heart as to the truth of Christianity, this is my advice to you: seek truth everywhere, always. All kinds of truth about everything.
What about the true history of Christianity, or the fact that there is no source outside the Gospels that attests to the existence of Jesus?
Don't ever lie to yourself, don't believe things that are comfortable to you. Always go for the truth. If you do that, you will come to Jesus. Nothing else can happen. There is no final truth beyond the infinite love that God has for mankind…
The god of the Jews loves us so much that he wants to torture us for eternity in hell.
Read the Bible too, and compare and contrast with the truth you've found. Read the book of John, as it is the most important.
This reminds me that John's gospel was Luther's favourite.
As I said recently, if you don't believe in God, becoming a fentanyl addict on the streets of California is a perfectly valid life choice. The fact that most people don't do that proves that we all know, somewhere inside of us, that God is real.
Either you believe in the god of the Jews or you become a junkie, says the most popular anti-Semite on racialist forums.
The purpose of our lives is to struggle, to strive, to seek joy, and love—all in the name of coming closer to Jesus Christ that when we die, we will live forever… And please, my brothers, always remember: no matter how bad things get, Jesus is there for you. [Source: here]
The 'Jesus' name derives from 'Yehoshua', i.e., Joshua, who functioned as Moses' assistant in the books of Exodus and Numbers, and later succeeded Moses as leader of the Israelite tribes. Given everything we've been quoting from Dominion, let there be no doubt: The American racial right is part of the problem, not the solution.