Click here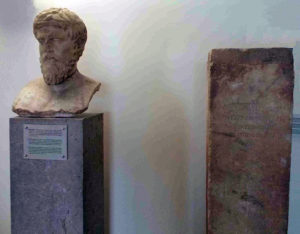 Portrait of Plutarch, and a hermaic stele
at the Delphi Archaeological Museum.
Translation of some of the article's quotes, 'Los beneficios del ayuno' (The benefits of fasting):
'Everyone has a physician within; we just have to let him do his work. The natural healing energy present in each of us is the greatest force for healing. Our food should be our medicine. Our medicine should be our food. But to eat when you are sick is to feed your sickness.' —Hippocrates.

'Instead of using medicine, better fast today.' —Plutarch.

'Fasting is the first principle of medicine.' —Mevlana Rumi, 1207-1273, Persian poet and founder of the Turkish Mevleví brotherhood of Sufism.

'Fasting is the greatest remedy: the inner physician. Nature cures, the physician helps.' —Philip Paracelsus, Swiss physician and one of the three fathers of Western medicine.