When I first discovered white nationalist (WN) sites in late 2009 I didn't understand the Jewish question. It was not well explained on the forums until in February 2010 I came across a commenter's statement that there were no Jewish associations that helped the white cause: only Jewish associations that harmed white interests. The discussion, then on the old incarnation of this site, reached over a hundred comments.
Then I became an orthodox WN. For a while…
But I began to wonder things like: Why, where I live (Latin America), has it been so bad (miscegenation) even when Jews and crypto-Jews were well controlled by the Spanish Inquisition (1530s-1821)? The WN paradigm began to fall short and could not explain it all.
Let's listen to this excellent interview on how physicists have been changing their paradigms over the centuries.
Just as Newtonian physics explains gravity almost perfectly in the Solar System, the WN diagnosis (Jews as the primary cause) explains recent American history fairly well. But that is spatial or historical chauvinism, insofar there is a reality outside our solar system and the US. When one starts wanting to force Newtonian physics to give us answers at enormous speeds at the level of galaxies, the old paradigm has to be replaced by Einstein's model.
My current model that goes beyond the year 2010, when I was an orthodox WN, can be symbolised in this published caricature. Both the WNsts of 2021 and I see the same information but, as I have also already said elsewhere, we see it differently: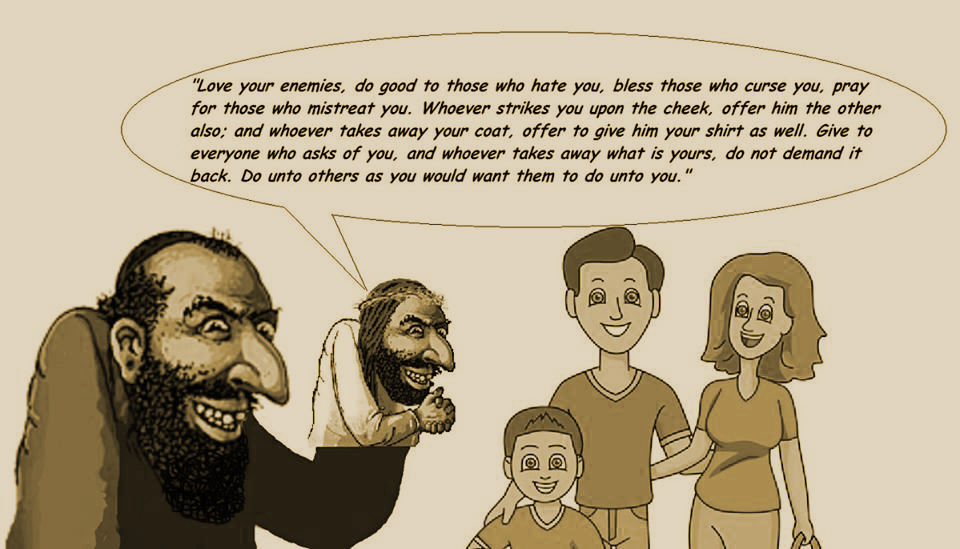 I don't deny the existence of the subversive Jew. But I focus on the white assholes who believe and obey the Jew for the simple fact that this family of whites also have agency. And even the most respected WN pundits don't want to see that the gospel the Jew preaches to us is poison (see my postscript comment to my last post). Although WNsts and I see the same information, what they see as a JQ I see as a CQ, the Christian question.
Alas, I haven't stagnated in this second interpretation à la Einstein, so to speak, of Aryan decline. For some time now I have been feeling that something is missing from my CQ model. When I see thousands of Aryan males marching for BLM at a historical moment when they should be doing exactly the opposite; when I see them so astronomically devoted to Evil (antiracism), I feel that something is missing in my second paradigm.
If you listen to the interview linked above in bold type carefully, you will see that Einstein's model cannot explain the physics of black holes, and already a physics based on string theory or the laws of quantum gravity is being developed. That's precisely why we will continue to translate Savitri's book: What is it that is escaping me, how did the level of the Aryans' voluntary surrender to evil reach the level of perversity that it has reached today?
Of the pro-Aryan philosophers after 1945, only Savitri has attempted to delve into this third model for understanding 'psychics' or a science of the mind (just as string theory is the third model for understanding physics).
I am not sure that Savitri is going to answer my questions once I finish reading her books. But it's a start. What bothers me about the whole thing is that WNsts are stuck in a Newtonian (JQ) universe so to speak, and I am already beginning, at least intuitively, to feel the CQ a bit limited as the explanation for everything.
Will there be something else, a third doll, a sort of 'string theory' in 'psychics' that encompasses the JQ and CQ…?