The wife of the Catholic painter Jorge Sánchez (1926-2016) was my mother's primary classmate. From his work I remember the series of several oil paintings about passages from the life of Jesus, but he also made baroque paintings of crowned nuns, and I remember a collection of twenty-one oil paintings about the life of the nun, poet and writer Juana Inés de la Cruz.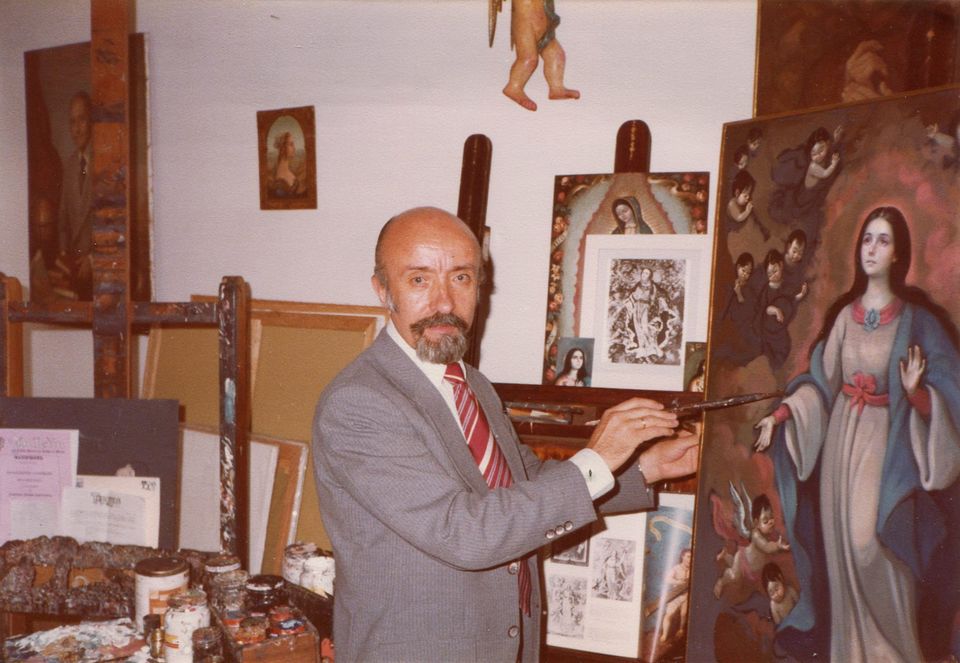 For the collection on the occasion of the 450th anniversary of the myth of the apparitions of the Virgin of Guadalupe, Jorge Sánchez presented his collection in eighteen oils, using my sister (who died the same year as him) as a model for the Virgin.
On one occasion when my mother invited him to dinner, Jorge sat next to me and I remember a conversation so incredibly surreal that I feel the duty to rescue my memory.
He confessed to me that he didn't understand why animals still exist!
Although much has been written about Protestant fundamentalism in the neighbouring country to the north, they rarely speak of Catholic fundamentalism south of the Rio Grande.
The sky under which Sánchez lived was, like his paintings, that of a New Spaniard. Talking to him was like entering a time warp and conversing with a criollo from New Spain. Someone who sincerely believes everything the Church of Rome has been teaching sees the world from a strictly anthropocentric point of view. What Jorge Sánchez wanted to tell me must be understood from the Christian theodicy. In short, the god of the Jews created man and when he sinned he had to send his son into the world to redeem him. In this scenario, the Earth as a theatre of human actors to see who will be saved after the Fall, the animals are already obsolete.
I couldn't believe what Jorge was telling me, who was a very kind person. Over the years, every time he came to my parents' house and greeted me, he said in a friendly way, "¿Cómo está el joven ilustre?" ('How is the illustrious young man doing?').
In my post yesterday morning I quoted these words from Savitri: 'So what are these values that make Hitlerism a "negation of man" in the eyes of almost all our contemporaries? For it is, indeed, a negation of man as Christianity and Descartes and the French Revolution have taught us to conceive him'.
The secular humanists of today don't have the faintest idea that the mind is a structure, and that these things that come to us from Christian theology were transfigured into that absolute lunacy that Descartes said, that animals were 'automatons' (or the French revolutionaries, who proclaimed 'human rights' as if other mammals didn't count).
Even those who today claim to defend the Aryan race suffer from a strictly anthropocentric vision of good and evil, so unlike our Führer they never question their abject carnivorism or experimentation with animals. They haven't realised that this anthropocentrism has been poison for the original Nordic spirit, or that it's a residue of a Judean ideology for Aryan consumption.
From the point of view of crossing the psychological Rubicon, they are closer to the old-fashioned Jorge than to me.