by Evropa Soberana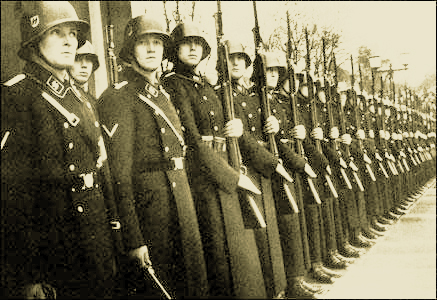 The Nazis organised the SS, a military and biological elite that was destined to be the aristocracy of the New Order. In the picture, a formation of the SS Division Leibstandarte Adolf Hitler, the most elite division of the SS. To enter the Leibstandarte it was necessary to measure 1.84 meters, be between seventeen and twenty-two years old, be Nordic and have a health of steel. For many years, no one who had the slightest physical defect, such as glasses or a dental filling, was allowed to enter the Leibstandarte.

The SS Doctrine
As an elite, the Nazis organised, within the NSDAP: the SS, guardians of the National Socialist idea, firmly indoctrinated and severely disciplined. The SS began to incorporate the flower and cream of all Germany (it was common for athletes or prominent scientists to be made SS), and they were laying the foundations of a social order based on the biology, genetics and will of the human spirit.
The SS in general attached great importance to good physical and mental condition and to the cleanliness of the lineage of extra-European influences. The conditions of entry remained very strict until the Second World War. In 1937, Hitler was proud that 'we continue to admit only fifteen percent of the candidates who present themselves to the SS'. The discipline of these men was extremely severe and rigid, and the punishments even for minor infractions, brutal.
Each SS promised to marry (their wives automatically became SS women with the marriage, and enjoyed the relevant help) a woman of pure blood and have, if possible, four healthy children. Both this and the entire Lebensborn project were framed in the Nazi policies of positive eugenics, while the famous sterilisation of the defective ones was the negative eugenics.
However, the SS were not just a pack of stallions. They proved to be the toughest, trained, fanatic, brave, bold and faithful shock force of the entire World War II, starring true military feats unparalleled in the Eastern Front, and reaching the limits of human resistance in arctic temperatures and in hostile territory, against an enemy that represented an Asian, slave and oriental idea (Bolshevism), and that far exceeded them in number.
Due to its oath of fidelity and its sense of duty the SS was, along with the Luftwaffe and the submarines, the German military body that suffered the most casualties.
At the base of the SS ideological training we can see anti-Christian beliefs. One of the most radical SS commanders in this regard was undoubtedly Theodor Eicke, head of the Totenkopfverbände who initiated an aggressive anti-Christian campaign, during which many SS who clung to Jesus were expelled from the body.
Our Germanic ancestors followed the laws of selection as all healthy peoples whose intelligence and sensitivity had not yet been contaminated by false doctrines of piety. The false conception that the Church had of God denied the divine laws of Nature. The ecclesiastical teaching deliberately opposed the will of Nature.

Once it was preached to the peoples that God had died crucified for mercy of the weak and the sick, sinners and the poor, the unnatural teaching of piety and a false humanitarianism could promote the conservation of the congenital sick. It was considered a moral duty to care and favour mainly the sick, the overwhelmed unfortunates and the poor in spirit…

On the other hand, several hundreds of courageous young Germans fall every year victims of sport or competition, in the fight against ice, in the snow, in automobile races or by plane. No matter how large the number of these victims, no people on Earth have died from war, from bad harvests or as a result of a period of political recession. The peoples have only disappeared when the living substance that ensures their historical life, their blood, their race, have been exhausted. They only die, then, in the following cases:

When the number of births falls due to the regression of the popular force, thus offering the possibility of being crushed by a qualitatively and quantitatively stronger neighbour.

Through racial crossings that have taken away the inner harmony of an originally healthy people.

By disregard of the laws of selection, which causes a decrease in the genetic heritage of value and leads to a reduction of the capacities and qualities in the population.

The death of a people is based, then, on an erroneous conception of life, and is due to the non-observance of the eternal laws of the Earth. Man has learned to despise the laws of life because he has lost the bond with Nature and life. (Notebook SS No. 3, 1939, 'Why do Peoples Die Of?' cited in The SS Order by Edwige Thibaut.)


The more a human group manages to dominate and transform the conditions of their area of life by establishing a culture faithful to the law of life, the more easily the individual manages to preserve and avoid elimination. The laws of selection and elimination, severe in origin, gradually disappear and are attenuated. The older a culture ages and reaches the state of late civilised times, the more it loses its vigour. She even produces the reverse process. Weak and sick individuals can thus survive and reproduce; different racial types are mixed. The creative law of the species no longer seems to act…

The most favourable case of the cultural relationship with the original biological natural selection appears when the objective of the second is continued with the first. Thanks to a keen perception of the law that governed the origin of their species, peoples like the Spartans resorted in their selections to the same principles of inflexible severity originally prescribed by Nature, even after having reached more hospitable territories. Other Nordic peoples, such as our Germanic ancestors, naturally obeyed the biological laws that governed the creation of their species…

The intrusion of Christianity in the culture of our Germanic ancestors has given birth to a form of selection that, from the beginning, was revealed hostile to our race and its laws of evolution. The elite of Christian priests chose appropriate and usable men for their purposes, but prohibited them from perpetuating and conserving the best racial heritage by forcing them into celibacy. (Notebook SS No. 7, 1942, 'The Biological Sense of Selection' cited in The SS Order by Edwige Thibaut.)