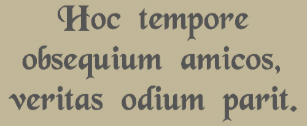 'In these days friends are won through flattery, the truth gives birth to hate' —Terence.
Ten years ago I did not start a career as a blogger, but as a vlogger. I did it in Spanish, showing my face about the subject that I master the most: the tragedy that occurred in my family. Given that in the study of family abuse I touched on the incredible abuse of parents to children in the pre-Hispanic world, I received great insults from Mexicans with an inferiority complex. Nowadays my YouTube channel is private and I blog in English.
In the city where I live, I barely have contact with pure whites. Nor do I have dealings with Jews. My place is in an area at the extreme south of Mexico City, very close to central Tlalpan, which four decades ago my father chose for the huge colonial mansions near that centre. Originally he wanted to buy one of those mansions but finally settled for a house closer to the Golf Club. (Today I did only ten minutes walking from central Tlalpan to the house that my sister and I inherited from him.)
Thus, without whites or kikes in my immediate circle, what I know best is the tremendous inferiority complex of the Meds in general and mestizos in particular. A few years ago, for example, an Italian who posted very intelligent comments on this site got upset when I told him that an Arab player of the Italian football team was not white. This smart American-Italian stopped commenting here. The same happened to me with a son of Spaniards living at the opposite pole of this big city: he showed zero tolerance to the texts of Evropa Soberana and Arthur Kemp due to their Nordicism. We are no longer on speaking terms.
Such is the experience—experience of decades—that I have had with mestizos and Meds that I dare to conjecture that the vast majority of those who have insulted me in racist forums are not pure Aryans. I even believe that those commenters who recently tore their garments on Counter-Currents are mudbloods.
The editor of Counter-Currents is anything but a Nordicist. But recently he accepted an article that vindicates, to some extent, what I've been collecting on this site from several authors, including William Pierce, about why white civilisations fall: miscegenation. I refer to 'The Saxon Savior: Converting Northern Europe' by Ash Donaldson.
There is no doubt that telling the truth breeds hatred!
Such is the anti-Nordic hysteria of several of the Counter-Currents commenters—and elsewhere!—that I feel moved to reproduce the long article of Donaldson in seven entries, beginning with the introduction:
______ 卐 ______
"There were many whose hearts told them that they should begin to tell the secret runes." Thus begins an ancient manuscript written in Old Saxon. It may surprise the reader to learn that these are, in fact, the opening lines of the Christian Gospel in the version known as the Heliand, produced for the Saxons in the early ninth century, after their conquest by Charlemagne.
More than a mere translation, it is a reimagining of the Christ narrative on so fundamental a plane as to constitute a message utterly distinct from the Mediterranean cultus that became the official religion of the Roman Empire. It took a thousand years for even an official conversion of Northern Europe, from the fourth-century mission of Ulfilas among the Goths to Grand Duke Jogaila's formal adoption of Christianity for Lithuania. Why conversion took so long there, and by what methods, hinges on the relationship between the individual and the community.