by Evropa Soberana

The martyrdom of Hypatia as an example of Christian terrorism
Alexandria, Egypt, year 415. The protagonist is Hypatia (370-415), philosopher and mathematician instructed by her father, the also famous philosopher and mathematician Theon of Alexandria. Hypatia's biographers say that in the morning she spent several hours in physical exercise, and that afterwards she took relaxing baths that helped her concentrate her mind to devote the rest of the day to the study of philosophy, music and mathematics.
Hypatia was virgin and chaste; that is, she was at the level of a priestess. She was, in short, a wise woman, 'a perfect human being', just as her father had wanted. Hypatia also ran a philosophical school from which women were excluded. (This is to give thought to the feminists who have tried to 'feminize' the figure of Hypatia in recent times.)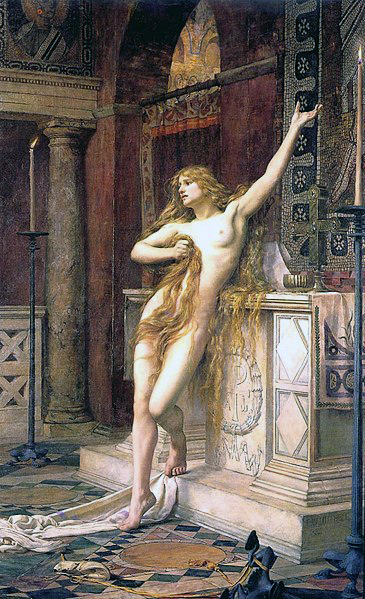 Hypatia, by Charles William Mitchell.
The bigwig of Alexandria during that time was Archbishop Cyril (370-444), nephew of the aforementioned Theophilus. He had the title of patriarch, an ecclesiastical honour that amounted almost to that of the pope, and which was held only by the archbishops of Jerusalem, Alexandria and Constantinople: that is, the most Jewish and Christian cities of the Roman Empire. During this time there was another mass rebellion; once again, street fights, tensions and settling of scores between Christians and Hellenists followed each other.
Archbishop Cyril had started a persecution of Alexandria scholars, twenty-four years after the library fire. This time, more radicalized, the Christians murdered anyone who refused to convert to the new religion. Hypatia, at that time director of the museum, where she dedicated herself to the philosophy of Plato, was one of those people, for which she was accused of conspiring against the archbishop.
Days after the accusation, friars called parabalani, fanatical monks in charge of the 'dirty work' of the archbishop and coming from the church of Jerusalem of St. Cyril,[1] kidnapped her from her carriage, beat her, stripped her and dragged her throughout the city, until they reached the church of Caesarea. There, at the orders of a lector named Peter, they raped her several times and then skinned her and ripped the flesh with sharp oyster shells.
Hypatia died raped, skinned and bleeding in atrocious pains. After this, they dismembered her corpse, took her pieces through Alexandria as trophies and then to a place called Cinarion, where they were burned. The archbishop who ordered his martyrdom is remembered by the Church as St. Cyril of Alexandria.
Only a crowd sick with resentment and hatred, and enraged by commissaries expert in the art of raising slaves, could carry out this act, which disgusts any person with a minimum of decency. Hypatia was the perfect victim for a ritual sacrifice: European, beautiful, healthy, wise, Hellenistic and virgin. And that is what excites slaves the most when sacrificing the innocence and kindness of the victim.
The cruelty shown, even in regard to the destruction of her corpse, indicates that the Christians greatly feared Hypatia and all that she represented. The death of the scientist, in addition to being perfectly illustrative of the atrocities committed by Christians at this time, inaugurated an era of persecution of Hellenistic priests in North Africa, especially directed against the Egyptian priesthood. Most of them were crucified or burned alive.
Hypatia's atrocity is described here because it is well known; and it is shocking that it happened to an unarmed, defenceless and harmless woman, but let us not think of it as an isolated case. Many simple Hellenists who did not look for trouble were sacrificed in a similar or worse way, and would continue to be so for many centuries.
_______________
[1] Note from the Ed.: Probably ethnic Semites.