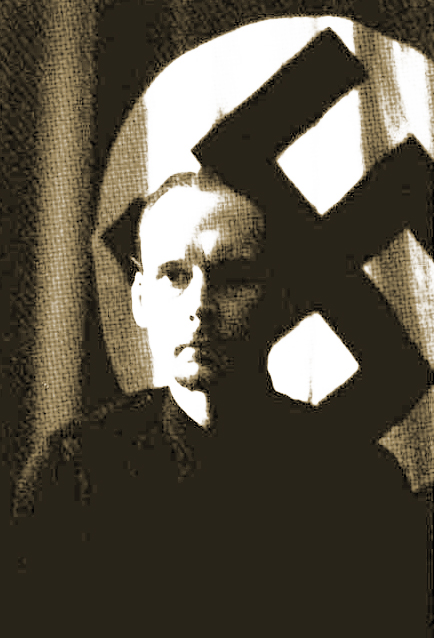 Serious steps
Hitler did not arrive at January 30th, 1933, in a dream. Nor was the NSDAP [National Socialist German Worker's Party] itself an idle concoction. Hitler did not get off the ground politically until after he was thirty years of age, after he had been orphaned, after he had existed in the streets of Vienna, after he had gone through the horrors of the First World War.
The idea of National Socialism, the Swastika, the social ferment and disorder in Germany and Europe, even the very men who were to make up his winning team, every element was there, in place, active, just waiting for Hitler to appear as catalyst that would lead to the Machitergreifung [seizure of power] in 1933. At no point did Hitler, in his off-hours or his idle frustration, imagine that any idea, effort, or group would be "keen", "swift", "fun", or "groovy".
Everything that was done was done because it had to be done. Hitler, like the master that he was, with consummate skill, played the ball exactly where it lay, utilizing the forces and elements at hand around him, applying them effectively and appropriately, step-by- step, to victory.
Joseph Tommasi did the very same thing as Adolf Hitler. Perhaps his is the closest comparison to Hitler's methodology to date. Was he a copy-cat, aping the Marxists? If he was, so was Hitler. In all frankness, he took the name SIEGE from an L.A. County Library book by that title which was devoted to the Weather Underground faction of the SDS [the militant Leftist group Students for a Democratic Society].
He took the name National Socialist Liberation Front from an earlier Movement effort at organizing Whites on campuses, a name, by the way, copied from the National Liberation Front of the Viet Cong. He let his hair grow long and wore olive drab fatigues. This and much more he adopted solely in order to "get with the times" and manners of the present day reality, in order to be effective.
And he was tremendously effective in the one year of life he had left to him from 1974 to 1975. Crackpot games and escapades don't generally outlive their progenitors by a decade, going on to gain strength and influence and to set the pace for the rest of an entire school of thought.
I mention Tommasi and the NSLF as major landmarks in our desperate drive to get serious in our modus operandi. Even with Universal Order I retain the publication title of SIEGE as tribute to this fact. Getting a bit deeper, war is to politics what politics is to the Idea. Of course minus the Idea, all is futile, just like the "power" wielded by the System and the Jews. Tommasi was more of a great general than he was a philosopher.
He opened our eyes to strategy and tactics rather than the nature of our purpose. But is that not precisely what we are in direst need of? It won't get there unless we put it there. Thinking about it, and writing about it won't put it there. Only a serious, step-by- step program of organized action will bring it about. And not "treadmill" action but forward action.
Vol. XII, #7 – July, 1983