Night of 3rd-4th January 1942
Recruitment of the SS—Himmler's value—Origins of the SS and the SA—Women love males.


The SS shouldn't extend its recruiting too much. What matters is to keep a very high level. This body must create upon men of the élite the effect of a lover. People must know that troops like the SS have to pay the butcher's bill more heavily than anyone else—so as to keep away the young fellows who only want to show off. Troops inspired by a fierce will, troops with an unbeatable turn-out—the sense of superiority personified! As soon as peace has returned, the SS will have to be given its independence again—a complete independence. There has always been a rivalry between troops of the line and guards-men.
That's why it's a good thing that the SS should constitute, in relation to the others, an absolutely distinct world. In peace-time it's an élite police, capable of crushing any adversary.
It was necessary that the SS should make war, otherwise its prestige would have been lowered. I am proud when an army commander can tell me that "his force is based essentially on an armoured division and the SS Reich Division".
Himmler has an extraordinary quality. I don't believe that anyone else has had like him the obligation to deploy his troops in such constantly difficult conditions. In 1934, "the old gentleman" was still there. Even afterwards, a thousand difficulties arose.
Being convinced that there are always circumstances in which élite troops are called for, in 1922-23 I created the "Adolf Hitler Shock Troops". They were made up of men who were ready for revolution and knew that one day or another things would come to hard knocks. When I came out of Landsberg, everything was broken up and scattered in sometimes rival bands. I told myself then that I needed a bodyguard, even a very restricted one, but made up of men who would be enlisted without restriction, even to march against their own brothers.
Only twenty men to a city (on condition that one could count on them absolutely) rather than a suspect mass.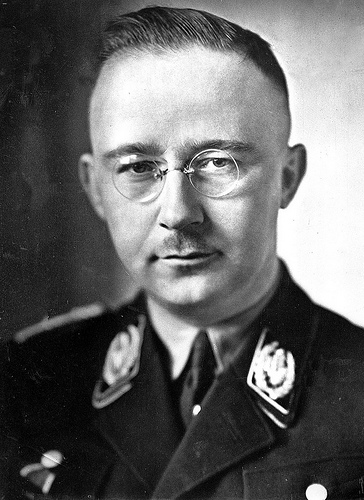 It was Maurice, Schreck and Heyden who formed in Munich the first group of "tough uns", and were thus the origin of the SS. But it was with Himmler that the SS became that extraordinary body of men, devoted to an idea, loyal unto death. I see in Himmler our Ignatius de Loyola. With intelligence and obstinacy, against wind and tide, he forged this instrument.
The heads of the SA, for their part, didn't succeed in giving their troops a soul. At the present time we have had it confirmed that every division of the SS is aware of its responsibility. The SS knows that its job is to set an example, to be and not to seem, and that all eyes are upon it.
The men of the Nordic countries have been softened to this point, that their most beautiful women buckle their baggage when they have an opportunity of getting their hooks on a man in our part of the world. That's what happened to Goring with his Karin. There's no rebelling against this observation.
It's a fact that women love real men. It's their instinct that tells them. In prehistoric times, the women looked for the protection of heroes. When two men fight for the possession of a woman, the latter waits to let her heart speak until she knows which of the two will be victorious. Tarts adore poachers.