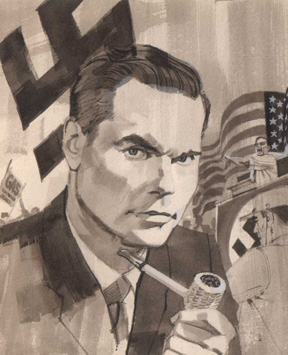 A passage from White Power
by George Lincoln Rockwell
In short, "liberalism" and "ideal communism" are the results of the Aryan's objectivity, fairness and love of justice, carried to the point of madness and suicide.
To use an apt analogy, sincere leftists (non-Jewish) are like gardeners who cannot bear to pull up weeds because they "feel for" the weeds. They can't bear to see the "weeds" of humanity pulled out of the productive gardens of society. Their emotional defense of the weeds finally leads them to the point where they are pro-weed, and anti-garden.
Only the Aryan White Man ever develops this "proweedism," this super-objective liberalism, which leads the victims to deny their own best interests and fight (in many cases, heroically) for the "rights" of human weeds and trash.
All the rest of humanity, untouched by this basically Nordic ability to think and feel idealistically, unselfishly and objectively, goes about its business in the old-fashioned way of instinct, with selfish singlemindness for their own welfare.