Yesterday at Counter Currents a Jarl commented in an article about miscegenation:
My wife's sister is married to a Ugandan and they have two children. She met him doing overseas charity work as a graduate nurse. She's from a fairly conservative Christian family and no one had a problem with it, not even the grandparents who were born circa 1930. The eldest child of the marriage is going on three and speaking with his father's accent. Needless to add, he looks more negro than white.

My wife knows my racial convictions and the result is profound cognitive dissonance that sometimes spills over into painful conflict between us. Obviously, the proper way to deal with a situation like this is to lie to some extent. Adopt a relatively respectable paleo-con type position a la John Derbyshire and say "I don't have a problem with miscegenation, I just want a curtailment of mass immigration, a nation with a strong ethnic core, etc." But I've been foolish enough to tell her my real views. So now we just agree not to talk out it. Fortunately we don't see a lot of her family due to geography.

The political question that I think comes out of nasty situations like mine is, firstly, what should be our fully articulated, esoteric policy towards mixed race people, and secondly, does there need to be an exoteric doctrine for mass consumption?
What I find bothersome of this comment is Jarl's feminized reaction. Not long ago, in a family meeting I told my sister that for a White to have children with a Negro is unforgivable as such behavior destroys Nature's labor of millennia: it destroys it forever the bloodline of that particular family. She resented my comment but I care a rat's ass for women's sensibilities.
I used to believe that when women say anti-white things they should be talked back brutally. I now see that it is altogether useless to discuss with my sister.
Recently I elaborated a code of speech that avoids any feminization like the one endured by Jarl, so concerned about political correctness that is even afraid of being frank with his wife. This is a guideline for the priest of the 14 words. In your private life:
Thou shalt only speak to Aryan males.
You won't believe it but this code avoids lots of trouble. I still can speak of inane subjects with women or coloreds, and believe me: there are millions of the later in the silly town where I'm living.
But about the real stuff I shall only speak with white males. If the Aryan guy happens to be brainwashed my code still makes conversation, or even discussion, much easier. At any event, what's the point in trying to discuss with white women or non-whites? Women think with their emotions, and in these times of treason most of them have become the most notorious race traitors of history. A noble Aryan man, on the other hand, can understand that "the sin against the Holy Ghost," i.e., the sin involving colored blood, destroys his gene pool forever.
As to "an exoteric doctrine for mass consumption" to use Jarl's words, that certainly involves telling the masses that miscegenation is the ultimate sin. Never mind about their feelings or hysterical reaction. If the Jews are allowed to consider sinful marrying outside their group, why the hell can't Aryans be allowed to do the same? If non-whites or women happen to listen that universal message it would be accidental. The sole purpose is that Aryan males get it.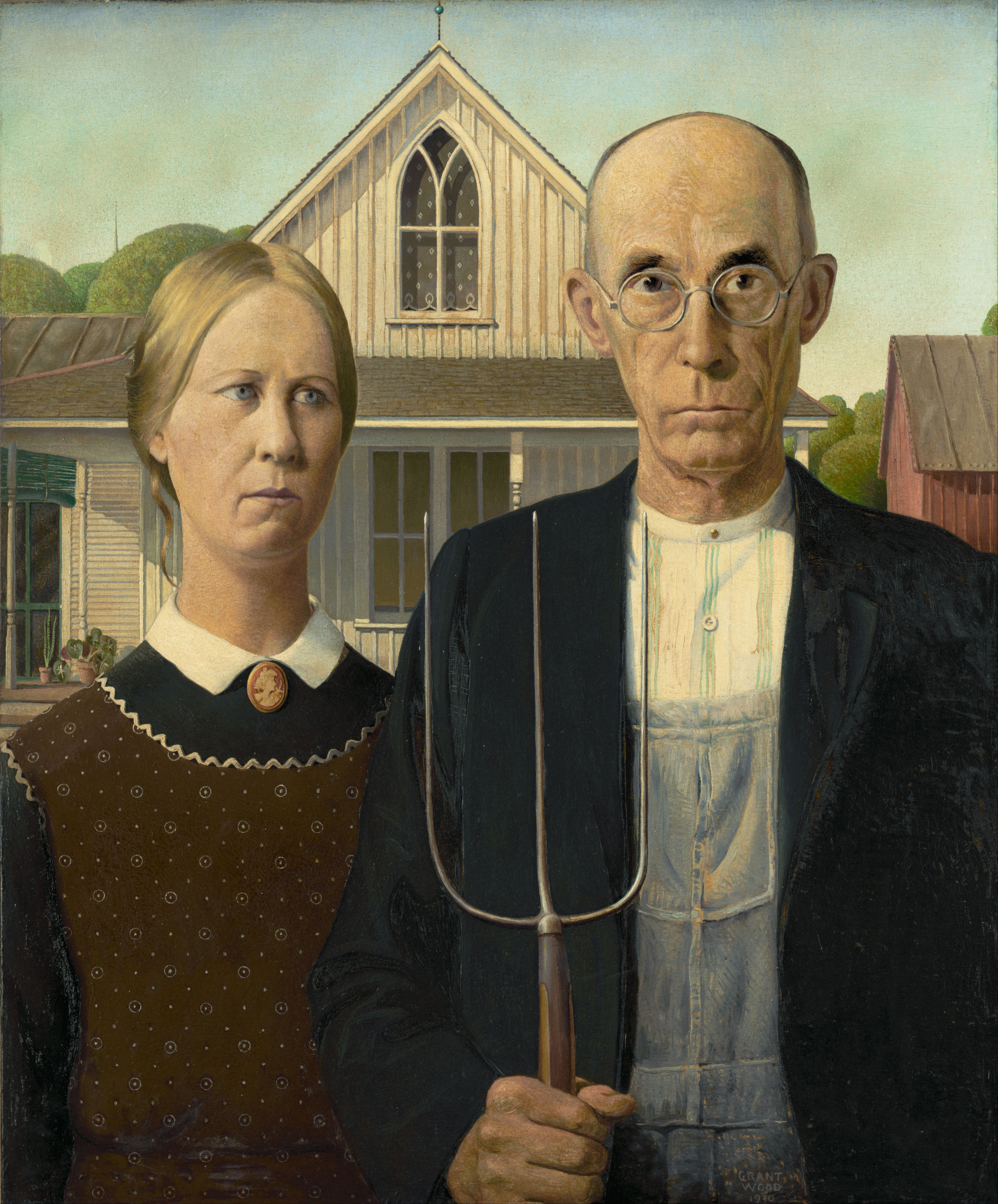 Wives also should be treated according to my new guideline. There's no point in trying to discuss with them when, by Nature, they side the current zeitgeist. And unlike the times of the painter Grant Wood, today the zeitgeist of the strong, the zeitgeist of the Judeo-liberals is certainly more powerful than the views of an alienated husband. We must fight for a society that puts women in their place, especially opinionated wives: Austen-like ethno-states where they will be prevented to sacrifice motherhood for careers. If a wife listens our hate speech that's only because we invited our rude comrades to our homes and the submissive housekeeper happened to be serving them coffee.
"Everything about woman is a riddle, and everything about woman has a single solution: that is pregnancy" said Nietzsche. A good, marital rape like the one endured by Scarlett O'Hara when a drunk Rhett Butler carried her up the large stairs in his arms telling her, "This is one night you're not turning me out" during that famous scene of Gone with the Wind will do the trick.