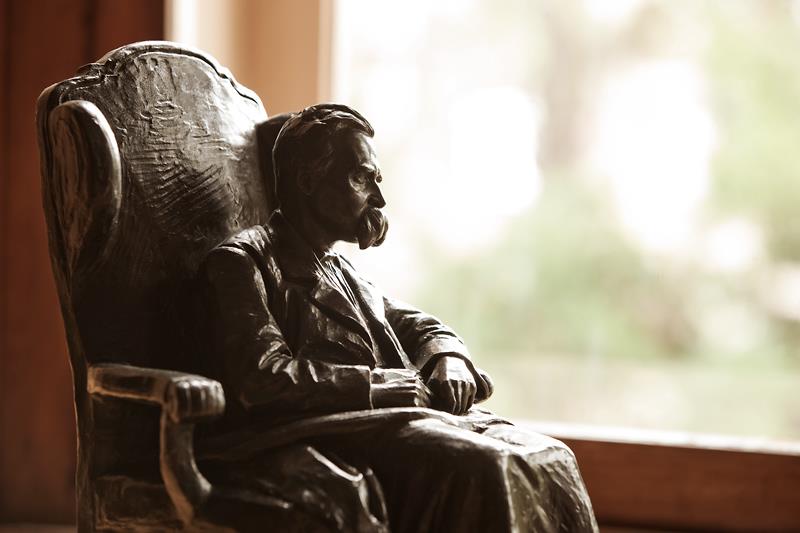 Excerpted from Curt Paul Janz's last volume of his biography, Friedrich Nietzsche. Biographie. Band 3: Die Jahre des Siechtums, Chapter "The Catastrophe":


On Sunday January 6, 1889 Jacob Burckhardt received a long letter from Nietzsche. While it is true that, from the Genealogy [On the Genealogy of Morals] at least Burckhardt had not followed Nietzsche's philosophical way, he did continue to be humanely united to his former colleague. For long Burckhardt had watched with concern his state and inquired about it, but this turn towards mental disturbance surprised and deeply affected him.
Burckhardt did immediately what was in his hand: he went immediately with the letter to see Franz Overbeck, whose close contact with Nietzsche he knew. Although their houses were not far apart—from the suburb of St. Alban to the Sevogelstrasse there are only a few hundred meters—, Burckhardt had never felt moved to walk that way. But now, the terrible impression he received prompted him to overcome that barrier. Also for Overbeck it was an alarming surprise to see Jacob Burckhardt into his home.
Following a review of the two letters to Burckhardt and Overbeck, Wille [Prof. Dr. Ludwig Wille, a psychiatrist] had no doubt about how he had to try the case and what they had to do. He urged Overbeck that, without loss of time, to bring the friend from Turin to Basel, before he disappeared in any one of the dubious Italian centers.
Overbeck immediately followed the advice, which seemed more like an order. By doing so he had to weight two considerations: firstly the question of costs. Neither he nor Nietzsche were doing well economically. Professorial fees were then rather scarce. And besides, surely it was not easy to a conscientious teacher to leave without official dispensation for a few days.
In spite of everything, in the night of January 7 he parted to Turin, where he arrived the next day around 2 pm. Given his perennially poor health, the feat demanded a great effort from Overbeck, especially in the middle of winter. 18 hours in those times when trains, insufficiently heated or not heated at all during the night (no sleeper), meant a real sacrifice. But the worst still awaited him.
By his own efforts Overbeck found Nietzsche's housing in a city unknown to him. The landlord, Fino, was absent. Nietzsche, with his behavior, had finally put Fino in a state of despair, and he was now seeking help from the German consulate and police. The whole family was scattered so that it took some time for Overbeck to find the wife. Only then he approached his friend. In his letter of January 15 to Köselitz he narrates the encounter:
It happened in the last time when it was still possible to get him without official impediments, except his own state. I pass over the moving circumstances in which I found Nietzsche as a pupil of his landlords; which seem to be also characteristic of Italy in general. With the terrible moment as I saw Nietzsche I come again to the principal issue: a terrible moment like no other, and totally different from everything that happened afterwards.

I see Nietzsche in a corner of the armchair, curled up and reading—as it was apparent later, the latest proofs of Nietzsche contra Wagner—, tremendously deteriorated in external appearance. He sees me and rushes towards me, recognizing me he hugs me tightly, and becomes a sea of tears. He goes back then, in convulsions, to sink himself into the armchair. Neither do I find strength, because of the shock, to pull myself on my legs. Did it open at that moment the abyss in which he finds himself, or better, into which he has fallen? In any case, no such thing has been repeated. All of the Fino family was present.

Just as Nietzsche returned to rest there, moaning and with convulsive contractions, the watered bromide that was on the table was given to him. Instantly he relaxed, and, laughing, began to talk about the great reception that was prepared for him at night. Thus Nietzsche moved in a circle of delusions from which he never came out after I lost sight of him; being always clear of mind about me in general and other people, but caught in a full night about him. It happened that, exalting himself without measure, and with strong songs and frenzies on piano, shreds of the ideas were recovered from the world in which he had lived lately.

Then, in short sentences, uttered in a tone indescribably flat, he had us hearing sublime, wonderfully visionary things and unspeakably terrible about himself as the successor of the dead God, tapping all, so to speak, at the piano. Afterwards the convulsions and fits of indescribable suffering returned. But, as said, this only happened in rare and fleeting moments. While I was present, generally the profession statements that he awarded himself dominated: to be the jester of the new eternities, and he, the incomparable master of expression, was unable to represent the enthusiasm even from his joy otherwise than through the most trivial expressions or by a ridiculous dancing and jumping.
Overbeck's report in his memoirs and letters to Köselitz is very summary. Carl Albrecht Bernoulli was able to complete it:
He then wrote to Peter Gast [Heinrich Köselitz] everything that happened in Turin during the terrible encounter; his hand refused to transcribe to paper the latest and most sordid details. Although occasionally he alluded to this in the most intimate circles, and to me personally he completed by word the description.
Overbeck was also more forthcoming with Möbius, who visited him on April 10, 1902. Möbius informs us:
In Turin he met a Jewish man who volunteered as a caregiver of the crazy (but he was not) and that with the help of his intervention they carried out the risky venture. Nietzsche was in bed and refused to get up. The Jew told him that they were prepared for large receptions and festivities, and Nietzsche got up, dressed and went to the station with them.

There he wanted to embrace all people, but the companion explained him how it was not appropriate for such an important man: and Nietzsche calmed down. Using large quantities of sleeping pills the patient remained quiet during the trip, and thus came the three happily to Basel.
Another visitor to Overbeck, the writer Eduard Platzhoff-Lejeune, based on an earlier conversation with Overbeck, presented the episode thus:
The Turin police was already aware, and only a true kidnapping could prevent a forced entry into a center of that place.

Then, miraculously, a stranger, a German Jew, apparently offered himself [for a fee] to transport the sick. Overbeck agreed and did not repent of his acceptance. With surprising touch the stranger immediately got influence on the wayward sick, something that the friend was not able to.

Nietzsche obeyed as a child, left the bed and dressed. A new outburst became a torture for Overbeck on the way to the station. Shouting and chasing them, Nietzsche was addressing the curious crowd, at the point of nearly thwarting the traveling. The train left while Nietzsche sang a fishermen's Neapolitan song [?]. That deeply touched the excited friend. The caregiver tried a suggestion: "You're a prince. In Basel station a festive crowd is expecting you. Come in before it without greeting to the car that is waiting to you!"

The trick worked better than expected. The morning of January 10, 1889, around 8, Nietzsche and his caretakers arrived to Basel. A ready-cab took them to "Friedmatt" where the patient could be entrusted to the care of specialists.
With that Nietzsche stopped being a person acting autonomously.