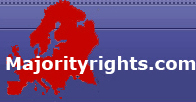 Monocausalism again!
Now that I've been called Jew for the third time, this occasion for rejecting conspiracy theories such as those imagined about John F. Kennedy's assassination (in an Occidental Observer thread where I also dared to mention 9/11 in the context of Holocaust denialism/revisionism), a comment at Majority Rights on the single Jewish-cause hypothesis caught my attention.
Precisely the Majority Rights writer who last year labeled me "Jew" in a featured article for my skepticism about 9/11 conspiracy theories (search "J Richards" in this entry) has been given admin powers at Majority Rights. A couple of days ago he abused such powers and deleted a comment of someone who hilariously scoffed at Richards' monocausalism.
Admin powers to a single Jewish causer, at a major nationalist site? What a shame…
Since I think in Spanish, my dominion of the English language is but a fraction of the mastery of the English language that you can read at Majority Rights. Yet I would never, ever exchange my simple, straightforward honesty for the pointless sophistication that in Spain we label as discusiones bizantinas (in reference to the pointless, ultra-sophisticated theological discussions in ancient Constantinople).
What's the point of authoring in-depth articles on Heidegger's ontology while at the same time you believe in conspiratorial nonsense that any High Scholl kid can debunk by merely reading Skeptical Inquirer? Take a look at the Occidental Observer thread on the Holocaust I referred to above and search for my recent aggregations to see what I mean.