Roger Devlin has been publishing another series of insightful anti-feminist articles at Counter-Currents, of which I would like to pick up just a few sentences of his latest article, "The Feminine Sexual Counter-Revolution & its Limitations, Part 2":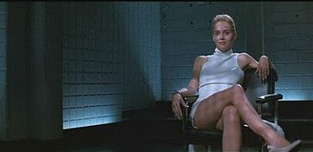 Sharon Stone during the interrogation scene in Basic Instincts, just before showing her pubic hair to the male interrogators.


A man should never base his self-image on what women think of him in any case, because women's concerns are too materialistic and self-centered. ("He that is married careth for the things that are of the world, how he may please his wife," as St. Paul put it.) The men who have accomplished the greatest things for our civilization have not, by and large, resembled the heroes of women's romance fiction; indeed, they have been disproportionately celibate. Once a man realizes what triggers female attraction, and understands that women's judgments of men are largely rationalizations of this attraction (or its absence), he will not be inclined to overvalue their opinion of him.
As far as I can see, if we are unwilling to hold women strictly accountable for their actions, we have only one logical recourse available: a return to the ancient Roman legal doctrine that a woman is a perpetual minor. This would involve an end not merely to contemporary "women's liberation" but to an entire legal tradition that has developed within Christendom over centuries. For starters, it means women could no longer be permitted to hold property or enter into contracts.
In the America of the 1950s—the baby boom—the average age for women at first marriage sank as low as 20. I emphasize the word "average": plenty of girls were younger, marrying right out of high school or even before. To this day, marriage at 16 is legal for girls in all 50 states (with parental consent). During the Christian Middle Ages, a bride was often a bit younger still. Most Americans today have no idea how bizarre their horror at "teenage pregnancy" would have seemed in other times and places.
On a final note, and as a service to The Last Ditch's female readers, I would like to reveal what makes a man commit. It is in fact an extremely simple matter, although carefully unmentioned in women's magazines: children. A normal man feels morally committed to a woman who is bearing him children he can feel certain are his. The survival of our civilization may depend upon women's speedily reacquainting themselves with this ancient and timeless reality.