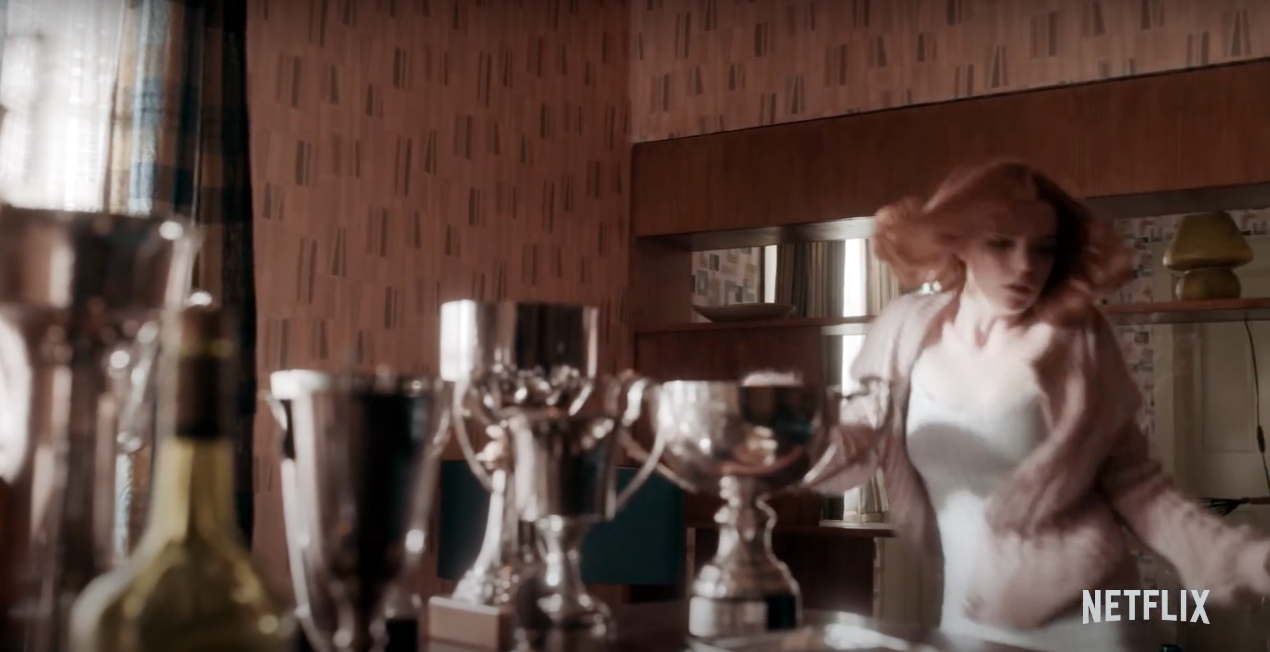 Beth dancing to a degenerate piece of music
that was a hit when I was pubescent, with trophies
from all the chess tournaments she had won.
As a teenager I was a big fan of chess, and even in my early twenties I played daily in a park visited by middle-class chess players (I recount my adventures in Spanish: here).
The Queen's Gambit is an American TV miniseries based on the 1983 novel of the same name by Walter Tevis, starring Anya Taylor-Joy in the role of Beth Harmon. It was directed by the Jew Scott Frank and the script was written by a gentile, Allan Scott. The Queen's Gambit was released on Netflix last month and has now concluded.
The past few days I watched The Queen's Gambit. From one of the first episodes, when Beth approaches the camera showing the shape of her beautiful boobs under her clothes, I realised the impossible chimera of this series that is causing a sensation in the world. But first of all I must speak a little about female tits in our species.
Decades ago, the biggest surprise I came across when reading The Naked Ape was discovering why men crave women. If we consider the shape of a baby bottle for milk, that is exactly the shape female teats would have if the objective were purely functional for baby sucking. But women's breasts are completely different. Zoologist Desmond Morris, the author of The Naked Ape, explains the phenomenon of 'self-mimicry' in other species of apes. In these species, natural selection favours females to imitate their buttocks with their coloured breasts, in order to shift the aggression of the males to a more erotic channelling.
I was shocked to discover that my own species is a more aesthetic version of the same phenomenon of self-mimicry! But that is exactly what it is when we see the ape we are with a naked eye: the needs of the baby are secondary to the trick that Nature does to us so that we impregnate our females. Nature makes them absolutely irresistible to our instincts in order for the human species to breed.
But our species is also governed by the concept of the trade-off, and I will have no choice but to speak scientifically for a few paragraphs.
Why can't there be a species that is a mix between a super-poisonous bug and a winged, big, beautiful and highly intelligent creature? In a fantastic world just imagine what power such a creature would have. In my science course at the Open University I learned about the concept of a trade-off between one aspect of an organism's biology and another. A trade-off is a situation where, to gain some advantage, an organism has to pay a price: to compromise. In our species big brains are a good example. Our huge frontal lobes are certainly nice to have but they are costly in terms of the energy they use up, and make childbirth extremely difficult.
As explained in my Day of Wrath (see sidebar), this is the main cause of massive infanticide of babies in past history. Extremely immature babies are bothersome. A unique feature of the human race—prolonged childhood with consequent long dependence on adults—is the basis for the psychodynamics of mental disorders. The long childhood of Homo sapiens lends itself to parents abusing their young. After all, premature birth was Nature's solution to the trade-off of bipedalism and the limitations of the pelvis of hominid females in our simian ancestors. (If Homo sapiens weren't born so immature, we would have to stay within our mothers' bodies for about 20 months.) The 'long childhood' lays a solid foundation for understanding the abuses committed by parents in our species and, therefore, the mental disorders suffered by the progeny. But that's the price we have paid for our big brains!
Body size is another example of trade-offs. In the animal kingdom being big gives you some advantages against predators but it also means you need more food. Being small means that you don't need much food but it makes it easier for another animal to hunt you. That species can't gain an advantage without having to pay a price means that there will be many ways to survive and prosper: and explains why there is so rich diversity in the animal kingdom.
In my Open University course I had to answer this question: Why a bird with a complete set of the five potentially very successful traits (a species of bird whose individuals lived a long time, reproduced repeatedly and at high frequency, and with large clutch sizes) doesn't exist? The answer is because of trade-offs. A bird that produces large clutches cannot reproduce frequently because the production of each clutch requires a lot of resources. Also, large clutches require more looking after because in due course there are more mouths to feed. Large clutches are therefore likely to suffer higher mortality than small clutches while adults are absent from the nest.
The same applies to the surreal example of the impossible chimera I imagined above. Having assimilated the concept of trade-offs, let's now remember old Schopenhauer:
In the girl Nature has had in view what could in theatrical terms be called a stage-effect: it has provided her with superabundant beauty and charm for a few years at the expense of the whole remainder of her life, so that during these years she may so capture the imagination of a man that he is carried away into undertaking to support her honourably in some form or another for the rest of his life, a step he would seem hardly likely to take for purely rational considerations. Thus nature has equipped women, as it has all its creatures, with the tools and weapons she needs for securing her existence, and at just the time she needs them; in doing which nature has acted with its usual economy [my emphasis—a trade-off].
The media lie is equivalent to 'filming' those flying and poisonous bugs which, in turn, are smart as humans: impossible chimeras.
In previous years I insisted a lot on how the most popular series of all time, Game of Thrones, made us see several female characters as brave warriors: something that never existed in the Middle Ages or in old-time chivalric novels (Brienne of Tarth, Yara Greyjoy, the wildling Ygritte, the masculinised female warriors at Dorne) or queens without a king to control them (Daenerys Targaryen and Cersei Lannister). Worst of all was that a girl (Arya Stark) killed the bad guy of the series, the Night King, in what I consider to be the climax of the whole series (Theon Greyjoy should have killed the Night King). In real medieval times, and in chivalric novels, all these women would have been similar to Lady Sansa, the only character who played a feminine role in most of the seasons of Game of Thrones (except for the end of seasons 6 and 8).
The goal of Hollywood and TV is to brainwash us by reversing sex roles to exterminate the white race. And it is a disgrace that even the greatest white nationalist novelist of the 21st century, the late Harold Covington, fell for this feminism in his most voluminous novel (see 'Freedom's Daughters' in my Daybreak).
HBO produced Game of Thrones. Netflix has produced The Queen's Gambit. HBO wanted us to believe that women can compete with men, and even surpass them, in matters of what used to be called the knight-errant. (Remember how Brienne of Tarth beat the very tough Hound in the last episode of the fourth season of Game of Thrones.) Now Netflix wants us to believe that in matters of the intellect a woman, Beth Harmon, can beat the toughest chess players and even the very world champion (Vasily Borgov in the TV series: Beth's strongest competitor).
Some people in the media are publishing articles with titles such as 'Is The Queen's Gambit a true story?' They claim that the series was inspired by the woman who has reached the highest when competing in chess tournaments: the Hungarian Judit Polgar, now retired from the competition although she continues to comment on professional chess games. But Polgar's life was quite different from the fictional Beth Harmon whose photo appears at the top of this entry. It is true that in real life Polgar once beat the world champion of chess, Garry Kasparov. But what the Netflix series omit is the score of all their confrontations. In real life, Kasparov beat Judit Polgar 12 to 1, with 4 draws!
It seems important to me to present the scores of the best female chess player in history, Polgar, in her games against the male world champions (to date, no woman has been crowned world champion of chess). The source for the list below is Chess Life:
Kasparov – Polgar: 12-1
Carlsen – Polgar: 10-1
Anand – Polgar: 28-10
Karpov – Polgar: 20-14
Topalov – Pogar: 16-15
Kramnik – Polgar: 23-1
As we can see, Polgar is at a disadvantage against all of her contemporary world champions. The only world champion with whom she maintained an almost even score was Topalov. Her score against Karpov was not bad, and although her disadvantage against Anand is wide, her results are noteworthy. But against Kasparov, Carlsen and especially against Kramnik, Polgar took real beatings.
These are the pure and hard facts of real life that more HBO or Netflix feminist series won't change. They want us to believe that women are interchangeable with us in matters of physical activity and, now, intellectual sports!
Nature has endowed the woman with feminine charms so that a man may impregnate her thanks to her inviting tits, and support her for the rest of her life. Nature didn't give her muscles or brain-power equal to the man. We have more cranial capacity than women. Anyone who hasn't read a chapter from the 2017 edition of The Fair Race (a chapter that no longer appears in the 2020 edition!) should read it now. It is the best way to understand not only our sexuality but also the sexuality of the fair sex.
Beautiful tits that enchant us cannot go in the body that houses, at the same time, a superior brain of those whom her tits seduce: an elemental trade-off.
Postscript of 2021: Desmond Morris' exact quote appears in the first indented paragraph: here.