by Evropa Soberana

The anti-Hellenist genocide continues, with more virulence
Julian, the last patriotic emperor of Rome, is succeeded by Emperor Flavius Jovian: a fundamentalist Christian who reinstates terror, including the Scythopolis camps. In 364 he orders the burning of Antioch's library. We must assume that what has come to us today from the philosophy, science, poetry and art in general of the classical era is nothing but a mutilated dispossession of what was left behind by Christian destruction.
Through a series of edicts, the emperor decrees the death penalty for all individuals who worship gods instead of the god of the Jews (including domestic and private worship) or practice divination, and all the assets of the temples of the old religions are confiscated. With a decree of 364, the emperor forbids non-Christian military leaders to command over Christian troops.
That same year, Flavius Jovian is succeeded by Emperor Valentinian, another insane fundamentalist. In the eastern part, his brother Valens continued the persecution of the followers of classical culture, being especially cruel in the easternmost part of the empire. In Antioch, he executed the former governor and the priests Hilary and Patrician.
The philosopher Semonides is burned alive and Maximus, another philosopher, is decapitated.[1] All the Neo-Platonists and loyal men to Emperor Julian are persecuted with fury. At this point there should already be a strong anti-Christian reaction from the part of the wise men and all the patriots in general. But it was too late; and all they had left was to preserve their knowledge in some way.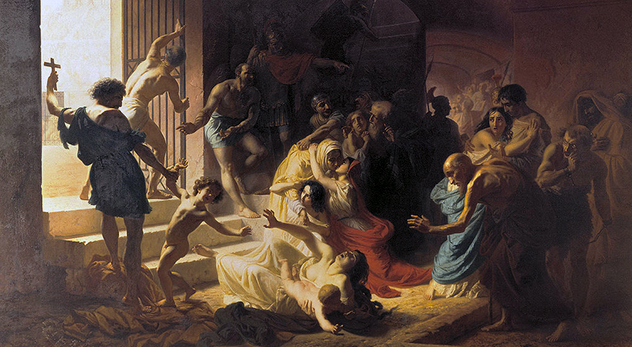 In the squares of the eastern cities huge bonfires are erected where the sacred books, the Gnostic wisdom, the Egyptian teachings, the Greek philosophy, the Roman literature burns… The classic world is being destroyed, and not only in that present, but also in the past and in the future. The Christian fanatics want, literally, to erase all traces of Egypt, Greece and Rome; that nobody knows that they ever existed and, above all, know what the Egyptians, the Greeks and the Romans have said, thought and taught.

_____________________
[1] Maximus of Ephesus is mentioned in my previous Julian entry: a novel in which the author has him playing an important role in the plot (see also Kriminalgeschichte 43).