by William Pierce
A review of the movie The Crying Game, American Dissident
Voices (September 18, 1993). The following text of a radio
address by Pierce is taken from Kevin Strom's archive.
Today I want to talk with you about morality… about standards… about values.
Most of us have heard it said that the reason America is in such a mess today is that our people have lost the values we used to have, and that we need to regain them—that we need to begin teaching values to our kids in the schools.
And I guess I'll agree with that… but there's more to it. It's certainly true that as a nation, or as a race, we've lost our values. Or, more accurately, we had them stolen from us. And now, unfortunately, the values we used to have are being replaced by new values which are worse than no values at all.
America hasn't so much lost its sense of direction as it's had all the road signs changed while it wasn't looking. Values are our problem today… but even more, our problem is the people who have deliberately changed our values, deliberately perverted them.
I don't want to beat around the bush or keep you guessing what I'm getting at, so I'll come right out with it: the people who control the mass media in America have deliberately and consciously, with malice aforethought, used their influence over the thinking of the people who see their films, who watch their television programs, who read their newspapers and comic strips and popular magazines… they've used their influence to twist our values, to reorient our whole way of looking at the world.
Now, most of us have heard that too. We've heard about the destructive effect of television and the other mass media on public morality. We've heard that there's too much violence and too much sex on television and that it isn't good for us. And I guess that I'll agree with that too… sort of. Too much television isn't good for us, but it's not just because of the sex and violence. It's because television—and films and magazines and the rest of the controlled media—are used for propaganda aimed at subverting the values of our people, especially our young people. And they're used with malice aforethought.
A lot of us have more or less realized this. We've sort of sensed that something was rotten in the media establishment. We felt that the media bosses who run Hollywood and the media bosses who control the TV networks were slyly twisting the view of the world they presented to us, slyly trying to change our attitudes. But the media bosses are clever and they're subtle, and, of course, they denied everything. And so it often was difficult for ordinary people who felt they were being manipulated to really put their fingers on what the media bosses were trying to do.
And so people have jumped on the too-much-sex-and-violence bandwagon, but that really isn't the problem at all. The sex and violence in films and television is simply pandering. It's simply keeping the viewers distracted, so that they won't complain about the real propaganda. The real propaganda the media bosses have been trying to slip into our minds is the idea of human sameness, the idea that the differences between Blacks and Whites, between men and women, between homosexuals and heterosexuals aren't significant, aren't important, that we ought not to notice these differences, and we certainly ought not to take them into account in choosing friends, associates, or lovers… that we ought not to feel any special affinity for people of our own sort, that, in fact, we ought to feel a little guilty if we still have any sense of racial or ethnic identity left, or if we regard homosexuals any differently than we do normal people.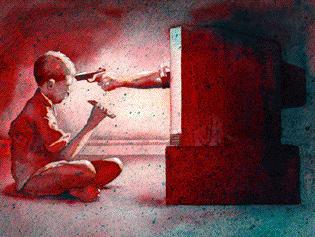 That's the basic message. That's the propaganda. But, as I said, the media bosses are subtle, and the average person usually doesn't see that whole message in any single film or TV show, and so it's difficult for him to recognize that he's being manipulated.
The media bosses are getting bolder, however, and a film came out a few months ago which contains pretty much the whole message, and it contains it in a form that's not at all subtle, that is in fact blatant enough for many people to see for what it is—at least, they should be able to see it once it's pointed out to them. The film I'm referring to is The Crying Game. It was made by Miramax Pictures. That's a film company in England which is owned by two Jewish brothers, Bob and Harvey Weinstein. When the film first came out I wasn't interested in seeing it, because the reviewers in the NY Times and the other major media were all oohing and ahing over it. They considered it a very "sensitive" film, and so I figured it must be more of the same, old trash.
Well, I was wrong. A friend sent me a video of the film, and I viewed it a couple of days ago.
In case you haven't seen the film, let me run briefly through the plot. It opens in present-day Northern Ireland. A British soldier is enticed by an Irish girl he meets at a carnival to head off into the bushes for a little sex, where he is immediately kidnapped by members of the Irish Republican Army, to be held as a hostage in retaliation for the arrest of an IRA man by the British Army. Nothing the matter with that as a movie plot, of course—except that the "British" soldier just happens to be Black. No one pays the least attention to that rather startling fact, even as the Black soldier kisses and fondles the blonde Irish girl in the midst of the carnival crowds. The message the filmmakers are sending us here is that the soldier's race makes no difference, either as a soldier or as a lover. We are being told that we should see nothing amiss in a typical British soldier being Black, or in a Black man romancing a White girl.
While he is being held hostage, a friendship develops between the Black soldier and one of his Irish captors, a man named Fergus. Eventually the time comes to kill the captive, but before that the Black has shown Fergus a photograph of the girl back in London he really loves, a mulatto, and he makes Fergus promise to visit the mulatto girl and tell her that his last thoughts were of her.
Fergus keeps his promise—more or less. But he also falls in love with the mulatto girl. Then, in the course of trying to make love to her he discovers that she's really a man: a homosexual female impersonator. At first that disconcerts Fergus rather badly, but by the film's end he's shed his prejudices, his bigotry, and he's realized that it really doesn't make any difference, that he loves the homosexual mulatto after all, just as the Black soldier had done before him.
Now, I've skipped a lot of the lurid details, which would get this program thrown off the air if I described them to you, but you get the picture: race doesn't matter, sex doesn't matter, sexual orientation doesn't matter. All that matters is love. Every effort to discriminate—to distinguish—between Blacks and Whites, between men and women, between homosexuals and heterosexuals is bigotry, is prejudice, is hatred. We're all human beings, the film tells us, and that's the only thing that's important. We should ignore everything else and love others, without regard for these superficial differences.
The people who made The Crying Game don't believe that, of course. That's just what they want us to believe. They understand that any race which absorbs their message, any nation which absorbs their message, any society which absorbs their message… has been morally disarmed and has been made helpless against its enemies. The race which absorbs and takes their message to heart has lost its ability to discriminate and therefore its ability to survive. It's a race ripe for exploitation, ready to be plucked and slaughtered, a race unable to defend itself against the predatory tribe to which Bob and Harvey Weinstein belong.
As I said, the media bosses prepare their message for us with malice aforethought.
Now, if you think I overstate my case, if you think I exaggerate, if you think I'm being unfair to the media bosses, I invite you to view The Crying Game yourself. It's available in video stores everywhere. View it for yourself. See if you don't agree with me about what the Weinstein brothers are trying to tell us.
Their message, of course, is the same message we get from all of the controlled media these days. The only thing unique about The Crying Game is that it rubs our faces in their filth so much more forcefully than most other films do. Usually they don't slap us right in the face with the whole message at once. Usually they sugarcoat it and slip in just a bit of it here and there. Usually they don't let us see so clearly what they're aiming at. Usually they just teach us to parrot a few of their Politically Correct clichés about the evils of "discrimination" and about how wonderful "multiculturalism" and "diversity" are.
After I viewed The Crying Game I reread the reviews of the film. I want to read you a few short extracts from these reviews. The NYT reviewer, Bernie Weinraub, bubbles about how the film explores "the blurred nature of love, trust, and compassion."
Blurred, indeed, for Mr Weinraub and the Weinstein brothers!
Weinraub then goes on to quote the film's director and scriptwriter, who says his film is "a love story, in the broadest possible sense. It's about the extremes of love and the responsibilities of love, and how two characters find a way to love each other who are divided by many things. It's also about how one person loses himself to find himself. The central character loses all the different facets of what he thought was his identity. Once he does that he finds the human being in himself."
Newsweek magazine gushingly calls the film a "study of what constitutes moral virtue." Newsweek tells us: "If the test of a good movie is how it makes an audience feel when the lights come up, The Crying Game is a very good movie indeed. It leaves one giddy."
Isn't that something! Not a mention of the film's portrayal of homosexuality and miscegenation as normal, healthy behavior we all should feel good about. The film, according to the reviews, is about love, about finding the human being in oneself. It makes audiences feel so good they are giddy.
What are we to think about the people who made this film and the people who reviewed it and the people in Hollywood who awarded it several Oscars? The Weinstein brothers and Bernie Weinraub and the rest of their tribe are so arrogant as to tell us that every standard of quality, every standard of behavior, every standard of beauty and righteousness which has guided our race for thousands of years is bad because it discriminates, and that we have to throw them all out and be undiscriminating.
While laughing up their sleeves and smirking behind their hands they come into our country and tell us that it is wrong for us to discriminate between decent and indecent behavior, between our own race and other races, between what is natural and what is unnatural, between what is wholesome and beautiful and what is filthy and ugly. It's all the same, they say; that's the new morality.
How can anyone be so pushy? How do they get away with it? Why do we permit people who so clearly are working to destroy us morally to carry on their destructive activity? Why did we permit them to take over our newspapers and magazines, our film industry, our television?
Part of the answer to that question is, as I said before, that these people usually are not so obvious about their intentions as they were in The Crying Game. Usually they make films which simply entertain people, while slipping in just a little poison unnoticed by most of us.
And part of the answer lies in a peculiarity of human nature, a peculiarity which the great Danish storyteller Hans Christian Andersen commented on more than a century ago in his story titled "The Emperor's New Clothes." When the average person sees a film as shocking and evil as The Crying Game, he doesn't simply say to himself, hey, that was a shocking and evil film, which aims at making us abandon our sense of right and wrong, our sense of discrimination.
And he certainly doesn't say that to his friends and neighbors. Instead he looks around to see what other people's reaction to the film is. He listens to what the opinion molders are saying, the film reviewers. And if they say, hey, this was a wonderful, sensitive film about love, then he'll simply suppress his own reaction to the film, and he'll tell the people around him, oh, wasn't that a sensitive film! Even sophisticated, educated, intelligent people will behave that way. Remember, in Hans Christian Andersen's story it wasn't a professor or a successful businessman but a child who said, "Mommy, mommy, look, the emperor is naked!" And then, if you remember the story, the other spectators who heard the child also began saying, yes, the child is right, the emperor is naked.
Perhaps Andersen was a little too optimistic about human nature if he really believed that one lone voice of truth and reason could shatter the whole fabric of lies and deceit which the masters of the controlled media have woven around us. But I believe, nevertheless, that individuals must speak out now: we must say to everyone around us, films like The Crying Game are not about love. They are about the abandonment of values and standards. They are about giving up our power to discriminate. They are about surrendering to evil.
We must say these things not just because they are right, but also because some people who hear us will wake up, just like the people in the crowd admiring the emperor's new clothes woke up when they heard the child saying what should have been obvious to everyone. We must say that it is not love to permit Blacks to fondle and kiss White women or to treat a homosexual female impersonator as if he were a normal woman. It is racial suicide. It is filth and sickness. We must say that loudly and clearly. And we also must say that the people who have been trying to twist our values, the film-makers and the film reviewers and the television network bosses, are evil people, and we should not tolerate their presence in our society. We should rid ourselves of them by whatever means is necessary.
We should understand that those who want to rob us of our values are as dangerous to us as those who want to steal our possessions or our liberty. Those who try to make us believe that anything goes and that it's wrong of us to discriminate are as much our enemies as any gang of terrorists bent on destroying our society. The Weinsteins and the Weinraubs and their ilk are trying to destroy us morally.
And they're succeeding. Just look at the filth we elect to public office in this country. Look at what we tolerate in the White House and in the Congress.
You know, a single film and a few deceitful reviews seem like an inconsequential thing. It is, after all, just entertainment, and we might think that we can take it or leave it.
No, no, really—it's more than that. It's part of a vast, concerted, ongoing effort, and it does have consequences. We can see those consequences all around us, from the Clintonistas in Washington to the breakdown of order in our cities and the loss of discipline in our kids' schools.
We don't have to put up with that any longer. We don't have to pretend that we don't notice what's been happening. We can stand up and speak out. We can make others wake up. We can begin taking this country back. It's time to start doing it.