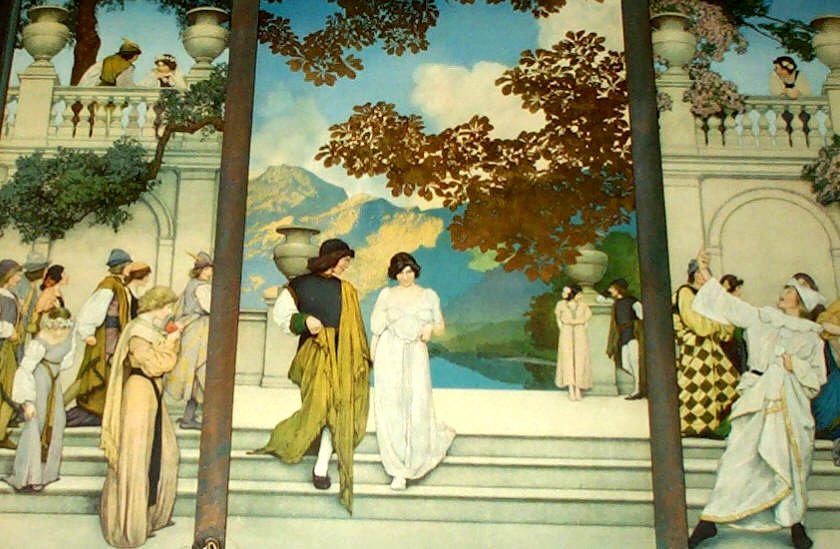 Part of Maxfield Parrish's 1913 Florentine Fete murals exhibited at the National Museum of American Illustration. If an ethno-state is ever created in the Northwest, my ultimate dream is that in the distant future its people will resemble the paradisiacal world of Parrish (click here for individual detail of this mural.)


In my last posts we discussed the majority report in "orthodox" white nationalism: Capitalism and the Jewish Problem as the twofold etiology of Western malaise. But I also mentioned my minority report: that the most extreme cases of self-hatred among whites—those who celebrate that their kind will become a minority in a dehumanized society inundated by non-white swarms—cannot be explained satisfactorily by any of these two factors.
In a recent post I briefly talked about how child abuse among whites drives them to hate the culture of their parents, and also presented my book Hojas Susurrantes ("Whispering Leaves"), most of which has not been translated to English.
Since this is a novel, if not a far-fetched subject for most nationalists, I cannot deal with it in this blog. However, you can visit a blog I started this week, Fallen Leaves, where I am gathering texts on the toll of child abuse in adult life I've been writing or collecting since 2005.
If in the near future I don't add new posts to The West's Darkest Hour as often as I used to do, it's because I am busy with my minority report in another blog; for example, translating to English articles I originally wrote in Spanish: Fallen Leaves