While it's true that in the PDFs you can see all the entries as they appeared in the old incarnation of The West's Darkest Hour (WDH), our previous problem consisted in that it was impossible to navigate through those PDFs (categories, comments, links to other internal and external articles, tags, etc.). But thanks to the generous financial help I received from some WDH visitors, the problem has been solved.
Now only minor problems have to be solved, like contacting a 'theme developer' so that the indented quotes don't appear italicised in brown in this new incarnation of WDH. On Monday I'll try to solve that problem with another technician (the ones I know don't work on weekends). However, the main problem, that the posts from the old incarnation were navigable in this new incarnation, has been solved.
There are still many things to do: for example, getting a printer to print the English books that used to be printed for me by Lulu, Inc. When I get that printer, the first book not previously published by us that we will publish will be the one we translated from French by Savitri Devi. Then we will publish in print form, in addition to The Fair Race's Darkest Hour, Daybreak, On Exterminationism, On Beth's Cute Tits, a new compilation of WDH's best recently published essays.
Unlike other racialist sites, we at WDH emphasise books. Only through books is it possible to convey the idea of the implications of a paradigm shift (summed up in the Nietzschean phrase about the transvaluation of all Christian values into values of the classical world). The racialist sites visited by thousands of semi-normies today talk about the news because they fail to see the big picture: it was the catastrophe from Constantine to Charlemagne that distorted the soul of Aryan man by forcing Him to worship the god of the Jews.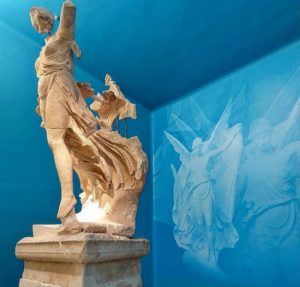 In the above picture we can guess what the Greco-Roman statue would have looked like had it not been destroyed by Judeo-Christians, who abhorred Aryan beauty. Just compare this glorious image with the medieval iconography that depicts Jesus with Semitic features.
There is something that sometimes causes me doubts and that I would like to have some feedback on. The criticism I've made of the American racial right has been sarcastic precisely because they don't want to acknowledge the Christian Question. I don't know how wise it is to continue with that mocking attitude. My friend Paulina once told me that my only flaw was that I am very mocking ("Eres muy burlón"). I don't know how wise it is to continue to mock American white nationalism for its inability to see the CQ.
Should I, in this new incarnation of WDH, refrain from mockery? Does it take away from the seriousness of the site? One of the problems with character flaws is that you don't see them. So I am willing to listen to a critique on the matter, especially from those who are convinced, as I am, that the Christian problem is a huge problem for the sacred words of David Lane.