Today, as I finished reproducing my extracts from the first volume of Kriminalgeschichte, I would like to clarify something.
There was a time when I wanted to add to my excerpts the hundreds of footnotes that appear in Karlheinz Deschner's book but I changed my mind: mere excerpts do not require the notes, especially in a blog. However, I must point out that there are bibliographical references in a book that the English speaker can read in his native language.
I am referring to Catherine Nixey's The Darkening Age: The Christian Destruction of the Classical World: an elegant book published last year in Britain and available this year, in addition, by an American publisher.
Deschner was an obsessive scholar who worked to the nitty-gritty, nose-to-the-grindstone level throughout his life. Although The Darkening Age is not as monumental as Kriminalgeschichte des Christentums, I will reproduce Nixey's preface and the third part of her Introduction. It is vital that English speakers know that we are not inventing a black history of Christianity. Some of the main references that support what we have been saying with the translations of Deschner and Evropa Soberana, also appear in Nixey's book.
What is more, if you search you will find that even The Reader's Digest which publishes copiously illustrated books for the simple, and very Christian, American families acknowledges the facts. For example, the image below shows a crowd of Christians who, encouraged by Pope Theophilus of Alexandria, destroyed the temple of Serapis in 391.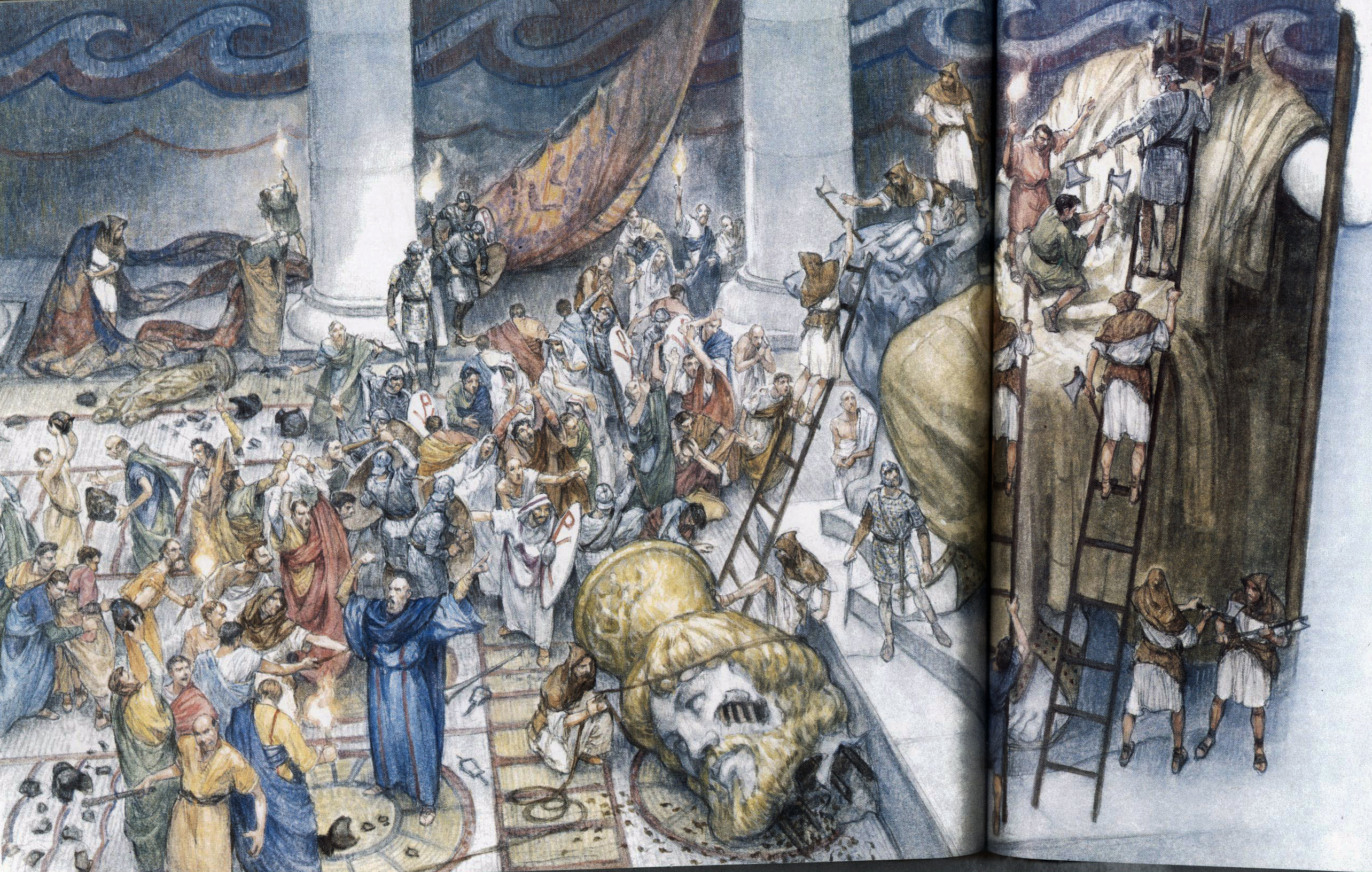 I scanned that image from pages 242-243 of the translation from English into Spanish of After Jesus (The Reader's Digest Association, Inc., 1992). What we see in the illustration represents the first dark hour of the West: the era that saw the destruction of ancient knowledge in the Library of Alexandria. Now we are living the second dark hour, when the enemy attacks directly your DNA so that the West cannot recover again, not even after a dark age as it did in the Renaissance.
That's why I call 'darkest hour' to our times.
About the first dark hour, of the authors I have quoted and will continue to quote, Soberana, Deschner and Nixey are gentiles. But yesterday almost midnight a commenter called my attention to Suicide Note, a book of almost two thousand pages of Mitchell Heisman (1975-2010). I began to leaf through the Suicide Note chapter on how the Christians installed Semitic malware in the psyche of the Romans to move them to commit ethnic suicide.
I was fascinated and continued reading until almost two in the morning today. However, when I wanted to inquire about the author via Google, I discovered that Heisman was a Jew who committed suicide upon finishing the book!
Of the German Deschner, the English Nixey and the Spaniard Soberana, only the latter awoke about the Jewish question. It is really curious that, although neither Deschner nor Nixey took the red pill, an American Jew did take it.
The PDF of Suicide Note is available online for anyone who wants to read the whole thing. Tomorrow I'll start reproducing those passages that elucidate what we have been saying about the Christian problem. Of course: I have to place the star of David after the author's name. It is very rare for a Jew to say anything about the psyop that his tribe applied to the Aryan since the origins of Christianity. One of them is Heisman✡.
Trouble is that most white nationalists still don't want to see what even a kike saw just before blowing his brains…