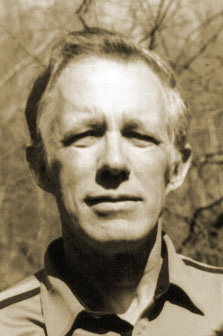 From The Fame of a Dead Man's Deeds:
An Up-Close Portrait of William Pierce
by Robert Griffin


"I'm William Pierce. I've been waiting for you."
Pierce looked to me to be around sixty years old. He is a couple inches taller than I am, which would make him about 6'3" or so. He has a large head and graying and thinning conventionally cut hair parted on the left side. His hair was long enough so that it curled up in the back. He is a bit hunched, and his head nestles down into his shoulders and thrusts forward. What stood out to me about his face were his large forehead and mouth. His face is unlined, his nose is straight and unremarkable, and his small ears protrude some. His eyes were blue behind the thick lenses of the conservative plastic-framed glasses he had on.
That day, Pierce had on a jeans jacket over a dark blue T-shirt with a pocket in which he had what appeared to be a white index card. His faded blue jeans hung straight down in the back in the way they do with older men. He had on brown workboots. Around his waist was a pistol belt. A holstered weapon was on his right and more to the back than to the side. The weapon wasn't visible because he had pulled his T-shirt over it.
Pierce' s basic appearance is long and lean, but when I shook hands with him I was taken by the size and strength of his hands and forearms which showed beneath his rolled-up jacket sleeves. His handshake was firm and confident. I had read that Pierce, as it was phrased, "doesn't have a very dynamic presence." That certainly wasn't the impression I was getting. He had the air of somebody important and as being the kind of person who very much fills up the space they are in.
"Come on in," Pierce said, motioning with his left hand toward the building to my right. I turned and for the first time got a good look at the National Alliance headquarters building. It is two stories tall and perhaps sixty feet wide.
The most prominent feature of the building is a ten-foot-high dark brown symbol attached to the building above the door. I couldn't tell whether it was made of metal or wood. It looks something like a Christian cross except that the crossbar is longer and instead of going straight across from nine o'clock to three o'clock, it is as if it were cut at the mid-point and the two pieces, still attached to the vertical bar, are pointed upward toward ten-thirty and one-thirty. I later learned that this is called a Life Rune and that it is the symbol for the National Alliance. I remember having an emotional charge that first time I took in this Life Rune image, so large and dominating. Especially in this setting, so removed from everywhere, it seemed alien, something out of Brave New World or 1984…
Pierce has a Ph.D in physics, and this room is where he goes to get away from it all. One other thing on the second floor: a television set next to the back wall amid boxes of books. I believe it is the only one on the property. It turns out that Pierce and those around him are down on television, seeing it as a reality-distorting and mind-warping force in the hands of their adversaries. Pierce isn't about to get the cable, and the only station that reaches this remote area is an NBC affiliate—barely reaches, the picture is snowy and doesn't qualify as being in color. Pierce is a faithful watcher of the NBC evening news. As far as I know, that is the extent of his television viewing other than tapes friends and followers send him, and I don't believe anyone around him watches television at all.