Further to what I said yesterday.
A deeper response to the questions raised by Stubbs would imply reminding my readers that, at the end of his Critique of Practical Reason, Kant said that there are two universes: the empirical universe and the subjective universe. Karl Popper comments that he who doesn't believe in the second universe would do well to think about his own death—it is so obvious that a whole universe dies when a human being dies!
What I find nauseating in today's academia is that it is an institution that denies the existence of this second universe. One could imagine what would happen if a student of psychology or psychiatry tried to write a lyric essay about why Nietzsche lost his mind, like the one that Stefan Zweig wrote and I have been excerpting for WDH. (And wait for the next chapters where Zweig's story reaches its climax…)
A proper response to Stubbs would require an absolute break from the epistemological error, a category error, so ubiquitous in the academia. That is to say, we must approach such questions as if they were questions for our inner worlds.
The best way to respond to Stubbs, following what I have said about psychoclasses, is imagining that few whites have touched the black monolith of the film 2001. Those who have touched it—and here we are talking of the "second" universe that the current paradigm barely acknowledges—know that the most divine creature on Earth, the nymph, must be preserved at all costs.
This is not the sphere of objective science. Since we are talking of the ideals of our souls, let me confess that I became a white nationalist in 2009 when I lived in the Spanish island Gran Canaria, near Africa. The big unemployment that started in 2008 affected me and, without a job and completely broke, I spent a great deal of time in the internet. When I learned that a demographic winter was affecting all of the white population on planet Earth I was watching a Harry Potter film featuring a blondest female teenager. I remember that I told to myself something to the effect that, henceforward, I would defend the race with all of my teeth and claws.
However, to understand this universe I would have to tell the (tragic) story of the nymph Catalina: a pure white rose who happened to live around my home's corner decades ago, who looked like the girl in that Parrish painting. But I won't talk about the tragedy (something of it is recounted in Hojas Susurrantes). Suffice it to say that since then my mind has been devoted to her beauty and, by transference, it is now devoted to protect all genotype & phenotype that resembles hers…
Once we are talking from our own emergent universe (emergent compared to the Neanderthals who have not touched the monolith), Stubb's questions are easily answered if one only dares to speak out what lies within our psyches:
So let me think of some fundamental questions that need to be answered: Why does it matter if the White race exists, if the rest of the humans are happy?
Speaks my inner universe: Because the rest of humans are like Neanderthals compared to Cro-Magnon whites. Here in Mexico I suffer real nightmares imagining the fate of the poor animals if whites go completely extinct (Amerinds are incapable of feeling the empathy I feel for our biological cousins).
Why does it matter if the White race continues to exist if I personally live my life out in comfort?
Speaks my inner universe: Because only pigs think like that. (Remember the first film of the Potter series, when Hagrid used magic to sprout a pig's tail from Dudley's fat bottom for gulping down Harry's birthday cake.) We have a compromise with God's creation even when a personal God does not exist.
Why should I be concerned with the White race if it only recently evolved from our ape-like ancestors, knowing that change is a part of the universe?
Speaks my inner universe: Because our mission is that we, not others, touch again the black monolith after four million years that one of our ancestors touched it.
Why should I be concerned with the existence of the White race if every White person is mortal, and preserving each one is futile?
Speaks my inner universe: It is a pity that no one has read The Yearling that I had been excerpting recently. I wanted to say something profound in the context of child abuse but that is a subject that does not interest WDH readers. Let me hint to what I thought after reading it.
To my mind the moral of the novel is not the moment when the father coerced his son to shoot Flag, but the very last page of Marjorie's masterpiece. Suddenly Jody woke up at midnight and found himself exclaiming "Flag!" when his pet was already gone.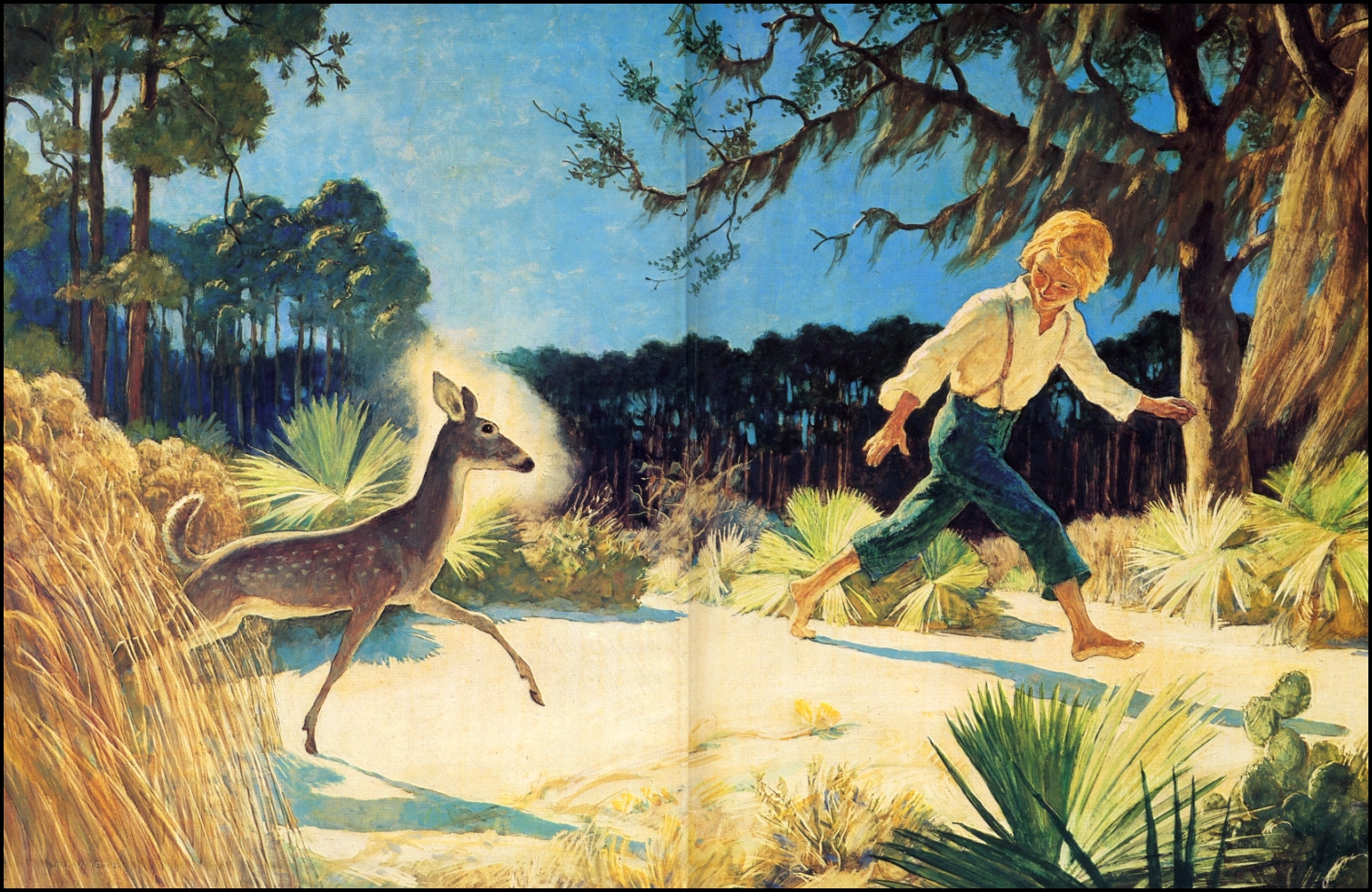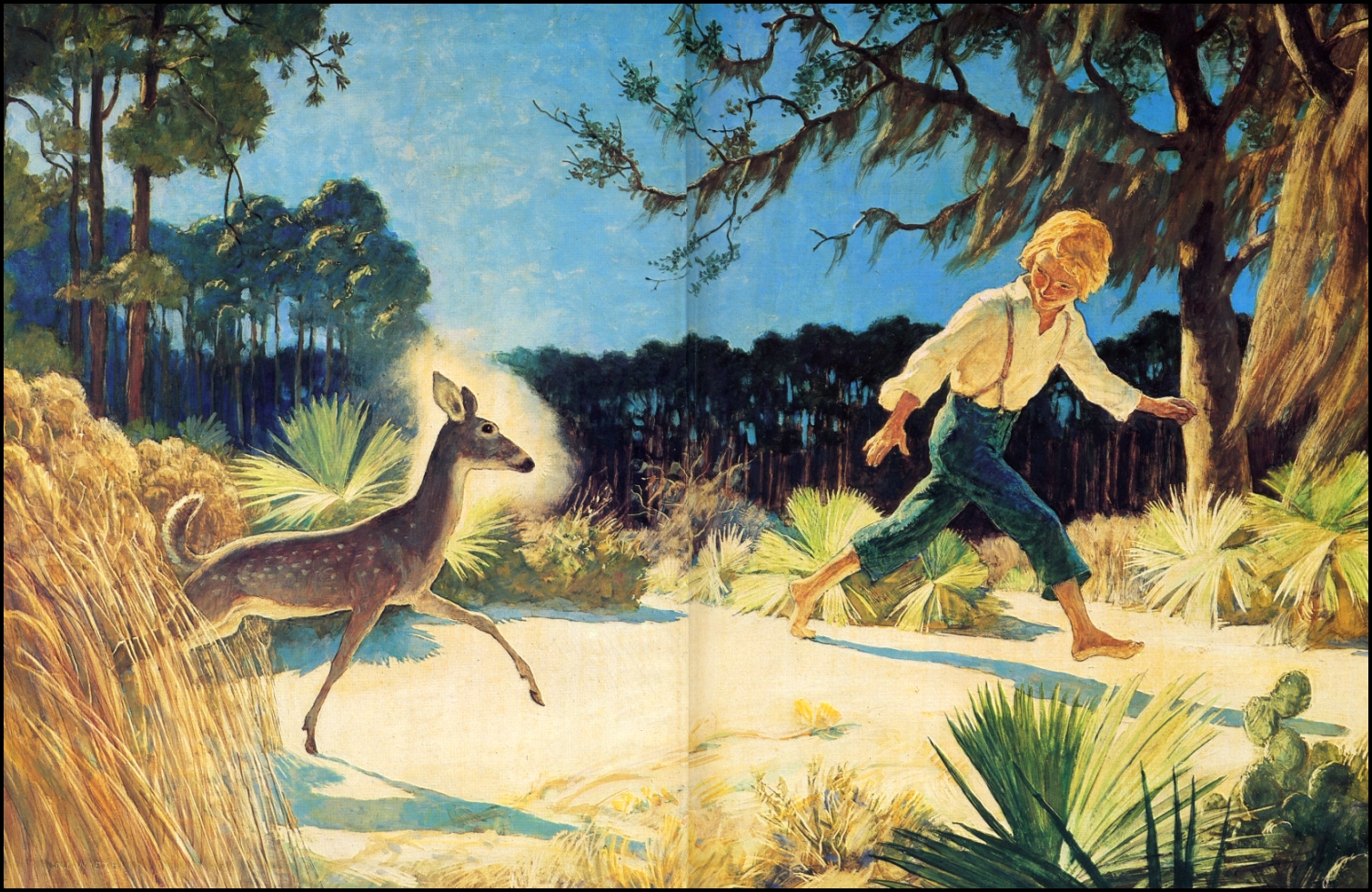 The poet Octavio Paz once said that we are mortals, yes: but those "portions of eternity," as a boy playing with his yearling, are the sense of the universe. The empirical (now I am talking of the external) universe was created precisely to give birth to these simple subjective moments: figments that depict our souls like no other moments in the universe's horizon of events.
Why should I be concerned with preserving the White race if all White people who live will suffer, some horribly, and none would suffer if they were wiped out?
Speaks my inner universe: The boy suffered horribly when his father obliged him to murder Flag, yes. But the moment of eternity, as depicted in Wyeth's illustration, had to be lived. It will probably leave a mark if another incarnation of the universe takes place…