In a recent discussion thread I said:
The Imperial Church started to destroy entire libraries and invaluable monuments of the classical world that represented the very soul of our Indo-European heritage and ancient wisdom.
Mister Deutsch, a commenter, responded:
Amen. And that's why whites cannot reassert themselves; their foundations were destroyed and replaced with a Semitic god.

The core problem is a confused spiritual identity; all of the other issues, be it miscegenation, liberalism, capitalism, Marxism, scientism, the cult of the bourgeois consumer, etc., are all the by-product of de-Aryanization via Christianity.
See the posts of Manu Rodríguez that I have translated from Spanish to delve deeper into this subject.
♣
Below, the Temple of Antoninus and Faustina: a partial ruin that was turned into a church, but you can still make out the impressive front steps and portico today. At one time, it looked like the model below. It was built in 141 by the Emperor Antoninus and dedicated to his wife Faustina, who had died.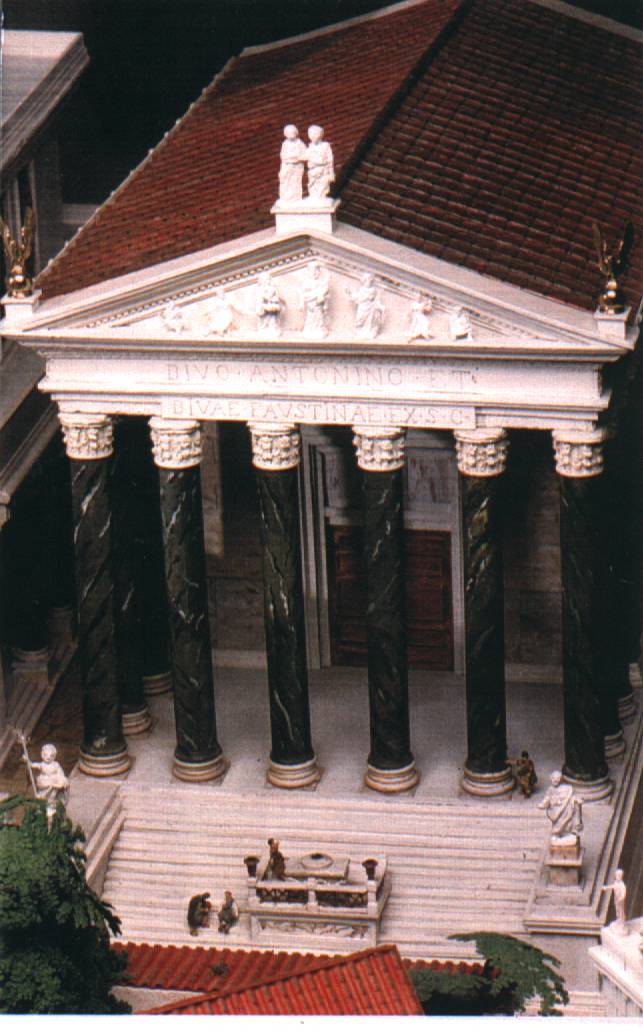 In the Middle Ages the temple ruin was converted to the Church of San Lorenzo. Today, it is one of the strangest churches anywhere. On the forum side, the steps and columns are still visible, as is the inscription to Antoninus and Faustina, with a church roof and entry on the opposite side. During the Middle Ages the forum was all under 10-20 feet of earth, so today with the ground excavated you can see the church and what remains of the original structure.