Thanks to the programme DeepL Translator, which allows me to correct the style (as English is not my mother tongue), I have finished proofreading the November 2022 edition of the book On Exterminationism, which can now be read here.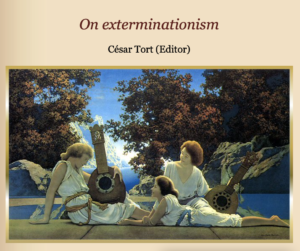 If I receive enough funds, I will hire a cover designer to make this horizontal image appear vertically so that the printed book can be sold through IngramSpark.
I would suggest that visitors read the Preface because, compared to the earlier editions, in this one I not only added new articles but removed a large number of articles from the previous edition.
The final three articles, where in addition to my voice the voices of Gaedhal, Maurice and Krist Krusher also appear, provide a good insight into the axiological and metaphysical POV of The West's Darkest Hour.
I will now add this book to the list of our books in the featured post…