(pages 9-10 of the forthcoming Savitri's book)
When Savitri Devi wrote the foreword that follows, I was seventeen and at the nadir of my life: mental hells into which my very Catholic father and his damned society had put me, as I confess in Letter to mom Medusa (see the book list on page 3). Curiously, a couple of years before that family tragedy I went to ask, in a bookshop, if they had any pro-Nazi books. An employee of the Librería de Cristal in the Cine Manacar in Mexico City, a fair-haired white man, hesitated a few seconds and informed me: 'No'. True, that bookstore had the old Spanish translation of Mein Kampf, but what I was looking for was more recent literature.
If the worst country in all of Western history had never existed, the United States, Hitler might have won the war and, as I recount in The Grail, the last book in my autobiographical trilogy, the teenager I was would have been spared from the psychosis that two years after my visit to the bookstore would be brewing in my parents' minds.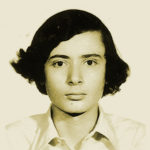 The book I was looking for at the age of fifteen was precisely this one that the reader now holds in his hands. I do not presume that this French-English translation is perfect. Far from it! But it seems to me that, of all the books by Savitri Devi (1905-1982), this is the one that best introduces us to the thought of this impressive woman.
If the American racial right is at a dead end, it is precisely because Americans have not had the nobility to see that only by making National Socialism their new religion can they save their race. Furthermore, unlike Hitler's anti-Christian pantheism (cf. Richard Weikart's Hitler's Religion), the great failure of the pundits of the American racial right consists in not repudiating the Semitic religion of our abusive fathers. And abusive by necessity must be all those who traumatise their children with the idea of eternal torture, as I was traumatised as a teenager.
Although the hellish nature of Christianity reveals the twisted psychology of the Semitic mind, the typical anti-Semite ignores that the Jews created the New Testament for gentile consumption (cf. David Skrbina's The Jesus Hoax). Anyone who invents a superheated torture chamber and then threatens billions of gentiles with it has a sick soul. Right after white traitor Constantine handed over the Roman Empire to his Semitic bishops (cf. Karlheinz Deschner's Christianity's Criminal History, also listed on page 3), the doctrine of hell became the greatest weapon of psychological terror used by Jews against whites. Ben Klassen was right on this point! And this is the kind of anti-Christian worldview I badly needed as a teenager to save me from the doctrines my father had put in my little head. Even now, so long after I abandoned Christianity, I am haunted by the idea of eternal damnation. As Gaedhal, a commenter on my website, The West's Darkest Hour, told us by email:
If you fear a Jewish Hell, then you are controlled by Jews. I speak by experience. I know, rationally, that Hell doesn't exist… However, more than thirty years of Catholicism means that I still believe in Hell emotionally. I still believe in Hell in my bones' marrow. And this residual belief in Hell still has negative effects upon my psychology and behaviour. I probably have religious trauma syndrome…
Alas, the American racial right has been, since its origins, extremely addicted to Judeo-Christianity. I would even claim that white nationalism is an ideology that, at its core, functions as a gatekeeper preventing the transvaluation of our darkest values to Greco-Roman values: that is, the luminous values of Antiquity before the Semitic infection. Thus, white nationalists are actively preventing the Aryan man from freeing himself from the yoke that the Jews have created. How could we shake such a yoke from our necks?
Only Hitler saves. Savitri Devi, Hitler's Priestess, saw this with extraordinary clarity! And the white man who does not want to recognise this is doomed to extinction.
César Tort
8 December 2022