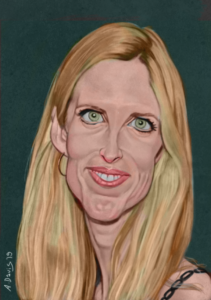 A couple of days ago, on The Occidental Observer, Ann Coulter was annoyed by these words of Nick Fuentes: 'Hitler is great, women should be forced to marry young and have children.' Doesn't Ann realise that in Jane Austen's very decent world, women were forced to marry because they couldn't inherit property? Doesn't she realise that, by virtue of those values, the British Empire became so powerful?
Ann Coulter is certainly not a racist. She's an asshole like the rest of the Republicans that ignore what Ludwig Klages said in Cosmogonic Reflections #25 about mankind and race: 'We must draw a sharp distinction between the man who sees the world as divided between the "human" and the "non-human," and the man who is most profoundly struck by the obvious racial groupings of mankind (Nietzsche's "masters"). The bridge that connects us to the Cosmos does not originate in "man," but in race.'
That is what I call genuine spirituality (in contrast to the 'spirituality' that the Jewish authors of the New Testament have drummed into our heads). In the second chapter of Savitri Devi's book, which will be available as a PDF the next month, we read some prescient passages on how it is that the Christians of the 1930s had an intuitive knowledge that made them see that National Socialism was nothing less than the paradigm that replaces the old paradigm: the Jewish god by an Aryan God. Thanks to the Nick Fuentes / Ye scandal, nowadays we see some of that debate even in discussion threads among Christians, such as this Occidental Dissent thread, where a certain Dicarlo said:
I don't agree with you, Brad [i.e., Hunter Wallace, who mocks Ye et al]. We're losing because the jews have unlimited money, and control every platform where Whites need to get out the truth. They have shut down our ability to get out the truth. You might as well advise, never say "jew". :rolleyes:

There's nothing cartoonish about Adolph Hitler or the Third Reich. Their mortal enemy is the exact same enemy Whites face today, the jews. Of course there is a problem that most Whites have been lied to so much and drummed down to a point where the truth means nothing to them. We can only soldier on. George Lincoln Rockwell was right!

It doesn't matter what you tell the normies—those who don't want to think or know, the jews and their completely controlled media sources are going to lie, cover up, distort, over and over about any topic Whites bring up. Your criticism of praising Adolph Hitler, or the WW2 topic, is just a result of repetitive jew demonization of it [emphasis added]. There is no proper approach to wake up the White normies. All one can do is keep telling the truth about what the jews are doing and have been doing since Rome.
Since Rome… I wonder if Dicarlo has been reading this site, e.g. our excerpts from David Skrbina's book?