'My suggested approach [regarding the anti-white system] is generally fairly mild, nonviolent, and legal'. —a phrase from the feminized piece that has just been published, today, as a featured article on The Occidental Observer.
Generally I would only recommend the Counter-Currents (CC) webzine to a little normie who wants to take his first baby steps when crossing the psychological Rubicon. Like The Occidental Observer and American Renaissance, CC is an online publication for racially conscious American conservatives, not for Nietzschean revolutionaries. They don't deserve to be called 'white nationalists', the term some of them use, since creating a White Nation would obviously require revolutionary violence. God forbid!
I would go as far as claim that almost all the racialist sites that use the term White Nationalism lie, as they are not promoting revolutionary ideals to reclaim their nations. What they are actually doing is complaining, as women have complained throughout history. If the alt-right sites were run by women I would not criticise them at all. But they are administered by males, which makes these men intellectually cowards, at least compared to the author of Toward the White Republic.
Although Michael O'Meara's last chapter is a 'Call to Arms', in the sense that he was not advocating mere armchair speculation or complaining, this is not the time to start a revolution as the zeitgeist is at the exact opposite pole. However, an ideology must be created that takes antichristianism to its ultimate consequences—see for example what I said this morning to a commenter—always keeping in mind that the final goal is the fulfilment of the fourteen words.
This said, and independently of the baby steps, sometimes Counter-Currents contributors say interesting things. Yesterday for example CC published a piece by Spencer Quinn, 'Black Lives Matter is Black Supremacy', which is worth reading. But I was more interested in what a couple of commenters said in the comments section. The first wrote:
As others have said, these riots were about black honour and power. A white policeman kills a black criminal. But blacks see only 'white man kills black man' and respond through vengeance upon white society.
Another one commented:
What is cited regarding people getting fired over mildly criticizing BLM doesn't really have much to do with the organization per se so much as the extravagant social currency connected to BLM; companies are firing people because we live in a capitalist economy; criticizing BLM is equated with criticizing blacks; criticizing blacks is taboo; and a company that associates with people who commit a taboo will lose social credibility and thus money. It is really capitalism that has given the abundance of soft power to BLM— BLM just happens to be the "moral truth" at this moment in time. In the past, I'm sure in certain places you could lose your job and social capital for supporting blacks. Same system, different truth.
This second comment is important, as it was difficult to understand why companies are taking sides with vandals, rioters, and those who pull down once-respected statues in the US. But what both Quinn and his commenters omit is that the moral grammar that Christianity engendered is behind today's taboo of criticising blacks, or other minorities, throughout the West.
The gospel commands us to love the weak, and even more so those groups who are at the bottom in society. The Enlightenment, the American Revolution and the French Revolution only started the process to secularise these axiological standards, but the background always was Christian standards of morality. As I tried to explain in my post yesterday, pulling down from the pedestal the handsome sculptures of classical culture was nothing more than degrading ancient civilisation in Rome after a cult of Semitic origin took over the empire. And what is at issue today is replacing white supremacism with 'black supremacism', to use Quinn's expression. The first step to achieve this is degrading modern white civilisation through its very symbols.
It is up to the men who are now deceptively calling themselves white nationalists to leave their femininity behind and start thinking like real men. The first step in that direction would be a return to pre-Christian values, for example, beginning to love once again the handsome statues that the Semites destroyed so many centuries ago. The rest follows from there.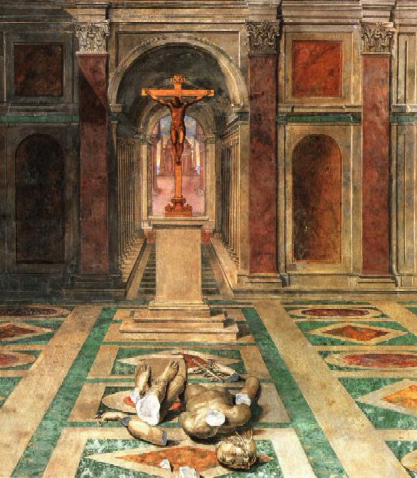 Down with the cross, up with Apollo!