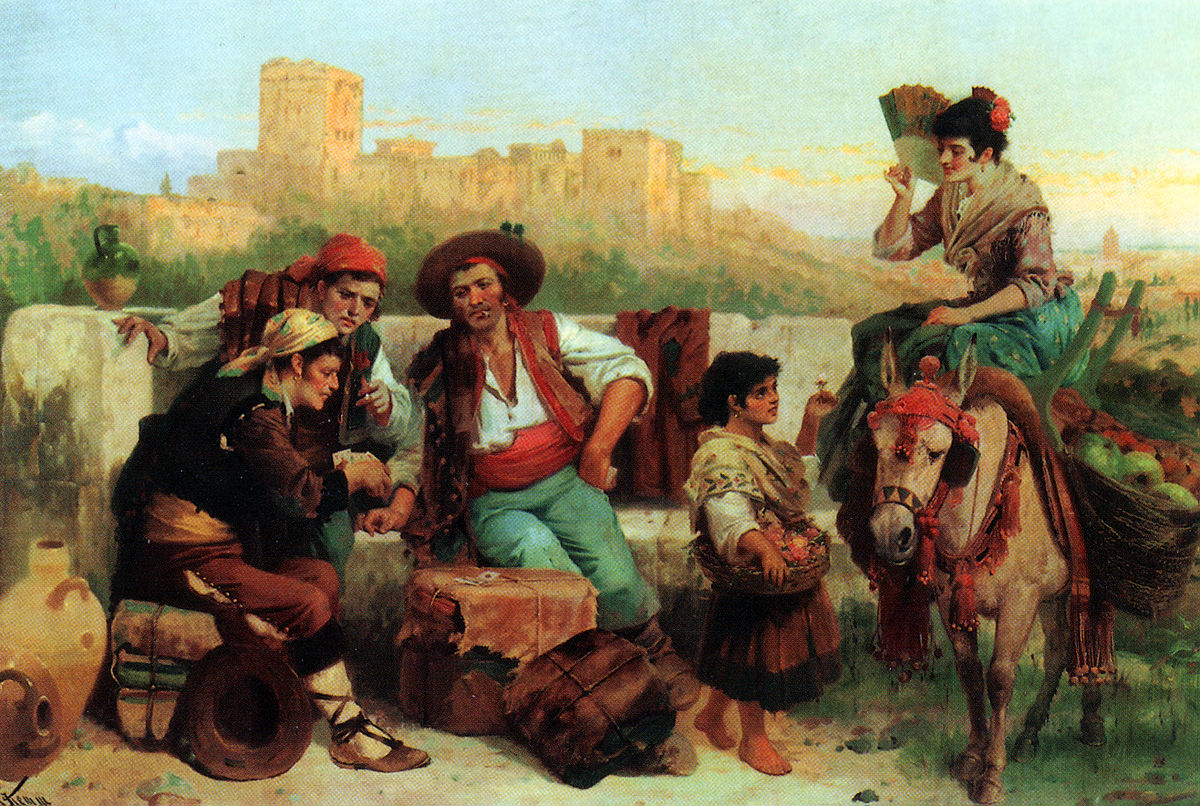 Granadinos by Robert Kemm (1837-1895)
stored at Biblioteca Provincial de Granada.
______ 卐 ______

Meds are very polarised in terms of racial awareness. The way I see it, there's three camps:
Camp A – "We wuz never Nordics."
They believe "Mediterranean" to be a race on it's own, separate from Aryans. Most will unwittingly glorify the Hollywood versions of the Greek and Roman Empires, and will refuse to admit they were spawned from nigger miscegenation.
It's like that "sour grapes" tale of the fox, bit with Aryan genes instead of grapes.
These Meds have a crushing inferiority complex, and deep down, they envy the beauty and purity of the Aryan genes. I wouldn't classify them as anti-White, but they are certainly anti-Nordics, which makes them borderline race-traitors. I wouldn't be surprised if some of them had Jewish ancestry—after all, blood speaks louder than words. Well, at least they hate niggers…
Camp B – "We're mixed, and that's fine."
For these Meds, there's no racial purity anymore; the world is becoming a Big Beige Village, and soon the Aryans will be mixed too. These degenerate quitters are the most common. They secretly lust for brown, easy flesh. They don't care if they come from Aryans or niggers. They capitulate under PC atmospheric pressure, and won't even feel an ounce of hate if their daughter is fucking a mulatto. Traitor scum. To the gallows.
Camp C – "We're mixed, and that sucks."
The minority. Closet racists, they care about their ancestry and descendents. These Meds are soldier material against ZOG if given the proper 14 words guidance. My guess is, they comprise the least mixed portion of the Meds, and they can see a glimmer of hope in their brown eyes when they look in the mirror.
Last year, I wrote a comment on Varg Vikernes' YouTube channel, on a video about Racial Purity. My comment got pinned at the top and received hundreds of replies. Varg recently got shoah'd, so I can't link the video, but my comment went something along the lines of:
The racial standard for Europeans has always been blue eyes and blonde hair. Brown hair and eyes is admixture. We Mediterraneans need to recognise this. Our European ancestors have miscegenated, and the result is us. But there's still hope.

If we choose to stay in Europe, and brave the European climate; if we feed ourselves from European wilderness; if we breed only with our own; if we raise our children to be traditional and self-sufficient, then eventually, Nature will reward us, by re-surfacing our dormant Aryan genes in our descendants. Our children will inherit Thule.

So let's make it happen.
The next day, I got lambasted by at least 30 comments from Med Camp A: "Meds are glorious too!" "If you like them so much, why don't you go suck Nordic cock" and some 20 comments from Camp B: "Haha, you're a sand-nigger, you'll never be Aryan."
And some Aryan commenters, in the same vein as this Kurwenal fellow, actually praised my comment: "That's the spirit! We're all together in this fight! Hail our Mediterranean brothers."
It's all fun and games until the music stops. And modern Aryans are addicted to music.

Editor's note:
What matters here are the words of the Aryans collected in the penultimate paragraph. All of them around the globe suffer from a psychological problem after World War II. Before the war, the eugenicist associations assumed that the parameter of whiteness and eugenic selection in Europe was the Nordic: England, Ireland, the Scandinavian countries, Holland, Germany, Switzerland, Austria and those uncontaminated in France, Northern Italy, Russia and other countries.
All that was thrown overboard after the war against Germany, and white nationalists in the United States no longer read racialist pioneers like the American Madison Grant, a Nordicist.
After WW2, virtually all whites have accepted with extraordinary fanaticism the Christian ethics that equals men with women, the black with the white and the Nord with the Med. What these nationalists insist on not seeing is that the entire line of Aryan preservation studies before the war, from Gobineau to Günther through Chamberlain, took Nordicism for granted.
White nationalism really represents a radical departure from racial orthodoxy. Neither Mauricio nor I are inventing anything new. It is them, the nationalists who, in pursuit of political correctness, don't want to hurt our feelings.
To put it bluntly, white nationalism is a regressive aberration towards Christianity. Even the agnostics of that movement subscribe the ethics of loving one's neighbour as oneself. Everyone who really wants to save the race from extinction must replace this utter nonsense in the alt-right with National Socialism.
For those new visitors who don't know the subject, I suggest you start researching it by reading this abstract.