In my previous post I wrote: "Crossing the river from liberalism to the other side involves several stepping stones: Donald Trump's Alt Light, the Alt-Right (not yet a direct approach to the Jewish question), white nationalism (or southern nationalism), neonazism… and reaching the other side, National Socialism."
Yesterday, after being questioned in the edifice of the execrable Jew York Times at NY, Donald Trump condemned Richard Spencer's sieg heil Alt-Right meeting.
In my view, this represents a huge opportunity for those of us who have already crossed the river. As long as Trump disavows the Alt-Right we can remove our masks of Alt Lite, Alt-Right and even white nationalism. How to do it? After Trump swears on the Bible the next January the time has come for us to march—in full Nazi uniform.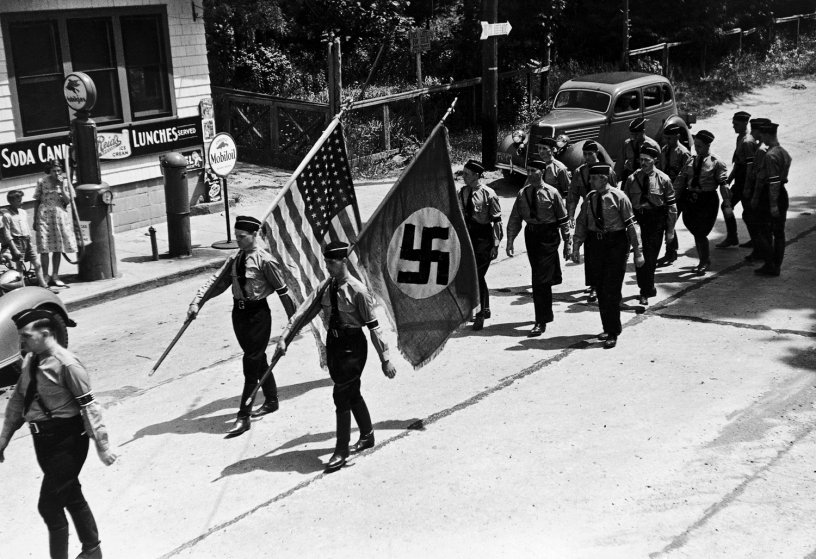 Imagine the media hysteria that we would be able to generate by going to the Federal Reserve with pickets telling that the Jewish Janet Yellen's monetary policies will lead, this decade, to the fall of the dollar.
My dream is to even burn Yellen in effigy with a Star of David patched to her effigy in one of these marches. Although we will carry banners saying truths like that the Allies committed a greater genocide than that attributed to Hitler, the emphasis of our speeches in front of the Fed will be the policy of Yellen and her predecessor, the also Jewish Ben Bernanke. Both have taken the dollar to the edge of a precipice from where it will fall under the watch of Trump.
To carry out this idea I would have to travel to the United States to speak personally with Andrew Anglin to see if, through the very popular The Daily Stormer, he is willing to call for volunteers for the march. We would need funds not only to transport our boys and pay their buses and hotels, but to make the uniforms.
It does not matter that the media, and even the white nationalist forums, call us clowns. Forget also what President Trump will think a few blocks from our flashy and "fashy" marches and protests. Just imagine what the average Joe who had seen us ridiculed in the Jew media will say after the collapse of the dollar actually occurs: "The Nazis were right!" They will really pronounce these words, especially after blacks chimp out in America's big cities.
And so it begins…
Remember, remember that Hitler became so popular precisely because the Deutsche Mark had crashed.
Please make this post go viral. It is time to leave the confinement in our houses. True, we need plenty of funds to revive the political actions of George Lincoln Rockwell. But where there is a will there is a way!