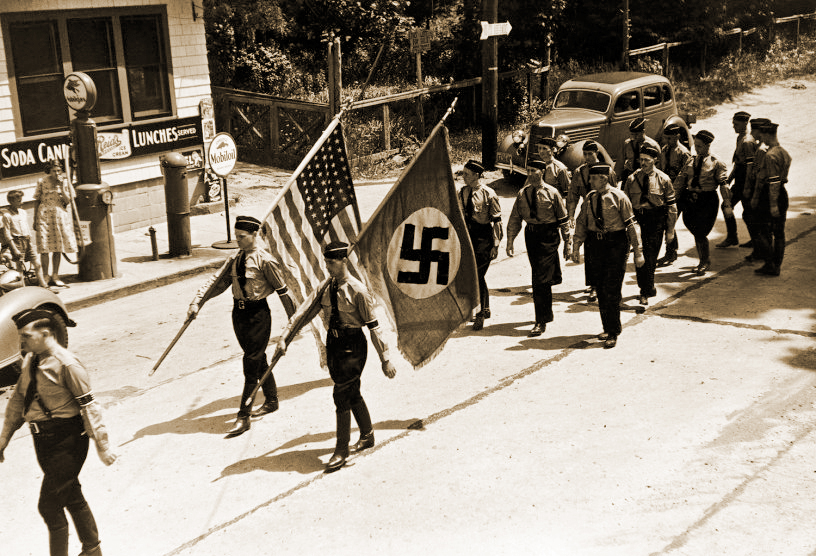 Editors' note
I have read the article 'Zero Tolerance' published on January 13th by Alexander Slavros ("Hangman"). It is incredibly long-winded and Slavros abused the use of bold type, italics and underlying. But he is spot on why we must uproot Americanism. These are my excerpts:

______ 卐 ______

Zero Tolerance for anyone who isn't a Fascist or National Socialist, for we march alone…
Altright – Entryism tactic?
If the Altright is the continuation of the Third Position and New Right trends, then we are dealing with the now 60 years old argument of "you can't be an open Nazi!," an argument that our "allies" will bring up…
The notion that you can't be an open Fascist/National Socialist has existed ever since the end of the Second World War. It owes itself to the perceived totality of our enemy's victory… We are likewise repeatedly told that we can't openly proclaim ourselves to be Fascists/NS because of the "bad image" that entails with the general public… This argument was discredited and utterly destroyed by George Lincoln Rockwell, and if you have read GLR's This Time the World and White Power then you should be well familiar with the incredible outrage and desperate, exasperated agony one feels when they discover that nothing has changed, that the same non-arguments have existed unchanged for decades…
The major problem of this world is the spiritual depravity that has left people atomized, bereft and alone, dispossessed—this can bring down and suffocate even the strongest of men…
Thus American Conservatism is nothing more than the defense of classical liberalism on which the United States of America had been originally founded… As such, the entirety of the mainstream American "right-wing" is by definition no ally of ours, as it is rooted in everything that we vehemently oppose and see to be at fault in the world. In fact the entirety of the American State exists as a direct enemy to our values and goals. The only valid Fascist/NS action in America is that of the absolutely leveling of the existing State, state culture, its values—in short, the total destruction of "Americanism" as such. Only then can something organic (and thus Fascist/NS) be grown in its place.
"The enemy today is the U.S. Government itself and it is, by every standard of measure, the most evil thing that has ever existed on earth. This, once it has sunk home, should be a good enough indicator of the sort of struggle we have ahead of us." —James Mason, SIEGE.
USA is not an organic nation, as we've already stated; it was founded not as an expression of an organic nation's character and will, but instead an idealistic experiment of Rationalist thought, rooted in Enlightenment values. Here, the State takes primacy over the vast array of people of different national and racial backgrounds, and imposes on them the values on which it was based, artificial values created from the imagination of men. The American State is a product of Intellect, not of Blood.
"There is no 'American People,' only Whites who, for the most part, have lost all racial pride and identity." —Mason
To conclude: Fascists and National Socialists, including American ones, have no allies in the American "right-wing" scene as they are hopelessly enslaved to an entity that is fundamentally contrary to everything we stand and fight for…
Altright is the quintessential example of everything that our Champions had warned us against… Altright is still deeply rooted in Americanism and thus in liberal logic, but combined with vague racialism, in effect becoming nothing more than Racist Liberalism.
"Comfortable and safe suburban bourgeois Life, Liberty from responsibilities and duties, and the pursuit of Happiness, i.e. hedonistic pleasures and cummies" —that is the true slogan of Americanism, and thus the slogan of the Altright, which only attaches to that a sign reading "no niggers, Jews or other nonwhites allowed!" It comes then as no surprise why so many in the Altright worship the American 50s, when Americanism was strong and the nonwhites were fewer, but they ignore that the 60s had come about as a direct result of the previous decade(s).
The Altright wants to stop the train halfway to its final destination—by addressing some symptoms of the degeneracy, while leaving the core of modernity intact… To call us "fellow travelers" would be as delusional as it would be to say that a priest going to church is a fellow traveler with a sodomite who is going to a gay bathhouse located halfway down the same road.
Only Fascists and National Socialists can declare themselves to be real proponents and defenders of racial values (moreover, to be their sole champions) as opposed to the big, vague tent that is the Altright and its intellectual "racialist sleepwalkers," whose idea of "active struggle" is as laughable as it is sad evidence of the current state of affairs.
Indeed, Fascism and National-Socialism are the only logical conclusions to any legitimate racial values and racial thinking, whereas Altright "racialism" has more in common with the kind of "redneck racism" imagined by mainstream liberals. They simply hated other races for immediate emotion-driven reasons (not that there's anything wrong with that, as this is an instinctual manifestation of a deeper Truth) rather than by virtue of having any fundamental reasons rooted in a definitive Worldview…
This is, of course, exactly why the Altright poses no threat to the System and the Jews. To paraphrase an earlier Hitler quote we've given: "The value of these people is clearly illustrated in the way they are treated by the System. It finds them ridiculous so it lets these people rant and rave and just laughs at them"…
This whole line of thinking stinks of the kind of weak character types that are afraid of any real action… They're ultimately trying to cope with the accusation and use the benefits of internet culture to their advantage: "Yeah I guess I'm not totally on board with democracy, that is what Fascists are like right? Guess I am a little fashy, teehee!" This "dumb but cute" high-school girl routine is, of course, infuriating to any real Fascists and National Socialists. Hell, it would seem that some of them don't even understand that we truly are "literal Nazis."
There is also a conjoined argument we often hear, that the Swastika is a "German NS" symbol and that overall one should never associate with "German NS" unless they are German themselves. This argument can only come from people who either don't yet grasp the full scope and nature of the Fascist/NS Worldview… or from cowards.
We come back to the starting segment of our article, "Where we Stand," to reinvigorate this point and once again shed light on the monumental difference between us and our would be "allies." Again, the difference between us and them is greater than the difference between them and what they insist is our common enemy. That is to say our "allies" have more in common with our enemies than with us, as they are rooted in the same Liberal and Rationalist thinking.
They share the same ultimate goals, namely those of human safety, comfort and affluence and thus invariably and inevitably hedonism, all these things powered by egoism…
This is why we do not shun away from the Swastika despite all criticism, for it represents the very essence of our struggle and our goals, moreover it is a symbol that is widespread among those of Aryan heritage (throughout all of Europe and among Slavs) and in areas of original Aryan expansion and conquest (certain areas of the Middle East, India, China, etc). If one shies away from the swastika then it is most likely that he is a coward or not an actual Fascist/NS…
The situation in many countries is desperately bad, far worse than what was going on in Weimar Germany, because back then the decay and degeneracy was complimentary with a weak System and decrepit social and economic order. However, today degeneracy is propped up as a wonderful benefit of affluence, it is polished and sold as a commodity that most people do, in fact, buy. The fact is that the USA in particular is a hotbed of degeneracy among White people, and all these degenerates hardly deserve any consideration beyond what they represent in the crudest sense possible: genetic material.
Total Aryan Victory
We've thoroughly criticized our would-be "allies" and have shown how little they have in common with us and how much they have in common with our enemies. The distance it takes them to travel to their end destination is so short from where they started, that they might as well have not left at all. However they are unable to realize that, to them it might seem like a big journey, and they would only realize how inconsequential their "strides" are if they knew how far us Fascists and National Socialists intend to travel. We talk about something eternal and Absolute.
The Organic State is meant to put each man in the place he was meant for, according to his personal Truth, so that he may serve it and that which is greater than himself. Your personal Truth is not the same as a selfish interest, for your personal Truth is an expectation that you have to live up to, to that inherent potential hidden within that is called Destiny (utilizing Francis Parker Yockey's definition).
It is when man tries to immediately serve himself, his petty immediate interests and welfare, that he begins to act as a rogue against the natural order around him, upsetting it and only growing ever more frustrated that he cannot find happiness in his ceaseless rebellion against the "oppressive" forces that make up his nature.
Any form of liberal society is thus fundamentally incompatible with our goals, any society that is rooted in pursuit of self-interest and hedonism that passes for "happiness" today and is concerned with standards of living as the alpha and omega of all things is what we seek to root out in its entirety, for this society will only produce the kind of loathsome subhuman parasites that will inevitably subvert any and all Truth in the pursuit of their insatiable and bestial desires, from which blood purity cannot protect alone.
The time for empty talk is fast approaching its end, and the coming Race War will make it impossible for the rats to pretend as to their real motivations, and the bloody nature of the struggle ahead is a terrifying prospect for them, as all conflict purifies of weakness.