It seems to me that the etiology of Western malaise is more complicated than what the average nationalist has imagined. While reading MacDonald's first trilogy study on Jewry I thought that the etiology was, at least, threefold.
First: the hardware. As MacDonald and many others have pointed out, whites "have some unique characteristics such as individualism, abstract idealism and universal moralism" that are apparently genetic (precisely the characteristics that presently are being exploited by the tribe).
Second: the software. If the above is a problem in the hardware (something like whites being wired the wrong way when dealing with other races), these hardware characteristics were augumented after a Catholic cult, which means "universal" including all ethnic groups in the world, took over the Roman Empire.
Third: the virus. Paradoxically, once Christianity starts to be abandoned by the white people, our universalist-individualist-idealistic frame of mind, taken to its ultimate logic naturally results in liberalism, a "virus" of the mind operating within the white psyche.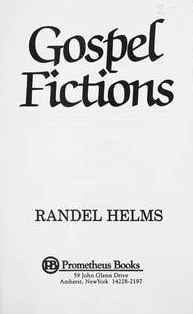 If our diagnosis of the West's darkest hour is correct, then the Jewish Problem is an epiphenomenon of the deranged altruism resulting from the secular fulfillment of universal Christian values. (Proof of it is that Muslims don't allow the suicidal empowerment of Jews in their nations.) It also means that both our hardware wiring and our Judeo-Christian software must be understood before we can grasp the whys of the psycho-ethical structure that is preventing us from taking elemental action (e.g., disempowering the Jews). For the Christian that I was, and this is purely anecdotal (others may find different venues), the first step to understand the virus was starting to question the historicity of the gospel narratives.
Thus I typed many passages from Helms' book in honor of Porphyry, the first man to write a prolegomena of what fifteen centuries later started to be called "higher criticism" of the Bible.