Since I can't tolerate watching films or television if a non-white actor appears, I recently re-watched the seasons of Downton Abbey. About the first season of this English series I had already written something in 2013, and about the movie they made in 2019 I also wrote something. Recently I even posted a picture of two actresses from Downton Abbey within the series categorised 'Aryan Beauty'. I was very naive in 2013 but by the end of the seasons I understood Downton Abbey's bad messages better.
When I wrote what I linked above about the 2010-2015 TV series, and 2019 film, I omitted that in some TV episodes they mentioned Hitler. Those were times when he was imprisoned for his coup attempt, before he was released. Needless to say, mentions of Hitler and his followers even before he came to power were all very negative!
Instead of the English understanding that they were facing the rise of the greatest psychogenic emergency that History has ever witnessed (read the book of which yesterday I only quoted the final sentences), Downton Abbey saturates us with all sorts of frivolous and inane activities of the 1920s jet set, including horse racing, car racing, fowling, fox and deer hunting; cricket, superbly elegant dresses, restaurants for the rich, castles for the English nobility, impressive mansions and lastly a ball or formal dance party before the king.
But the overall message of Downton Abbey, both TV and film, is to show in a benign light the transition from patriarchy to so-called women's liberation in England. Now they have even made another film. In this second, 2022 sequel of Downton Abbey, the Earl of Grantham even tells his daughter that she is now at the helm; that she is now the captain of the estate we see below!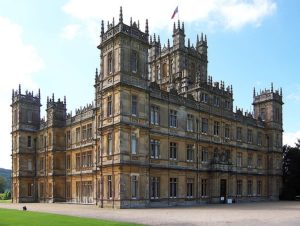 Highclere Castle, used for the interior
and exterior filming of Downton Abbey.
If Aryan children were in my care they would never see such a thing on television or at the cinema. It is sad to say, but a priest of the sacred words like me can't have fun with the prolefeed provided by the System.
For new visitors to this site: If you want to know why feminism is a weapon of mass destruction aimed at the white race read this book, or if you just want to read one of its chapters, see pages 99-116. If you are interested in English culture or English films, Jane Austen's novels represent the world before the feminist psychosis that is exterminating white people—and will exterminate them for good unless a revolution revalues all western values.
Instead of Downton Abbey I would recommend a couple of films: Sense and Sensibility (1995) and Pride and Prejudice (2005).