by Tom Holland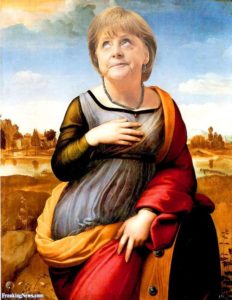 Europeans had been able to take for granted the impregnability of their own continent. Mass migration was something that they brought to the lands of non-Europeans—not the other way round.
Since the end of the Second World War, however, that had changed. Attracted by higher living standards, large numbers of immigrants from non-European countries had come to settle in Western Europe. For decades, the pace and scale of immigration into Germany had been carefully regulated; but now it seemed that control was at risk of breaking down. Merkel, explaining the facts to a sobbing teenager, knew full well the crisis that, even as she spoke, was building beyond Germany's frontiers. All that summer, thousands upon thousands of migrants and refugees from Muslim countries had been moving through the Balkans. The spectacle stirred deeply atavistic fears. In Hungary, there was talk of a new Ottoman invasion. Even in Western Europe, in lands that had never been conquered by Muslim armies, there were many who felt a sense of unease. Dread that all the East might be on the move reached back a long way. 'The plain was dark with their marching companies, and as far as eyes could strain in the mirk there sprouted, like a foul fungus growth, all about the beleaguered city great camps of tents, black or sombre red.' So Tolkien, writing in 1946, had described the siege of Minas Tirith, bulwark of the free lands of the West, by the armies of Sauron. The climax of The Lord of the Rings palpably echoed the momentous events of 955: the attack on Augsburg and the battle of the Lech…
In 2003, a film of The Lord of the Rings had brought Aragorn's victory over the snarling hordes of Mordor to millions who had never heard of the battle of the Lech. Burnished and repackaged for the twenty-first century, Otto's defence of Christendom still possessed a spectral glamour.
Its legacy, though, that summer of 2014, was shaded by multiple ironies. Otto's mantle was taken up not by the chancellor of Germany, but by the prime minister of Hungary. Victor Orbán had until recently been a self-avowed atheist; but this did not prevent him from doubting—much as Otto might have done—whether unbaptised migrants could ever truly be integrated. 'This is an important question, because Europe and European culture have Christian roots.' That September, ordering police to remove refugees from trains and put up fences along Hungary's southern border, he warned that Europe's soul was at stake. Merkel, as she tracked the migrant crisis, had come to an identical conclusion. Her response, however, was the opposite of Orbán's. Although pressed by ministers in her own ruling coalition to close Germany's borders, she refused. Huge crowds of Syrians, Afghans and Iraqis began crossing into Bavaria. Soon, upwards of ten thousand a day were pouring in. Crowds gathered at railway stations to cheer them; football fans raised banners at matches to proclaim them welcome. The scenes, the chancellor declared, 'painted a picture of Germany which can make us proud of our country'.
Merkel, no less than Orbán, stood in the shadow of her people's history. She knew where a dread of being swamped by aliens might lead. Earlier generations had been more innocent. Tolkien, when he drew on episodes from early medieval history for the plot of The Lord of the Rings, had never meant to equate the Hungarians or the Saracens with the monstrous evil embodied by Mordor. The age of migrations was sufficiently remote, he had assumed, that there was little prospect of his readers believing that. He had never had any intention of demonising entire peoples—ancient or modern. 'I'm very anti that kind of thing'…
Himmler, a man whose loathing for Christianity had not prevented him from admiring the martial feats of Christian emperors, had hallowed Otto's father as the supreme model of Germanic heroism. It was darkly rumoured that he claimed to be the Saxon king's reincarnation. Hitler, although privately contemptuous of Himmler's more mystical leanings, had himself been obsessed by the Holy Lance. A relic of the crucifixion had been transmogrified into an emblem of Nazism. Seventy years on from Hitler's suicide, in a country still committed to doing penance for his crimes, there had never been any prospect of Angela Merkel riding to fight a new battle of the Lech. The truly, the only Christian thing to do, faced by the floodtide of misery lapping at Europe's borders, was to abandon any lingering sense of the continent as Christendom and open it up to the wretched of the earth.
Always, from the very beginnings of the Church, there had been tension between Christ's commandment to his followers that they should go into the world and preach the good news to all creation, and his parable of the Good Samaritan. Merkel was familiar with both. Her father had been a pastor, her mother no less devout. Her childhood home had been a hostel for people with disabilities—people much like Reem Sahwil. 'The daily message was: Love your neighbour as yourself. Not just German people. God loves everybody.' For two millennia, Christians had been doing their best to put these teachings into practice. Merkel, by providing refuge to the victims of war in the Middle East, was doing nothing that Gregory of Nyssa, sixteen centuries previously, had not similarly done. Offer charity, he had urged his congregants, for the spectacle of refugees living like animals was a reproach to every Christian. 'Their roof is the sky. For shelter they use porticos, alleys, and the deserted corners of the town. They hide in the cracks of walls like owls.' Yet Merkel, when she sought to justify the opening of her country's borders—a volte-face all the more dramatic for seeming so out of character—pointedly refused to frame it as a gesture of Christian charity…
A morality existed that trumped all differences of culture—and differences of religion too. It was with this argument that Merkel sought to parry the objection of Orbán that a Muslim influx into Europe risked irrevocably transforming the Christian character of the continent. Islam, in its essentials, was little different from Christianity. Both might equally be framed within the bounds of a liberal, secular state. Islam, the chancellor insisted—slapping down any members of her own party who dared suggest otherwise—belonged in Germany…
Merkel, when she insisted that Islam belonged in Germany just as much as Christianity, was only appearing to be even-handed. To hail a religion for its compatibility with a secular society was decidedly not a neutral gesture. Secularism was no less bred of the sweep of Christian history than were Orbán's barbed-wire fences.
Naturally, for it to function as its exponents wished it to function, this could never be admitted. The West, over the duration of its global hegemony, had become skilled in the art of repackaging Christian concepts for non-Christian audiences. A doctrine such as that of human rights was far likelier to be signed up to if its origins among the canon lawyers of medieval Europe could be kept concealed. The insistence of United Nations agencies on 'the antiquity and broad acceptance of the conception of the rights of man' was a necessary precondition for their claim to a global, rather than a merely Western, jurisdiction. Secularism, in an identical manner, depended on the care with which it covered its tracks. If it were to be embraced by Jews, or Muslims, or Hindus as a neutral holder of the ring between them and people of other faiths, then it could not afford to be seen as what it was: a concept that had little meaning outside of a Christian context. In Europe, the secular had for so long been secularised that it was easy to forget its ultimate origins. [pages 516-521]