Or:
How the Woke Monster originated
by Tom Holland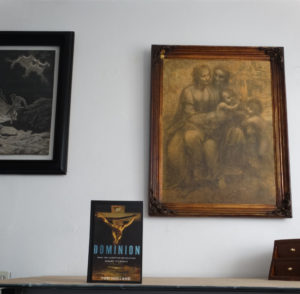 Holland's book in my bedroom—Editor. For the
first instalment of this abridged series see here.
Mission AD 19: Galatia
Only the Jews, with their stiff-necked insistence that there existed just a single god, refused as a matter of principle to join in acknowledging the divinity of Augustus; and so perhaps it was no surprise, in the decades that followed the building to him of temples across Galatia, that the visitor there most subversive of his cult should have been a Jew.
The Son of God proclaimed by Paul did not share his sovereignty with other deities. There were no other deities. 'For us there is but one God, the Father, from whom all things came and for whom we live; and there is but one Lord, Jesus Christ, through whom all things came and through whom we live' (Romans 8.6).
Now, by touring cities across the entire span of the Roman world, Paul set himself to bringing them the news of a convulsive upheaval in the affairs of heaven and earth. Once, like a child under the protection of a tutor, the Jews had been graced with the guardianship of a divinely authored law; but now, with the coming of Christ, the need for such guardianship was past. No longer were the Jews alone 'the children of God' (Deuteronomy 14.1). The exclusive character of their covenant was abrogated. The venerable distinctions between them and everyone else—of which male circumcision had always been the pre-eminent symbol—were transcended. Jews and Greeks, Galatians and Scythians: all alike, so long as they opened themselves to belief in Jesus Christ, were henceforward God's holy people. This, so Paul informed his hosts, was the epochal message that Christ had charged him to proclaim to the limits of the world.
'There is neither Jew nor Greek, slave nor free, male nor female, for you are all one in Christ Jesus' (Galatians 3:28-9).
Only the world turned upside down could ever have sanctioned such an unprecedented, such a revolutionary, announcement. If Paul did not stint, in a province adorned with monuments to Caesar, in hammering home the full horror and humiliation of Jesus' death, then it was because, without the crucifixion, he would have had no gospel to proclaim. Christ, by making himself nothing, by taking on the very nature of a slave, had plumbed the depths to which only the lowest, the poorest, the most persecuted and abused of mortals were confined…
To repudiate a city's gods was to repudiate as well the rhythms of its civic life. It was to imperil relations with family and friends. It was to show disrespect to Caesar himself.
By urging his converts to consider themselves neither Galatian nor Jewish, but solely as the people of Christ, as citizens of heaven, he was urging them to adapt an identity that was as globalist as it was innovative. This, in an age that took for granted local loyalties and tended to look upon novelty with suspicion, was a bold strategy—but one for which Paul refused to apologise. If he was willing to grant the Law of Moses any authority at all, then it was only to insist that what God most truly wanted was a universal amity. 'The entire law is summed up in a single command: "Love your neighbour as yourself."' (Galatians 5.14) All you need is love.
Paul wrote to a second church, preaching the redemption from old identities that lay at the heart of his message. Corinth, unlike Galatia, enjoyed an international reputation for glamour.
As much as anywhere in Greece, then, Corinth was a melting pot. The descendants of Roman freedmen settled there by Julius Caesar mingled with Greek plutocrats; shipping magnates with cobblers; itinerant philosophers with Jewish scholars. Identity, in such a city, might easily lack deep roots. Unlike in Athens, where even Paul's greatest admirers found it hard to pretend that he had enjoyed much of an audience, in Corinth he had won a hearing. His stay in the city, where he had supported himself by working on awnings and tents, and sleeping among the tools of his trade, had garnered various converts. The church that he had founded there—peopled by Jews and non-Jews, rich and poor, some with Roman names and some with Greek—served as a monument to his vision of a new people: citizens of heaven.
Among a people who had always celebrated the agon, the contest to be the best, he announced that God had chosen the foolish to shame the wise, and the weak to shame the strong. In a world that took for granted the hierarchy of human chattels and their owners, he insisted that the distinctions between slave and free, now that Christ himself had suffered the death of a slave, were of no more account than those between Greek and Jew. 'For he who was a slave when he was called by the Lord is the Lord's freedman; similarly, he who was a free man when he was called is Christ's slave' (Corinthians 7.22).
Like the great salesman that he was, he always made sure to pitch his message to his audience. 'I have become all things to all men, so that by all possible means I might save some' (Corinthians 9.22). Despite this claim, and despite the convulsive transformation in his understanding of what it meant to be a Jew, in his instincts and prejudices he remained the product of his schooling…
That the law of the God of Israel might be read inscribed on the human heart, written there by his Spirit, was a notion that drew alike on the teachings of Pharisees and Stoics—and yet equally was foreign to them both. Its impact was destined to render Paul's letters—the correspondence of a bum, without position or reputation in the affairs of the world—the most influential, the most transformative, the most revolutionary ever written. Across the millennia, and in societies and continents unimagined by Paul himself, their impact would reverberate. His was a conception of law that would come to suffuse an entire civilisation. He was indeed—just as he proclaimed himself to be—the herald of a new beginning…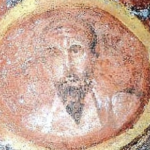 [Left, Paul the Apostle – Catacombs of St. Tecla, c. 380 C.E.—Ed.] Paul was not the founder of the churches in Rome. Believers in Christ had appeared well before his own arrival there. Nevertheless, the letter that he had sent these Hagioi from Corinth, a lengthy statement of his beliefs that was designed as well to serve as an introduction to 'all in Rome who are loved by God' (Romans 1.7) was like nothing they had ever heard before. The most detailed of Paul's career, it promised to its recipients a dignity more revolutionary than even any of Nero's stunts. When the masses were invited by the emperor to his street parties, the summons was to enjoy a fleeting taste of the pleasures of a Caesar.
But Paul, in his letter to the Romans, had something altogether more startling to offer. 'The Spirit himself testifies with our spirit that we are God's children' (Romans 8.16). Here, baldly stated, was a status that Nero would never have thought to share. It was not given to householders filthy and stinking with the sweat of their own labours, the inhabitants at best of a mean apartment or workshop on the outskirts of the city, to lay claim to the title of a Caesar. And yet that, so Paul proclaimed, was indeed their prerogative. They had been adopted by a god.
To suffer as Christ had done, to be beaten, and degraded, and abused, was to share in his glory. Adoption by God, so Paul assured his Roman listeners, promised the redemption of their bodies. 'And if the Spirit of him who raised Jesus from the dead is living in you, he who raised Christ from the dead will also give life to your mortal bodies through his Spirit, who lives in you' (Romans 8.11). The revolutionary implications of this message, to those who heard it, could not help but raise pressing questions. In the cramped workshops that provided the Hagioi of Rome with their places of assembly, where they would meet to commemorate the arrest and suffering of Christ with a communal meal, men rubbed shoulders with women, citizens with slaves. If all were equally redeemed by Christ, if all were equally beloved of God, then what of the hierarchies on which the functioning of even the humblest Roman household depended?
The master of a household was no more or less a son of God than his slaves. Everyone, then, should be joined together by a common love. Yet even as Paul urged this, he did not push the radicalism of his message to its logical conclusion. A slave might be loved by his master as a brother, and renowned for his holiness, and blessed with the gift of prophecy—but still remain a slave. Despite his scorn for the pretensions of the Caesars, Paul warned the churches of Rome not to offer open resistance to Nero. 'Everyone must submit himself to the governing authorities, for there is no authority except that which God has established' (Romans 13.1).
If Roman power upheld the peace that enabled him to travel the world, then he would not jeopardise his mission by urging his converts to rebel against it. Too much was at stake. There was no time to weave the entire fabric of society anew. What mattered, in the brief window of opportunity that Paul had been granted, was to establish as many churches as possible—and thereby to prepare the world for the parousia. 'For the day of the Lord will come like a thief in the night' (I Thessalonians 5.2). And increasingly, it seemed that the world's foundations were indeed starting to shake…
In AD 66, the smouldering resentments of the Jews in Judaea burst into open revolt. Roman vengeance, when it came, was terrible. Four years after the launch of the rebellion, Jerusalem was stormed by the legions. The wealth of the Temple was carted off to Rome, and the building itself burnt to the ground. 'Neither its antiquity, nor the extent of its treasures, nor the global range of those who regarded it as theirs, nor the incomparable glory of its rites, proved sufficient to prevent its destruction' (Josephus Jewish Wars 6.442).
God, whose support the rebels had been banking upon, had failed to save his people. Many Jews, cast into an abyss of misery and despair, abandoned their faith in him altogether. Others, rather than blame God, chose instead to blame themselves, arraigning themselves on a charge of disobedience, and turning with a renewed intensity to the study of their scriptures and their laws. Others yet—those who believed that Jesus was Christ, and whom the Roman authorities had increasingly begun to categorise as Christiani [1]—found in the ruin visited on God's Chosen People the echo of an even more dreadful spectacle: that of God's Son upon the gallows.
The gospels written in the tense and terrible years that immediately preceded and followed the annihilation of Jerusalem were different [than Paul's letters—Ed.]. The kingdom of God was like a mustard seed; it was like the world as seen through the eyes of a child; it was like yeast in dough. Again and again, in the stories that Jesus loved to tell, in his parables, the plot was as likely to be drawn from the world of the humble as it was from that of the wealthy or the wise: from the world of swineherds, servants, sowers.
_____________
[1] Tacitus explicitly states that those condemned by Nero were abusively referred to by the name of Chrestiani.Unsurprisingly, then, neither in Paul's letters nor in the Gospels does the word appear; but already, by AD 100 at the latest, Christians themselves seem to have begun to appropriate it.