by Gaedhal
Schopenhauer famously said that the sun sees so much carnage on its daily course that it were better if the earth, like the moon, were still in a crystalline state and not able to call forth the phenomenon of life.
I agree with the carnage bit. I disagree with the notion that a crystalline dead universe is superior to a universe with life in it.
Just personally I think that not existing forever is an unimaginable concept. Hitchens said that every attempt to imagine the extinction of our own personal consciousness fails. Alan Watts, a non theist, said that not existing forever is not an experience that you can have. The atheist Epicurus said that death does not concern us. Where we are, death is not; and where death is, we are not. Thus, as opposed to Benatar, I propose, instead, making the best of a bad situation. Existing on this Hell Planet of parasitism and predation is a bad situation.
However, Schopenhauer's point that no decent God would claim this Hell Planet of predation and parasitism as his own handiwork still stands. The parasites and predators on this planet are no compliment to any decent God. By believing in this Lord of theirs, it sets you up to be duped in so many other ways. If you can buy that today with its rapes, murders, tortures, shootings, stabbings, car deaths, starvations, amputations, acts of paedophilia etc., was created by their Lord, then you can also buy Matt Chandler's crocodile tears and his extremely sketchy outline of the events that transpired.
There is much more to this story than meets the eye.

______ 卐 ______

Editor's Note: Matt Chandler is a pastor of a church in Texas.
Gaedhal hit the nail on the head when he said 'by believing in this Lord of theirs, it sets you up to be duped in so many other ways'. As long-time visitors to this site know, I only woke up to racial issues after I turned fifty springs in this world. Before that, I devoted myself to understanding a family tragedy caused, first and foremost, by my father.
After decades of thinking about it, I concluded that once you accept astronomical doublethink, as in Christianity with the doctrine of eternal damnation and the punisher being a god who supposedly loves us infinitely, you can believe anything.
I am not going to detail how Puebla Catholicism corrupted my father's mind in the 1930s and how that is related to a tragedy that happened in the 1970s. Anyone who wants to know about that can read my autobiographical books. But after decades of pondering the subject I see clearly that the original sin lies in the religion of our parents.
That's why I have hope…
If the original sin is Christianity, the white race can still be saved. Serious would be, as Kevin MacDonald seems to suggest, that universalist altruism is genetic among whites. I don't think it is, because whites weren't bananas before Christianity. It was Christianity that made them crazy, like methamphetamine makes crazy those drug addicts we see in the TV series Breaking Bad.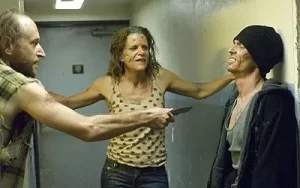 If deranged altruism is genetic, the Aryan is doomed to extinction. If instead it is malware that has taken hold of the Aryan psyche, it is possible to remove the malware from our souls through Nietzschean transvaluation (which includes 'secular' values back to Greco-Roman values). See why The West's Darkest Hour is the only thing worthwhile among the racialist forums? No one but us is proposing the formula Umwertuung aller Werte as the salvation of our souls.
Nota bene: Today I won't add another article on Deschner's history of Christianity because I am still very busy correcting the syntax of the book Daybreak.