It will not be possible to rent a PO box in the country where I live, as I had recently promised. I have just returned from the offices and they informed me that my full name had to come, as addressee, in each envelope that arrived at the post office box. As I recently had problems because a (Jewish?) woman complained to relatives of mine, a woman whose son guessed who's C.T., I can't afford to keep putting my full name on this site or allow that envelopes are being addressed to me.
The idea of renting a PO box was not bad considering what will happen to the pro-white sites once the new administration is inaugurated: we will have to return to more archaic forms of communication. I would suggest that those interested in not losing contact with me write down my email address that appears on the sidebar: the only way to keep in touch after the US enters a state of complete anti-white totalitarianism.
The American elites have already been able, in the past few days, to deplatform Trump and his fans across the internet, and even threaten not to give jobs in the real world to those who have supported him. And this happens before Biden's inauguration. We can already imagine what will come next…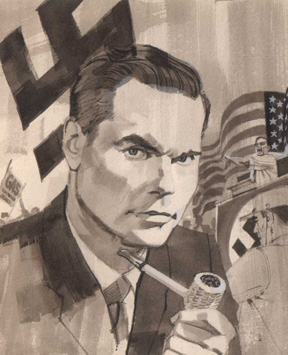 By the way, yesterday and today I visited Counter-Currents to see who Johnson was posting in the aftermath of the event in the Capitol. The same old conservatives keep writing there. Let's remember Commander Rockwell's litmus test to distinguish who's a conservative and who's a National Socialist: the conservative wants to protect his social status and money, the National Socialist wants to protect his race.
From this angle, all those who claim to defend the white race on the internet are, in reality, conservatives: as no one begins to speak of revolution by quoting those famous words of President JFK.* It was last week when I used a commenter's words 'Civil war or the gulags. That's now the choice and whites should take chances with the former'. But white advocates insist on remaining de facto conservatives.
Although I can't be sure that the woman who complained to my family is Jewish (they don't want to tell me her name), it's worth ending this post with some humorous links. What bothered the woman the most is the little swastika that appears at the top of this page and what I wrote about Beth's beautiful tits (after she complained I added this and this).
___________
(*) In 1962, John F. Kennedy famously said, 'Those who make peaceful revolution impossible will make violent revolution inevitable'.