'Blessed be every mother of good blood'
was the motto on Lebensborn's insignia.

National Socialist courses
Mothers of children who bore healthy children were normally allowed to keep them, but had to follow certain rules and, in exchange for taking care of their physical well-being, Lebensborn controlled them ideologically. While there, the women had to attend indoctrination courses three times a week where propaganda films were shown to them; they read episodes of Mein Kampf, heard radio talks and sang war songs.
The staff was instructed to closely monitor the women and report on their behaviour in daily life, their bravery (or lack thereof) during childbirth, and the opinions they expressed on Hitler and National Socialism. To do this, each was given a book with the inscription RF—corresponding to the Reichsführer—which, after their stay there, was sent to Himmler and used to decide whether to use a Lebensborn home again. Himmler ran the homes in a very personal way, with all kinds of guidelines. One of his favourite subjects was diet, on which he had very strong opinions.
The Reichsführer regularly visited homes to follow the evolution of mothers and children. He was so interested that children born on his birthday, October 7, automatically became his godchildren. Each received a mug engraved with his name and that of the Reich leader. Then the homes sent him reports on the development of the creature. In one of them, Himmler could read that Ingemar Kurt, born on October 7, 1937 'is developing well and is a strong and healthy boy'. Gerlinde, born the same day two years later, had contracted severe pneumonia but was already recovered. 'Gerlinde has overcome her serious illness and is a happy girl', the message read.
Before the children left home, they went through the rite of baptism, which served as an oath of allegiance to Hitler and the SS. At a table covered with a swastika flag and a bust or a photo of Hitler, mothers promised to educate children to be good citizens of the Reich. Then they handed the baby over to an SS officer, who gave him or her a kind of blessing.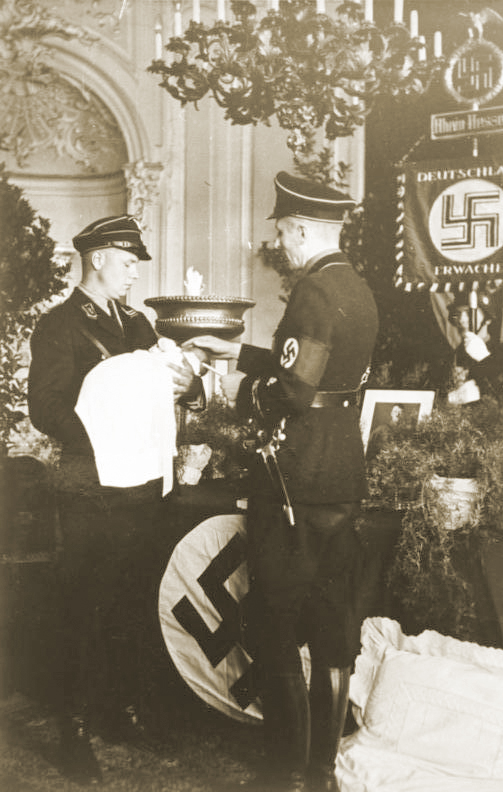 The words changed from one home to another, but the content was the same: 'We believe in the god of all things. And in the mission of our German blood, which is rejuvenated on German soil. We believe in race, the carrier of blood. And in the Führer, chosen for us by god'. Then the officer held a dagger over the child and read the words with which he was initiated in the SS: 'We will welcome you into our community as a member of our body. You will grow up under our protection and you must give honour to your name, pride to your brotherhood and glory to your inexhaustible race'.
Just compare this National Socialist Credo with the old Nicene-Constantine Creed and how American white nationalists baptise their kids in front of the Semitic idol!
The stupidity of humans is unlimited…