'White' to me just means 'European', which includes a whole range of skin tones, from the whitest white to brown.
–Greg Johnson
Abducting the future Sabine women
The image below says: 'New Wolf' [see first comments below] and below other letters seem to indicate that it is a text for the racial policies of the NSDAP.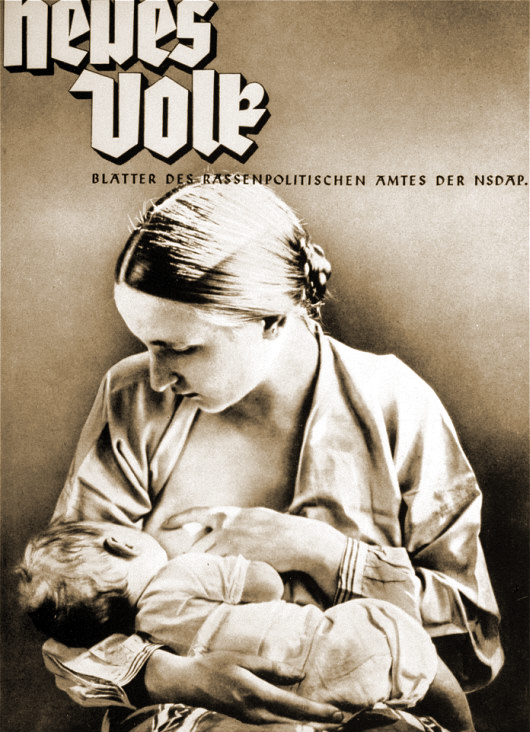 To found Rome, on this site I have talked a lot about the abduction of the beautiful Sabine women, who belonged to an ethically related people of the Spartans. We have also talked about how the Spartan state nationalised small kids to garrison them.
But neither Sparta nor Republican Rome still suffered from the miscegenation that would fall on Europe centuries later. Since the extensive interbreeding with mudbloods was already well advanced in the last century, the Germans were forced to kidnap the most Nordish-like children from the conquered countries to educate them as god intended.
If the white race is to be saved, these kinds of measures will have to be retaken along with the repudiation of white nationalists who, following the egalitarian fashions of the darkest times in the West, reject Nordicism. Let's just compare the above heading to the policies of the NSDAP and we will understand what the word quackery means in my mouth when I refer to white nationalists.
But let's go back to the non-quacks who wanted to save the race.
Despite the successes, Himmler admitted that Lebensborn households couldn't produce enough children to fulfil his dream. Even counting German-speakers in newer regions, such as the Sudetenland, the Third Reich's population didn't exceed seventy-nine million, well below the 120 million that had been proposed.
To increase the number of inhabitants, Himmler gave the order to the soldiers of the occupied countries to abduct Nordic-looking children. This strategy was carefully put into practice in some areas of the East, especially Poland. The children were divided into two groups: those with Slavic features were deported to the east or became labour; those with Aryan features could be Germans with all their privileges. The result was a real hunt of blond and blue-eyed children.
After this examination, they were classified into three different categories: desirable, acceptable or undesirable. Having gypsy features automatically made a child undesirable, which, in practice, carried a death sentence. Many of them were sent to the camps.
The past of the chosen children was painstakingly erased. Usually they were told that their parents had died and, after giving them a new name with Germanic resonances, they were sent to Germany. (At this point it's necessary to recall the quote from Who We Are in the last article of Daybreak in which Pierce tears his garments when speaking of the ethno-suicidal American custom of bestowing Hebrew names on children.) There they entered a home where they strictly forbade them to speak Polish. Those who were unable to learn German or who didn't adapt to their new nationality would be sent back to Catholic Poland.
This same fate happened to the children of many other parents, including Czechoslovakia, Slovenia, and parts of the Soviet Union. One of them was Alexander Litau, originally from Crimea, who was only twenty months old when, in 1942, Germany invaded the peninsula. With his blue eyes and blond hair, the little boy matched exactly what the Germans were looking for. One day, some SS officers saw him playing in front of his house and took him away.
Alexander was first sent to Poland, where German doctors made sure that he was healthy and met all the requirements. The examination was thorough and it was found that the child didn't have any Jewish traits. He was then placed in a Lebensborn home, Sonnenwiese (Sunny Meadow) in Kohren-Sahlis, Saxony. Here, now under the name Folker, he was offered up for adoption along with others.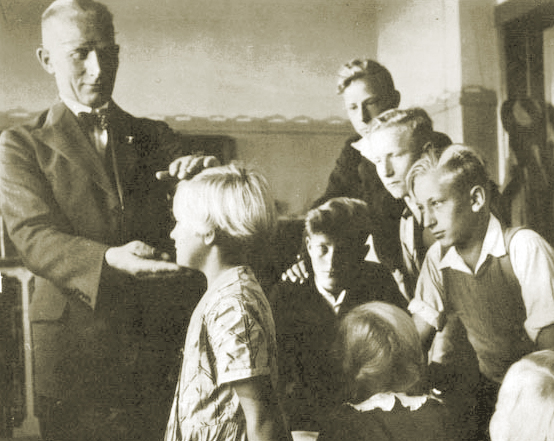 'My first memory is being in a room with thirty other children. People would come in there and they would line us up as if we were puppies looking for a new home. Those people were going to be my parents. They left and came back the next day. Apparently my "mother" wanted a girl, but my "father" preferred a boy… I placed my head on his knee and this was enough: I would be his son', Folker recalled.