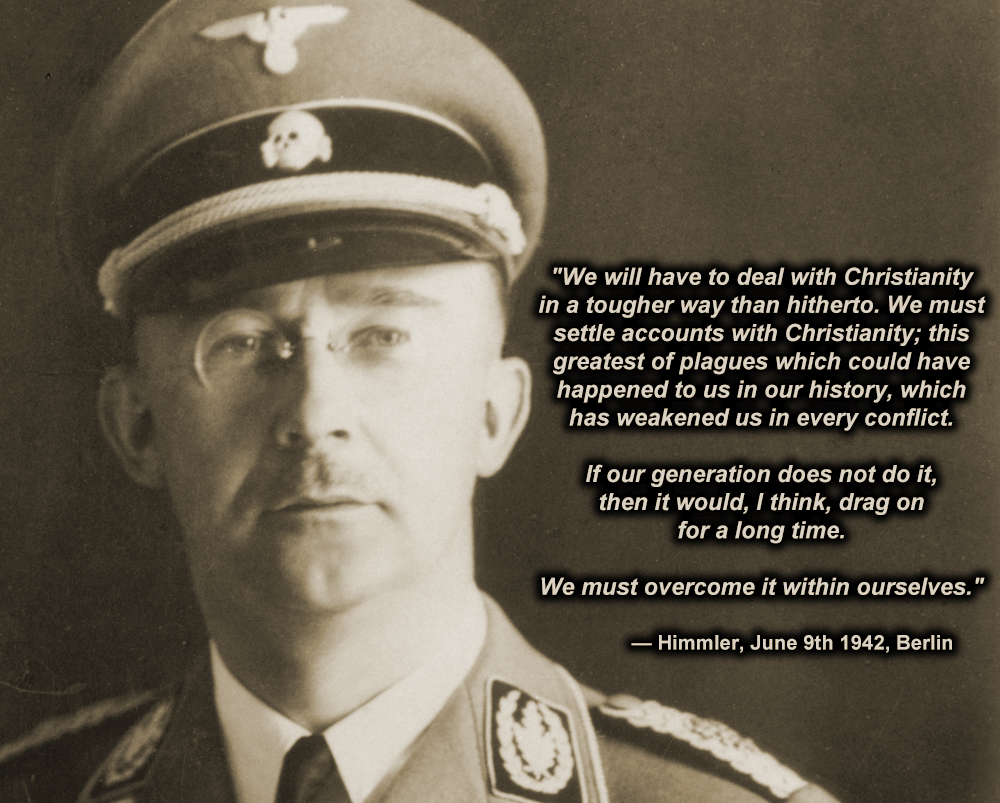 Truer words were never spoken…!
Seriously, the SS was without a shred of doubt the noblest and virtuous military organisation in history, perhaps only barely approached by the Spartans. Not to mention that the Third Reich was despite its short length, the greatest civilisation the world has ever seen, with the most brilliant and charismatic leader (greatest person in history). I regard it as the perfected 'reincarnation' of Greco-Roman civilisation which it definitely surpassed (in my humble opinion) in all attributes but still could not last more than a thousand years, unfortunately.
I cannot deny that I am equally obsessed with the life and work of both Adolf Hitler and Heinrich Himmler thanks to you Dear Mr. Cesar. Your words and the texts you feature on this site have been my moral-teaching compass for the past one year and a half since April of 2019 when I first encountered your website after a random search about Aryans/Nordics on Google images where a picture in one of your posts suddenly appeared.
Once I clicked, my life changed forever. I was urged by my eye-opening discovery to delve further into the rabbit hole and explore as much as I possibly could, every nook and cranny of 'the world outside the Matrix' which the Chosenites and their lackeys vehemently try to conceal. I had already been embracing National Socialism but it was you that made me leap instantly from Level 5 to Level 9 in fellow commenter Mauricio's list. I am also proud to say that the line separating me from Level 10 is extremely thin, almost inconsequential.
I have been freed from the Jewish shackles and now serve the 14 Words. I would not condone the active genocidal elimination of lesser whites by Aryans though. Not yet at least. Let those who are weaklings and who have their blood compromised die in the coming holy racial wars.
Ever since that day I cannot recall, your blog has been my main go about political matters and for guiding me in putting under scrutiny and evaluating, from a racial perspective, individuals, ideas, movements and ethnic groups on a variety of topics stretching from today back to Antiquity and for supplying me with arguments to dismantle the unsound claims of passive, cowardly, degenerate—even white nationalists who still cling to neochristian ethics as you call them. However, I must admit that proselytism to our cause is a futile effort.
Anyway, you have become my ideological mentor! Thank you for inadvertently enlightening me, cultivating my spirit and boosting my knowledge and understanding of… the ultimate truth from which all others in our human experience derive. I still have not read in full your literary masterpieces (The Fair Race's Darkest Hour, Day of Wrath and Daybreak) or Pierce's Who We Are due to time constraints but I wish to do so soon.
It is only now that I have gained the courage to comment and this post was the most appropriate.
Transvaluation of all values!
___________________
Read all the comment: here.