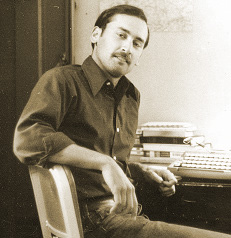 by Michael O'Meara
Excerpted from his book-review "The Shock of History"
originally published in 2011 at the old Alternative Right:
Dominique Venner's thesis is that: Europeans, after having been militarily, politically, and morally crushed by events largely of their own making, have been lost in sleep ("in dormition") for the last half-century and are now—however slowly—beginning to experience a "shock of history" that promises to wake them, as they are forced to defend an identity of which they had previously been almost unconscious.
Like cascading catastrophes (the accelerating decomposition of America's world empire, Europe's Islamic colonization, the chaos-creating nihilism of global capitalism, etc.), the shock of history today is becoming more violent and destructive, making it harder for Europeans to stay lulled in the deep, oblivious sleep that follows a grievous wound to the soul itself—the deep curative sleep prescribed by their horrendous civil wars (1914-1918 and 1939-1945), by the ensuing impositions of the Soviet / American occupation and of the occupation's collaborationist regimes, and, finally, today, by a demographic tsunami promising to sweep away their kind.
The Sleep
The Second European Civil War of 1939-1945, however it is interpreted, resulted in a cataclysmic defeat not just for Hitler's Germany, but for Europe, much of which, quite literally, was reduced to mounds of smoldering rumble. Then, at Yalta, adding insult to injury, the two extra-European super-powers partitioned the Continent, deprived her states of sovereignty, and proceeded to Americanize or Sovietize the "systems" organizing and managing the new postwar European order.
As Europe's lands and institutions were assumed by alien interests, her ancient roots severed, and her destiny forgotten, Europeans fell into dormition, losing consciousness of who they were as a people and a civilization—believing, as they were encouraged, that they were simply one people among the world's many peoples—nothing special—except in their evil.
Worse, for their unpardonable sins—for what Europeans did to Jews in the war, to Blacks in the slave trade, to non-White peoples in general over the course of the last 500 years—for all the terrible sins Europeans have committed, they are henceforth denied the "right" to be a "people." In the Messianic spirit of Communism and Americanism, the Orwellian occupiers and collaborators have since refused them a common origin (roots), a shared history, a tradition, a destiny. This reduces them to a faceless economic-administrative collectivity, which is expected, in the end, to negate the organic basis of its own existence.
The postwar assault on European identity entailed, however, more than a zombifying campaign of guilt-inducement—though this campaign was massive in scale. Europe after Jahre Null was re-organized according to extra-European models and then overwhelmed with imported forms of mass consumerism and entertainment. At the same time and with perhaps greater severity, she was subject to an unprecedented "brain-washing" (in schools, media, the so-called arts, public institutions, and private corporations)—as all Europe's family of nations, not just the defeated Germans, were collectively made to bear a crushing guilt—under the pretext of the Shoah or the legacy of colonialism / imperialism / slavery—their sins requiring the most extreme penance. Thus tainted, her memory and identity are now verboten…
In one sense, Venner's Europe is the opposite of the America that has distorted Europe's fate for the last half-century. But he is no knee-jerk anti-American (though the French, in my view, have good cause to be anti-US). He's also written several books on the US War of Secession, in which much of America's Cavalier heritage is admired. Knowing something of the opposed tendencies shaping American "national" life, he's well aware of the moral abyss separating, say, Jesse James from Jay Gould—and what makes one an exemplar of the European spirit and the other its opposite.
Modeled on the Old Testament, not the Old World, Venner claims America's New World (both as a prolongation and rejection of Europe) was born of New England Calvinism and secularized in John O'Sullivan's "Manifest Destiny."
Emboldened by the vast, virgin land of their wilderness enterprise and the absence of traditional authority, America's Seventeenth-century Anglo-Puritan settlers set out, in the spirit of their radical-democratic Low Church crusade, to disown the colony's Anglo-European parents—which meant disowning the idea (old as Herodotus) that Europe is "the home of liberty and true government."
Believing herself God's favorite, this New Zion aspired—as a Promised Land of liberty, equality, fraternity—to jettison Europe's aesthetic and aristocratic standards for the sake of its religiously-inspired materialism. Hence, the bustling, wealth-accumulating, tradition-opposing character of the American project, which offends every former conception of the Cosmos.
New England, to be sure, is not the whole of America, for the South, among another sections, has a quite different narrative, but it was the Yankee version of the "American epic" that became dominant, and it is thus the Yankee version that everywhere wars on Americans of European descent.
Citing Huntington's Who Are We?, Venner says US elites ("cosmocrats," he calls them) pursue a transnational / universalist vision (privileging global markets and human rights) that opposes every "nativist" sense of nation and culture—a transnational / universalist vision the cosmocrats hope to impose on the whole world. For like Russian Bolsheviks and "the Bolsheviks of the Seventeenth century," these money-worshipping liberal elites hate the Old World and seek a new man, Homo oeconomicus—unencumbered by roots, nature, or culture—and motivated solely by a quantitative sense of purpose.
As a union whose "connections" are horizontal, contractual, self-serving, and self-centered, America's cosmocratic system comes, as such, to oppose all resistant forms of historic or organic identity—for the sake of a totalitarian agenda intent on running roughshod over everything that might obstruct the scorch-earth economic logic of its Protestant Ethic and Capitalist Spirit. In this sense, Europe's resurgence implies America's demise.
The Shock
What will awaken Europeans from their sleep? Venner says it will be the shock of history—the shock evoking the tradition that made them (and makes them) who they are.
Such shocks have long shaped their history. Think of the Greeks in their Persian Wars; of Charles Martel's outnumbered knights against the Caliphate's vanguard; or of the Christian forces under Starhemberg and Sobieski before the gates of Vienna. Whenever Europe approaches Hölderlin's "midnight of the world," such shocks, it seems, serve historically to mobilize the redeeming memory and will to power inscribed in her tradition.
More than a half-century after the trauma of 1945—and the ensuing Americanization, financialization, and third-worldization of continental life—Europeans are once again experiencing another great life-changing, history-altering shock promising to shake them from their dormition.
The present economic crisis and its attending catastrophes combined with the unrelenting, disconcerting Islamization of European life (integral to US strategic interests) are—together—forcing Europeans to re-evaluate a system that destroys the national economy, eliminates borders, ravages the culture, makes community impossible, and programs their extinction as a people. The illusions of prosperity and progress, along with the system's fun, sex, and money (justifying the prevailing de-Europeanization) are becoming increasingly difficult to entertain. Glimmers of a changing consciousness have, indeed, already been glimpsed on the horizon.
The various nationalist-populist parties stirring everywhere—parties which are preparing the counter-hegemony that one day will replace Europe's present American-centric leadership—represent one conspicuous sign of this awakening. A mounting number of identitarian, Christian, secular, and political forces resisting Islam's, America's, and the EU's totalitarian impositions at the local level are another sign.
Europeans, as a consequence, are increasingly posing the question: "Who are we?," as they become conscious—especially in the face of the dietary, vestimentary, familial, sexual, religious, and other differences separating them from Muslims—of what is distinct to their civilization and their people, and why such distinctions are worth defending. Historical revivals, Venner notes, are slow in the making, but once awakened there is usually no going back. This is the point, Venner believes, that Europe is approaching today.
The Unexpected
History is the realm of the unexpected. Venner does not subscribe to notions of historical determinism or necessity. In contrast to Marxists and economic determinists, anti-Semites and Spenglerians, he believes there are no monocausal explanations in history, and unlike liberals such as Fukuyama, he believes there's no escape from (no "end" to) history.
The future of history is always unknown. Who would have thought in 1980 that Soviet Russia, which seemed to be overtaking the United States in the 70s, would collapse within a decade? Historical fatalities are the fatalities of men's minds, not those of history.
History, moreover, is the confluence of the given, the circumstantial, and the willful. This makes it always open and hence potentially always a realm of the unexpected. And the unexpected (that instance when great possibilities are momentarily posed) is mastered, Venner counsels, only in terms of who we are, which means in terms of the tradition and identity defining our project and informing our encounter with the world.
Hence, the significance now of husbanding our roots, our memory, our tradition, for from them will come our will to power and any possibility of transcendence. It's not for nothing, Dominique Venner concludes, that we are the sons and daughters of Homer, Ulysses, and Penelope.