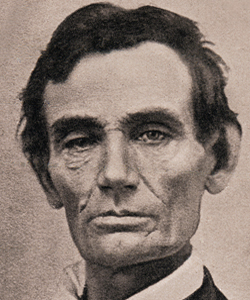 "But [abolitionism] certainly was not a factor in the decision to wage the war, and was not the primary motivation for most Northern soldiers."
It would be interesting to see some evidence for that assertion. Lincoln was raised in an anti-slavery Baptist church, and was morally opposed to slavery all his life. As early as 1855, in a letter to Jonathan Speed, he revealed himself as a dyed-in-the-wool racial egalitarian:
As a nation, we began by declaring that "all men are created equal." We now practically read it "all men are created equal, except negroes." When the Know-Nothings get control, it will read "all men are created equal, except negroes, and foreigners, and catholics." When it comes to this I should prefer emigrating to some country where they make no pretence of loving liberty—to Russia, for instance, where despotism can be taken pure, and without the base alloy of hypocrisy.
We've already talked about the difficulties inherent in determining motivations. If even self-reporting, as in the song lyrics I referred you to, isn't reliable, then how can you claim to know what the motivations were for "most Northern soldiers"? If it wasn't a popular cause, then how do you explain the immense success of Uncle Tom's Cabin? In any event, it's inarguable that the setting of the negro on equal footing with whites was a catastrophe for the white race in N. America, and that was indisputably the result of the war. Are you trying to claim that the result was unintentional? What kind of idiots do you think whites of that era were? "Whoops! We freed the slaves, and even made citizens and voters out of them. Gosh darn it anyway, we sure didn't mean to!" That would be a hard case to make.
"There is just no evidence to support the notion that the war was fought over slavery and we have numerous explicit statements from Lincoln that the war had nothing to do with slavery. If you don't find that compelling, I'm not sure what else would make any difference."
I suggest you pay more attention to what Lincoln actually did than what he said. Lincoln is more responsible than any other single man for the racial disaster whites face today. [emphasis added] It's not for nothing that Obama was sworn in on Lincoln's Bible; not for nothing that he's a personal hero of his.
Now that I've answered your question, I'd have to ask you this one: Do you seriously think the American people would have endured another draft and 600,000 dead in a cause that lacked clear moral justification? It's ridiculous to think so. Also, since you seem to want to believe everything Lincoln ever said, what about his reputed statement upon meeting Uncle Tom's Cabin author Harriette Beecher Stowe in 1862, "So you're the little woman who wrote the book that made this great war!" Even the fact he met with her at all is a significant indication of the powerful abolitionist influence.
"So it seems clear enough that even absent slavery, these economic issues would have still existed, would have still come to a head and still left Lincoln facing the same problems and the same choices."
You think that the soldiers and the people would have endured all the destruction and 600,000 killed for the sake of some lost coins. I don't. That's the substance of our difference.
Why don't you just answer the question instead of dancing around it? Do you seriously believe that freeing the slaves was accidental, or was it intentional? What about giving the negro citizenship and extending them the vote? Were those accidents too? I hope you don't believe that, because that has got to be one of the stupidest ideas I've ever heard. However, lacking Jews to blame I suppose you have no alternative but to depict it as an accident. There is a tendency in our circles to try to exonerate white people of any wrongdoing or culpability [emphasis added], and I think you're falling into it again here. You ought to face that fact that a vast number of white people, possibly even the majority, are unsalvageable race traitors.
"I suppose one could argue that freeing the slaves was the first step in integrating them into White society, but it would be a pretty feeble argument. There was no integration of Blacks into White society or culture following the war."
You're ignoring a little thing called Reconstruction. Hundreds of negroes were elected to public office all over the South. Worse, making them citizens and the legal equals of whites once and for all abolished any hope of a nation based on race. Lincoln was the true founder of the modern American state, a "proposition nation", anti-racist and hence inevitably anti-white by creed and public policy.
Another problem with the conventional thinking on the right, which you exemplify here, is not seeing the big picture. The legal equality of blacks, placing them on parity with whites, was resisted and slowed down by custom and tradition, but not stopped by it. Racial segregation was a hypocritical compromise that was doomed to fail from the outset. It was only a question of time.