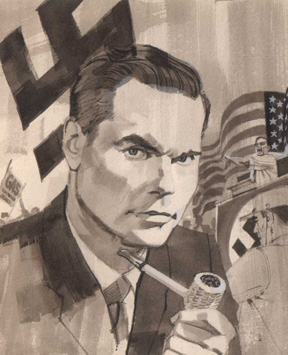 A passage from White Power
by George Lincoln Rockwell
If you want to see a classic scientific proof of the evil of this race mixing, compare the histories of North America and South America.
South America is as rich, or richer, in natural resources than North America.
South America has as wide, or wider, range of climate, than North America.
South America is bigger than North America.
South America was settled before North America, and has had more time to grow and develop. Why is South America not far ahead of North America in civilization?
Why do all the people of the world clamor to get into North America, but few try to migrate to South America?
Why is North America now the "richest" continent on earth, while South America is still an "undeveloped," backward, starving continent, still containing headhunters and still largely a jungle?
You cannot claim this is because of "form of government," or because of "freedom," or any other reasons of economics, politics, theology, sociology, etc., because South America has had, and still has, all the things of this nature there are in North America. Most of the constitutions of Latin America are modeled directly, almost word for word, after the U. S. Constitution.
But most of South America remains, poor, chaotic, backward, dirty and "undeveloped"—as the liberals like to call the sorry, miserable colored races.
The only real difference between North America and South America is in the people—the races.
The people of North America are overwhelmingly white—and mostly Nordic.
The people of South America are mostly dark—mixtures of native colored Indians, Negro slaves and Spaniards or Portuguese.
The English, Scandinavian, Scotch, Irish, French and German settlers of North America did not come only to loot and exploit and then return to Europe with their booty, as did the Spanish and Portuguese who came to South America. The Nordics (or "Anglo-Saxons") who came to North America came to settle, and they therefore brought their women with them, and lived as families. Northern Whites largely exterminated the native, colored population.
The Spaniards, who came only as looters and exploiters brought very, very few of their women, and joined the colored natives. Male human nature being what it is, Nature took its course.
In the North, the men produced more White Men, like themselves, mating only with their own women.
In South America, the Spaniards satisfied their lust on native Indian women, and later the Negro slave women they imported from Africa. They produced vast numbers of stunted, stupid, brown mongrels.
That is not "hate" or "bigotry": that is historical fact. And you can see the result for yourself if you visit South America.
In Brazil and the largest part of this vast Latin American continent, you will feel like some kind of foreign giant among colored pygmies when you walk down one of their streets. The population swarms with brown, murky-eyed, stunted and lethargic human creeps in baggy rags. Only where Northern energy and capital has moved in, as in the big cities, will you find what we would call "civilization." Wherever the native, mongrel population is left to itself, you will find filth, squalor, cruelty, incredible lack of morals or standards of conduct, political chaos, tyrants, laziness and the same kind of half-civilization you find in Africa, India and wherever the colored man rules.
These are cruel and brutal statements, perhaps. The heart of gentle folk rebels at their recitation. But the survival of Western civilization depends on their recital and their being burned into the minds of our people.
The mush-headed liberals, the Jews, the commies and the vast herds of brainwashed Americans are now doing to North America what the Spaniards did to South America.
And you can't afford to be tender hearted about this subject, because there is no way to correct a racial mistake, once we allow it to be made.
If we allow the idiots and conscious chart-forgers and ship-wreckers to make miserable little brown mongrels out of your grandchildren and their children, then you will make a South American jungle, too, out of our mighty, wondrous North American white civilization.