In almost any war one side can be dishonestly demonized even by a truthful enumeration of its crimes, if the crimes of its adversaries are suppressed. —Irmin Vinson

Excerpted from Thomas Goodrich's 2010 book
Hellstorm:
The Death of Nazi Germany
(1944-1947)
Unspeakable
Although Hitler was dead and Berlin captured, and although the nation had been halved and further resistance was not only futile but nearly impossible, Germany's long death continued. As Karl Donitz [Grand Admiral] made clear, while there was no longer any question of the Reich's utter defeat and impending surrender, the shattered remnants of the German Army had to fight one last battle to gain for the millions of fleeing refugees time to reach the Elbe River where the Americans and British had halted. Sadly, cruelly, Allied leaders were determined to halt the pathetic flight at all hazards. Swooping low over the roads, swarms of US and RAF fighters strafed and bombed the columns, slaughtering thousands. As the terrified trekkers scattered to the nearby woods and farms bombers appeared and blasted the hiding places to splinters.
Unlike the Americans, British forces under Bernard Montgomery allowed all Germans, soldiers and civilians alike, to find haven within its lines. Horrified by what he had seen and heard, the field marshal's manly act saved thousands of women and children from rape, torture and death.
♣
When US forces entered the various concentration camps and discovered huge piles of naked and emaciated corpses, their rage became uncontrollable. As Gen. Eisenhower, along with his lieutenants, Patton and Bradley, toured the prison camp at Ohrdruf Nord, they were sickened by what they saw. In shallow graves or lying haphazardly in the streets were thousands of skeleton-like remains of German and Jewish prisoners, as well as gypsies, communists, and convicts.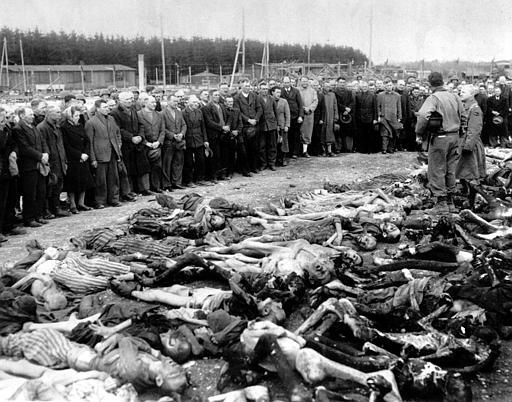 "I want every American unit not actually in the front lines to see this place," ordered Eisenhower. "We are told that the American soldier does not know what he is fighting for. Now, at least, he will know what he is fighting against."
Few victors, from Eisenhower down, seemed to notice, and fewer seemed to care, that conditions similar to the camps existed throughout much of Germany. Because of the almost total paralysis of the Reich's roads and rails caused by around-the-clock air attacks, supplies of food, fuel, clothes, and medicine had thinned to a trickle in German towns and cities and dried up almost entirely at the concentration camps. As a consequence, thousands of camp inmates swiftly succumbed in the final weeks of the war to typhus, dysentery, tuberculosis, starvation, and neglect. When pressed by a friend if there had indeed been a deliberate policy of starvation, one of the few guards lucky enough to escape another camp protested:
"It wasn't like that, believe me; it wasn't like that! I'm maybe the only survivor who can witness to how it really was, but who would believe me!"
Unaware of the deep hatred the Allies harbored for them, when proud SS units surrendered they naively assumed that they would be respected as the unsurpassed fighters they undoubtedly were. Lt. Hans Woltersdorf was recovering in a German military hospital when the US forces arrived.
"Did you see that? They shot the lieutenant! Did you see that? They're shooting all the Waffen-SS officers!"
Although SS troops were routinely slaughtered upon surrender, anyone wearing a German uniform was considered lucky if they were merely slapped, kicked, then marched to the rear. "Before they could be properly put in jail," wrote a witness when a group of little boys were marched past, "American GIs fell on them and beat them bloody, just because they had German uniforms."
♣
While the rape of Germany was in progress, a horror unimaginable was transpiring in Czechoslovakia.
As he tried to escape the city [Prague], Gert Rainer, a German soldier disguised as a priest, saw sights that seemed straight from hell:
A sobbing woman was kneeling, showering kissed on a child in her arms… The child's eyes had been gouged out, and a knife still protruded from his abdomen. The woman's torn clothing and disheveled hair indicated that she had fought like a fury. Lost in her sorrow, she had not noticed the approaching stranger. He bent down to her and put her in mind that she had better not stay here. She was in danger of being shot herself.

"But that's what I want!" she suddenly cried. "I don't want to go on living without my little Peter!"

In their sadistic ecstasy, people turned public mass murder into a folk festival…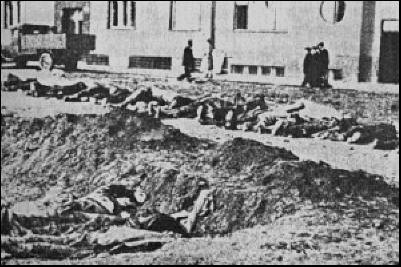 (Bodies of murdered Germans in Prague, June 1945)
Five young women had been tied to an advertising pillar, the rope wrapped about them several times. Their seven children had been packed into a gutter of sorts at their feet. A Czech woman, perhaps 50 years of age, was pouring gasoline over the tied-up mothers. Others were spitting in their faces, slapping them and tearing whole fistfuls of hair. Then the oldest of them, laughing frenetically, lit a newspaper and ran around the pillar holding the burning paper to the gasoline-soaked victims. Like a flash, the pillar and the five others disappeared in flames several meters high… The spectators had not noticed that one of the burning Germans had torn through the charring rope and thrown herself into the flames that licked up through the grating. With strength borne of a courage beyond death, she lifted out the grating and, lying her stomach, tried to reach down the tangle of blazing children. Lifeless, she lay in the flames.
At the huge sports stadium, thousands of Germans were herded onto the field to provide amusement for a laughing, howling audience. "Before our very eyes they tortured to death in every conceivable way," remembered Josefine Waimann. "Mostly deeply branded on my memory is the pregnant woman whose belly uniformed Czechs slashed open, ripped out the fetus and then, howling with glee, stuffed a dachshund into the womb of the woman, who was screaming dreadfully… The slaughter happening in the arena before our very eyes was like that in ancient Rome."
The horror born at Prague soon spread to the rest of Czechoslovakia, particularly the Sudentland, where Germans had lived for over seven centuries. At Bilna, wrote a chronicler:
What was done to [a local] woman there simply cannot be described, the sadistic monstrousness of it is simply too great for words.
"When I passed through Czechoslovakia after the collapse," one German soldier recalled, "I saw severed human heads lining window sills, and in one butcher's shop naked corpses were hanging from meat hooks."
When the fury finally had spent itself in Czechoslovakia, over 200,000 people had been butchered. Similar purges of German minorities occurred in Rumania, Hungary and Yugoslavia where men, women and children, by the hundreds of thousands, were massacred in cold blood.
♣
"God, I hate the Germans," Eisenhower had written his wife in 1944.
With the final capitulation of May 8, the supreme allied commander found himself in control of over five million ragged, weary, but living, enemy soldiers. "It is a pity we could not have killed more," muttered the general, dissatisfied with the body-count of the greatest bloodshed in world history. And so, the Allied commander settled for next best: If he could not kill armed Germans in war, he would kill disarmed Germans in peace.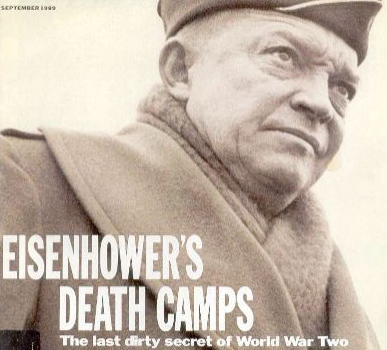 Because the Geneva Convention guaranteed POWs of signer nations the same food, shelter and medical attention as their captors, and because these laws were to be enforced by the International Red Cross, Eisenhower simply circumvented the treaty by creating his own category for prisoners. Under the general's reclassification, German soldiers were no longer considered POWs, but DEFs—Disarmed Enemy Forces. With this sleight-of-hand, and in direct violation of the Geneva Convention, Eisenhower could now deal in secret with those in his power, free from the prying eyes of the outside world.
When two members of the USA Army Medical Corp stumbled upon one of Eisenhower's camps, they were horrified by what they saw. Deaths in the American concentration camps accelerated dramatically. While tens of thousands died of starvation and thirst, hundreds of thousands more perished from overcrowding and disease. Said a starving comrade from a camp near Remagen:
Within a few days, some of the men who had gone healthy into the camps were dead. I saw our men dragging many dead bodies to the gate of the camp, where they were thrown loose on top of each other onto trucks, which took them away.
"The American were really shitty to us," a survivor at another camp recalled. "All we had to eat was grass." "Civilians from nearby villages and towns were prevented at gunpoint from passing food through the fence to prisoners," revealed another German from his camp near Ludwigshafen.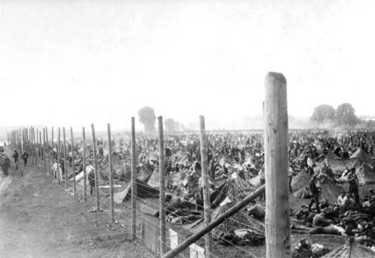 (American death camp)
There was no lack of food or shelter among the victorious Allies. Indeed, American supply depots were bursting at the seams. "More stocks than we can ever use," one general announced. "They stretch as far as the eye can see." Instead of allowing even a trickle of this bounty to reach the compounds, the starvation diet was further reduced. "Outside the camp the Americans were burning food which they could not eat themselves," said starving Werner Laska from his prison.
Horrified by the silent, secret massacre, the International Red Cross—which had over 100,000 tons of food stored in Switzerland—tried to intercede. When two trains loaded with supplies reached the camps, however, they were turned away by American officers.
Eisenhower's murderous program continued apace. One officer who refused to have a hand in the crime and who began releasing large numbers of prisoners soon after they were disarmed was George Patton. Explained the general:
After a man has surrendered, he should be treated exactly in accordance with the Rules of Land Warfare, and just as you would hope to be treated.
Although other upright generals such as Omar Bradley and J.C.H. Lee issued orders to release POWs, Eisenhower quickly overruled them. Mercifully, for the two million Germans under British control, Bernard Montgomery refused to participate in the massacre. Indeed, soon after the war's end, the field marshal released and sent most of his prisoners home.
In June 1945, [Corporal Helmut] Liebich's camp at Rheinberg passed to British control. Immediately, survivors were given food and shelter and for those like Liebich—who nearly weighed 97 pounds and was dying of dysentery—swift medical attention was provided.
"It was wonderful to be under a roof in a real bed," the corporal remembered. "We were treated like human beings again. The Tommies treated us like comrades."
Before the British could take complete control of the camp, however, Liebich noted that American bulldozers leveled one section of the compound where skeletal—but breathing—men still lay in their holes.
♣
If possible, Germans in French hands suffered even more than those held by Americans. When France requested slaves as part of its war booty, Eisenhower transferred over 600,000 Germans east. Meanwhile, those Germans not consigned to bondage continued to perish in American prisons.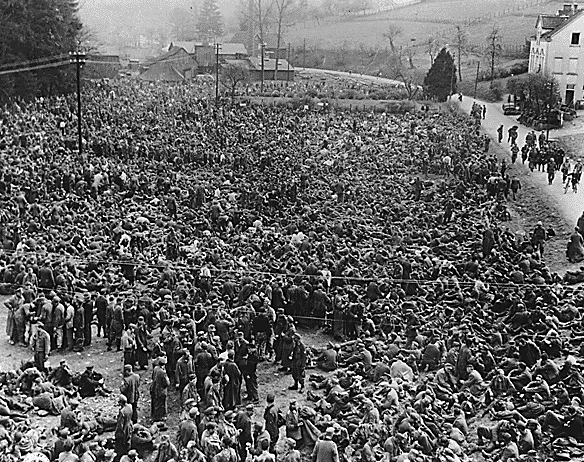 (American death camp)
Landsers who did not succumb to hunger or disease often died of thirst, even though streams sometimes ran just a few feet from the camps. "The lack of water was the worst thing of all," remembered George Weiss of his enclosure where the Rhine flowed just beyond the wire. "For three and a half days, we had no water at all. We would drink our own urine. It tasted terrible, but what could we do? Some men got down on the ground and licked the ground to get some moisture. I was so weak I was already on my knees."
Ultimately, at least 800,000 German prisoners died in the American and French death camps. "Quite probably," one expert later wrote, the figure of one million is closer to the mark. And thus, in "peace," did ten times the number of Landsers die than were killed on the whole Western Front during the whole war.
____________________________
Educate yourself about the Holocaust perpetrated on the German people by the Allied forces that the mainstream media has covered up for nearly seventy years.
Hellstorm is still available from the publisher.