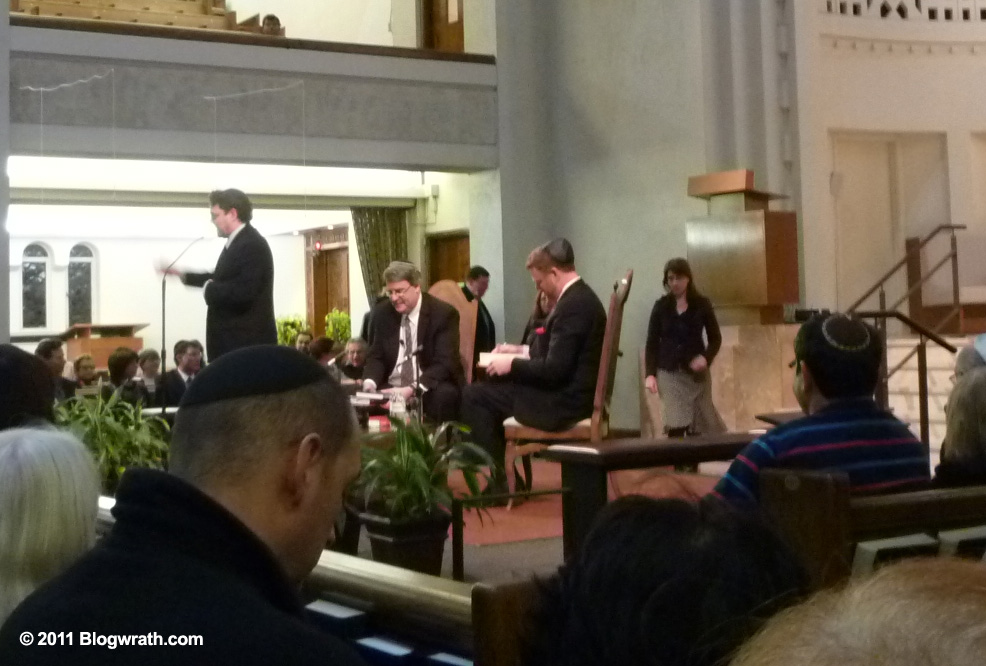 Steyn at the center, wearing a Kippah with Jews at Toronto


This month at Toronto, the famed author Mark Steyn said that Western society is complicit in a resurgence of anti-Semitism that may lead to a second Holocaust, for which humankind will have no excuses. "There is something profoundly wicked in the contortions that Europeans are willing to make with respect to their own complicated history with the Jewish people," said Steyn. "We are on the verge of the biggest, most disgusting and evil event of all, in part because of the complicity of the West" (see the Jewish Tribune article where these statement and many other similar statements by Steyn on "anti-Semitism" have been recorded).
Either Steyn is playing the fool by willfully setting aside from his consciousness the vast pool of information about the role of the Jews in the ongoing Western collapse, or he has not heard this sort of info during his long career as an intellectual who presumably defends our civilization. There's no third possibility.
Considering that Steyn said every recorded word at Toronto assuming that any anti-Semitic sentiment must be pathological, it is impossible to discuss what he said this month without basic information about the Jewish Problem.
If the Jewish Problem (1) does indeed exist, Steyn is either playing the fool or simply someone who has not heard of the Jewish Problem throughout his life, as stated above. On the other hand, if (2) the Jewish Problem is sheer white nationalist paranoia, Steyn's recent statements make sense from the historical and ethical viewpoint. Everything has to do with these two possibilities.
The long quotation that below comprises most of this post—9,000+ words—conveys the idea that #1 is the right approach to understand Steyn's mind.
Rather than a quotation it's a series of excerpts that I typed directly from an academic work by Albert Lindemann, a Jewish scholar who specializes in anti-Semitism and acknowledges the reasons why Jews have been so disliked.
No ellipsis added between unquoted excerpts:


___________________________________________

Note of February 23, 2013. I have moved the long book quotation elsewhere.