Kevin MacDonald published an article by Tom Sunic the day before yesterday which contains this paragraph:
But even authors complaining about legal duplicity regarding the narrative of Jewish victimhood are seldom consistent. Many of them believe in good faith in the immaculate conception of Virgin Mary and various surreal miracles performed by Jesus and his early Jewish disciples. They would never consider their faith in Jesus a myth, let alone, a hoax, a fraud, or a conspiracy theory. They reject the claims by anti-Christian authors "that Jesus was a deliberately constructed myth, by a specific group of people with a specific end in mind," as David Skrbina wrote recently.
I'm glad that at least one of the leading white nationalist forums is passing the microphone to someone who says things similar to what we say here.
My previous post contains a link to the confession when an honest student of the New Testament, Richard Miller, saw the light. I would now like to suggest that honest Christians watch the whole interview.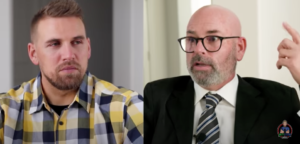 Of course, it is only an invitation to begin to cross the psychological Rubicon, but a baby step in the right direction is satisfying for the moment (the big jump, from 5 to 6, as we saw in 'The Mauritian steps' is to leave Christian morality behind).
For Christians, long before breaking with Christian morality one has to break with Christian dogma, and the honest New Testament studies that have been published recently (Richard Miller's book is just the latest) give me some hope.